Mr. Masaharu Isshiki (一色正春元海上保安官), the former Coast Guard official who released a classified videotape of the Chinese boat incident on Youtube last December, held a press conference at the FCCJ on February 14th. The tape provided clear evidence that the Chinese vessel acted as the aggressor in the situation. This is a revelation that embarrassed the Japanese government, as it potentially bolsters previous accusations that Japan acquiesced to China's might for fear of economic repercussions.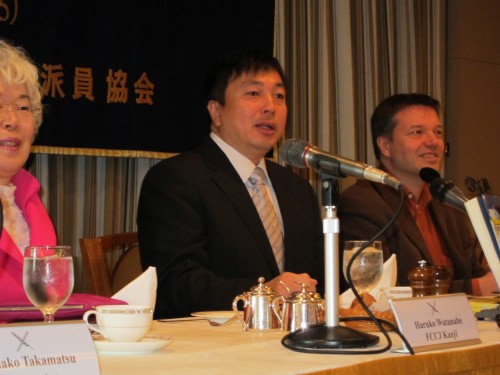 Isshiki, who had been studying since he was 15 for the career he has just sacrificed, likened the role of the Coast Guard to a "national border guard"; the Guard is responsible for patrolling Japan's vast territorial waters and executing rescue operations. Upon delivering a few ceremonial opening statements and a brief description of his duties while a Coast Guard official, he immediately breached the problem of Japan's several territorial disputes with other nations, and in particular the most recently problematic claim over the Senkaku islands; "a certain nation has begun to take action in that area…some people can say this country has even started an invasion process". While withholding clearly articulated reasons, he said that this threat essentially led him to release the video. When pressed further to defend his defiance of orders, he stated: "it became clear what I should do when I weighed that fact (that it was a government directive) against the fact that this is something that would benefit the Japanese people".
Isshiki also expressed concern over the growing number of residents who, if Japan is apprehended by force, see themselves as willing to resort to the use of force as well. On this point he lingered, strongly affirming his "deep-seated belief" that if a party has territorial claims that "words and evidence" should be used to solve the issue; "as you know, the world has experienced great tragedies in the past and as a result (we) have put together different ways to resolve international conflicts without resorting to force", he says, citing the International Court of Justice as an example.
Isshiki ended his speech with two requests for the foreign press. Firstly, that if a conflict arises between Japan and another nation that "not only are the reasons of the other country" covered by the media, but also "the thoughts of the Japanese population on the matter". He points out that the humble and reserved nature of the Japanese people, often considered "a beautiful part of the national character", has been misconstrued by the international community as an inability to assert their own rights and claims, which "has led to unfortunate interpretations of Japan in the past".
He prefaced his second request by noting the increasing presence of international journalists in Japan's media landscape; "many Japanese have started looking to the foreign media to find out about events in their own country", citing as an example last year's demonstrations, which many national media outlets chose not to cover.
He observes that the Japanese are awakening to the impartiality of certain news organizations, and becoming more aware of their many new source options. He presented this as a business opportunity for the foreign press, encouraging them to gain the respect of the people by providing consistently objective reporting.
After this, questions were taken, many too inane to be reported here. Isshiki-san was clearly more intelligent and witty than many of the reporters who spoke to him, cracking jokes and asking some reporters to break down the questions into ones that were possible to answer. It should be noted that Japanese governor Ishihara Shintaro, who attended with his entourage spoke publicly to him saying: "As a representative of the Japanese government, I'd like to express my greatest respect and appreciation for your actions. A person who acts on behalf of the Japanese people…should not be subject to persecution of the government."
When a press member in her question referred to his actions as "heroic", Isshiki made mention of it in his response, saying he didn't think what he did merited the description; "I didn't risk my life to do this. I like my life.  I don't want to risk it so easily. Some years ago, most Japanese ago would consider this a normal response and I am slightly concerned that the Japanese people have begun to lose that sense of normality. What I desire more than anything is for Japan to become a country where this kind of action is considered the right thing do by any concerned citizen."
Isshiki's book, to which he directed pesky reporters several times during his speech, Why I Did This: The Confessions of Senkoku 38 (何かのためにの告白)is now on sale. It's worth a read. The final three lines of his book are a moving call to social action.
It's time to throw away the idea that "as long as I'm okay, that's enough." It's okay for people to live only for themselves, but it's also a good thing to live for some higher purpose.  If everyone who reads this book, comes away with a little sense of that, and lives that way, maybe things will change.