The Tale Of Genji (源氏物語) is said to be the first novel ever written. It is certainly the first ancient Japanese literary classic to be turned into a pole dance and performing arts spectacle like nothing I've ever seen before: Genji–The Other Side of The Story.
If all Japanese literature was this sexy and fun, I'd have become a scholar not a reporter. I went expecting to be appalled but was impressed that the lighting, music, and dance actually came together so eloquently that it conveys much of the mood of the original literary work.
The author of The Tale Of Genji, Murasaki Shikibu, was a lady in waiting in the Heian era court and has the proud distinction of being Japan's first novelist. There are some who see the novel as partly her autobiography but no one is sure. The book itself is about a relative of the Emperor, the Shining Prince Genji, and his playboy antics, romances, loves, and losses in the Royal Court.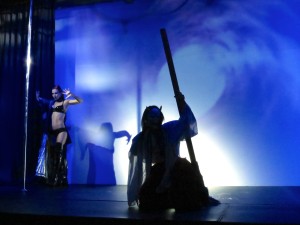 Genji is a sort of male slut, sleeping with every woman he possibly can and occasionally even a very cute young boy. While not a sympathetic character, he does come across as an individual who slowly learns what it is to really love a woman and lose those you care about.
Lu Nagata, a performance artist, created the play based on the legends surrounding Murasaki Shikibu. Murasaki also makes an apperance in the novel; Lu the writer and choreographer of the play, also appears in the play as well.
The premise of the script is that while in unrequited love with the Emperor, Murasaki Shikibu attempts to rid herself of these feelings through her novel. Through Genji, she expresses her conflicting emotions which can not be expressed in reality. Genji represents not only her unuttered emotions, her soul, her everything but also her ideal representation of a lover. She has become so engulfed in her fantasy that the perception of reality and fantasy become indistinct. Genji springs from the pages of the book to offers her a life altering decision:  will she live out her fantasies or live in reality?
Thus the stage is set for a mystical Nutcracker meets Noh plus comedy, improvisational dance, strip-tease, burlesque and the finest aerial arts and acrobatics.
Ms. Nagata plays the role of Murasaki Shikibu in some of the performances, wielding a giant writing brush with great flair and penmanship. Avoiding showy dance moves she gracefully invokes the melancholy beauty of Shikibu and her writings.
Tomonori Muraoka does a head-spinning turn as the Shining Prince, twirling and somersaulting across the stage at a frenzied pace and displaying musculature that looks like it was carved in marble. He interacts sensuously with the dancers who play his numerous lovers, never faltering in his steps and performing amazing acrobatic tricks. One scene in which Genji pours hot tea over the body of his lover recalls scenes from the motion picture classic Showgirls. Green tea has never been so sexy. 

There are a number of discordant elements in the production that somehow seem to work. The homely girl in the novel who's love for Genji is almost never returned, Suetsumuhana, who's name literally means, "the last flower to be picked" makes an appearance. She is played by a talented transvestite with a Harpo Marx wig.
For those familiar with the book, you will find some of the more memorable chapters enacted on stage—-from the jealous ghost that attacks Genji's lover to the melancholy farewells and meditations in the chapter Maboroshii (幻).
Of course, I'm biased in my review. The Tale of Genji is one of my favorite works of Japanese literature and Lu Nagata is an old friend and one of my favorite pole dances fitness instructors. I have no idea what most people will make of it but I found Genji: The Other Side Of the Story definitely worth watching. Even if you know nothing about the original novel, you'll find some things in the performances that are moving, entertaining, and linger with you. For more details click here or read below.
The show is performed every Tuesday, Thursday and Sunday of November 19th 2013 until February 18th 2014.
*If you do go see the show, mention this article, say "LU" and get 1,000 yen off the door price. 
Tue. and Thu. Performances
1st Open 18:00 Start 18:30
2nd Open 20:30 Start 21:00
Sun
1st Open16:00 Start 16:30
2nd Open18:30 Start 19:00
TICKETS :
S seat:7,800 yen
A seat:5,800 yen
Standing:3,800 yen
VENUE :
Moon Cat Circus Theater Japan (THE FACTORY)
EBISU FORT 1F 1-24-2 Ebisuminami Shibuyaku Tokyo 150-0022
Tel 03-6412-8366
There is a complimentary drink if you purchase tickets in advance and say 'Pole Dance Tokyo" or 'Lu" at the door.
*Lu Nagata will perform only on 19th, 21st Nov and 17th – 29th Dec.