Oh Lucy! has been doing so well in it's Japan release, that the distributors, for one night only, will  be showing the English subtitled version. May 17th, from 18:50 at the Eurospace Theater in Shibuya.
Shinobu Terashima is one of the few Japanese actresses who plays hardball, consistently choosing roles that blow holes in the cardboard stereotype of the Japanese woman. We all know this woman: saintly, supportive, long-suffering AND a wildcat in bed. Yawn.
While Terashima (the thoroughbred scion of veteran actress Junko Fuji and the late Kabuki actor Onoe Kikugoro) can probably do sexy wildcat with both her hands in cuffs and wearing a straitjacket (wait a minute, maybe this is TOO sexy) she's far less accommodating when it comes to the saintly and long-suffering bit.
Shinobu Terajima is a perfect fit for the role of Setsuko aka "Lucy," in a funny, sardonic and ultimately warm-hearted film called "Oh Lucy!" Directed by Atsuko Hirayanagi who first penned the screenplay as a graduation project for NYU's Tisch School of the Arts, said she was actually taken aback by the movie's success. "Oh Lucy!" was nominated for two awards in last year's Cannes Film Festival – a first for a Japanese director – besides winning the NHK award at the Sundance Film Festival. "I was never really interested in portraying a heroic woman, or a beautiful woman or any of that. I guess I was really tired of seeing those types up there on the screen," said Hirayanagi. "I needed to see someone different, and came up with the idea of Lucy. She's not young or cute but she's really, really watchable."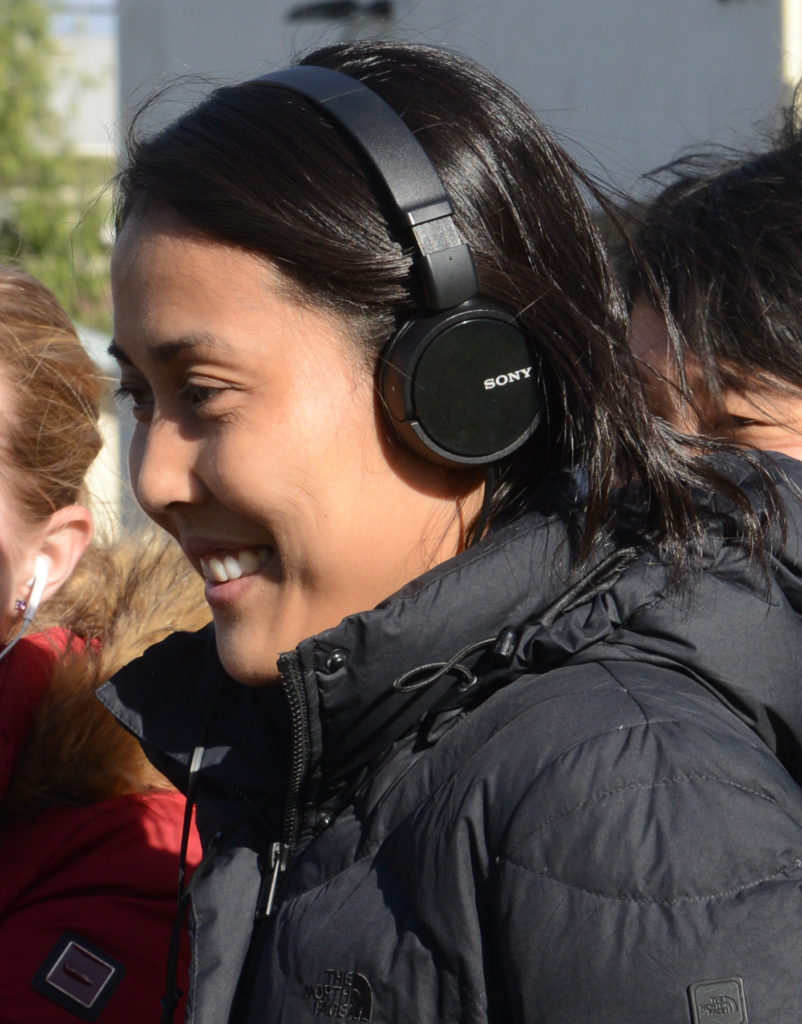 Indeed, it's hard to tear your eyes away from Terashima as Setsuko, a 43 year old Tokyo OL (Office Lady) with just the right amount of inner venom and outward politeness, neatly balanced on the scale of Japanese womanhood. Setsuko, whose name means restraint and saving money, divides her time between a dreary office in a small company and an apartment packed to the gills with her stuff. Tokyo media has stories galore about single Japanese women of a certain age who can't stop hoarding, and Setsuko's little room is straight out of this urban folklore. Then one day Setsuko gets a call from her niece Mika (Shiori Kutsuna), and invited to attend an English conversation class. "The teacher is friendly and very nice," assures Mika and Setsuko decides to go, not least because she had witnessed a suicide on the train tracks that morning. For a few minutes she had felt the chill hand of death on her shoulder, and well, life is too short to spend it being miserable, right? She may as well try something new. And new it is, with a vengeance. The drop-dead handsome English teacher, John (Josh Hartnett), makes her wear a blonde wig, pushes a ping pong ball in her mouth to correct her pronunciation, and tells Setsuko that from that moment on, her name is Lucy. Then John gives Lucy a big, tight hug. Cue, Setsuko, I mean Lucy's swooning face.
Unfortunately, her new-found happiness is destroyed overnight. The next day she goes to class and John has left for LA, accompanied by Mika who it turns out, is his girlfriend. Setsuko/Lucy PTSDs for awhile before springing to action and books a flight to LA. That she ends up boarding the plane with her prim, correct sister Ayako (Kaho Minami) who is Mika's mom and direly worried about her daughter – can only be described as a typically Japanese female predicament. Every time one wants to do something totally crazy, a prim correct female relative appears to drag you back to sanity. No wonder so many women remain single in this country.
Every time one wants to do something totally crazy, a prim correct female relative appears to drag you back to sanity. No wonder so many women remain single in this country.
Hirayanagi's understanding of this particular terrain (English conversation classes, being a single woman in Tokyo, the uniformity and blandness that come with being Japanese) is frighteningly accurate. "I think being able to speak English will change a Japanese person in the most unexpected ways," she said. "The Japanese language is just not conducive to self-expression, whereas English is all about expressing yourself, your needs, your emotions. Setsuko discovers after landing in LA that in the US, life isn't about getting by and being right, it's all about survival. You have to speak up, you have to make your needs known and you have to convince people of your worth. Otherwise, it's over. It's as simple as that." Hirayanagi herself has been living the sink-or-swim scenario since the age of 17 when she first went to LA as a language student. After this stint, she wrangled a student visa, enrolled in San Francisco State University and launched an acting career in LA while waitressing at "Nobu" in Malibu. "Back then, I loved the anything-goes mentality of LA," she said. "I went to every audition I could get, hustled and worked and generally lived the life of an almost-actor in LA. There are thousands and thousands of people like me. But in the end, I knew that I wasn't really cut out for acting. I would much rather stand behind the camera, work on screenplays and make something on my own."
Josh Hartnett even shows up playing a modern-day Charisma Man
Looking back, Hirayanagi added that her experience as an actor has proved invaluable to her filmmaking career.
"I know what actors go through, what they're up against, their joys and struggles. I also know my way around a film set, so I could establish a rapport with the actor and crew right away." Indeed, Hirayanagi has a reputation for being wonderful to work with – no less a personage than Kaori Momoi starred pro bono, in the short film version of "Oh Lucy!" and Josh Hartnett consented to play John because he loved the vibe of her screenplay. "They say that a director loses a limb every time s/he makes a film," laughed Hirayanagi. "I believe that. But I think this space is where I want to be. It's never going to get easy but at least I have the conviction that I belong here."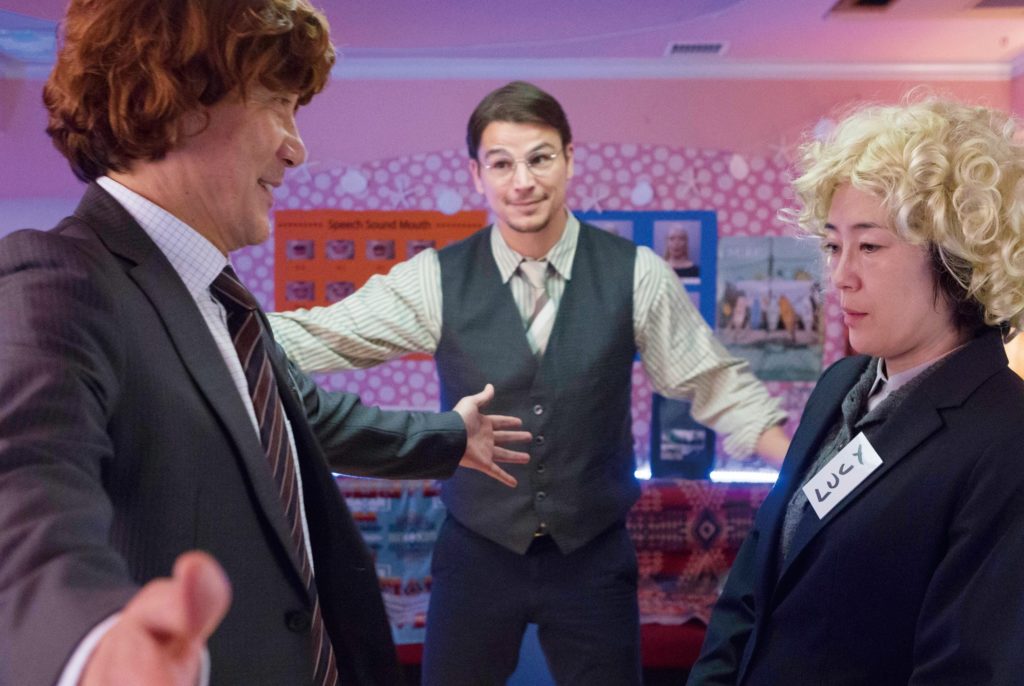 Setsuko/Lucy isn't so lucky. The trip to LA turns out to be a journey of self-discovery as she learns some unsavory aspects of her personality and forced to admit that John – stripped of the Charisma-man status he enjoyed in Tokyo – is actually a loser. Mika had dumped him in short order and is nowhere to be found. Toxic animosity with her sister comes bubbling up to the surface. Unwanted and unhappy, Setsuko must dig deep in her heart to unearth what it is she really wants. Her life may be banal but her pain and struggle is real, and sure to strike a chord with women everywhere. More importantly, in the end she's a different woman from the one she left behind in that monstrously cluttered apartment. Maybe learning English IS the cure-all antidote. Hey, I'm sold.
作品名:『オー・ルーシー!』
公開表記:4月28(土) ユーロスペース、テアトル新宿 他にてロードショー
配給:ファントム・フィルム 
コピーライト:(c) Oh Lucy,LLC
監督・脚本:平栁敦子
出演:寺島しのぶ 南果歩 忽那汐里 ・ 役所広司 ・ ジョシュ・ハートネット
プロデューサー:ハン・ウェスト、木藤幸江、ジェシカ・エルバーム、平栁敦子
エグゼクティブ・プロデューサー:ウィル・フェレル、アダム・マッケイ
共同脚本:ボリス・フルーミン
音楽:エリク・フリードランダー
2016年サンダンス・インスティテュート/NHK脚本賞受賞作品
(2017年/日本・アメリカ合作/5.1ch/ビスタ/カラー/原題:OH LUCY!/95分)