by Kaori Shoji
The Japanese have never been known for being warm, affectionate or touchy-feely but now it seems like everyone has wedged a hefty distance between themselves and other human beings. On TV, commentators are comparing COVID-19 to the AIDS scare of 30 years ago in the way it discourages people from physical contact, much less the exchange of body fluids. What a bummer. From casual hugs to love hotel trysts, direct contact just isn't happening anymore and it's taking a toll on our emotional well-being. Which is why you need to get to the theater this weekend to see Hatsukoi (First Love), if only as a reminder that even in this time of virus infestation, love can thrive – in a manner of speaking.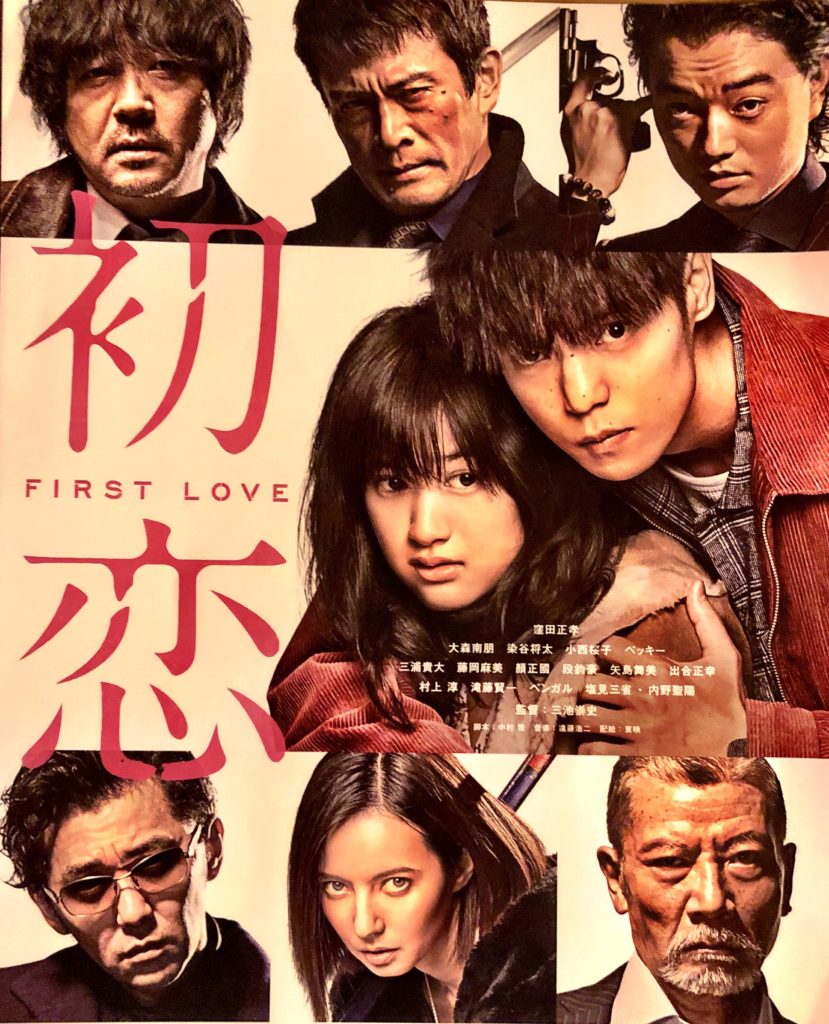 Hatsukoi is filmmaker Takashii Miike's latest, and the cute title is a foil for the utterly sinister events that unfold on screen. This stands to reason – Takashi Miike has built his own cinematic kingdom on the foundations on gore and violence for the last 35 years. Why would he stop now? At the press conference given at the FCCJ earlier this week, Miike joked that he came up with the title in the hopes that people will be lured to theaters, thinking Hatsukoi is a "genuine love story." If so, they are in for a rude awakening. Hatsukoi is less about the 59-year old Miike mellowing in his advancing years than Miike confirming he still has what it takes to go full throttle on his triple fortes of murder, mayhem and decapitation.
Having said that, Hatsukoi shows Miike in an uncharacteristically romantic mood, even occasionally favoring the love story factor over the blood-spewing brutality thing. As a result, Hatsukoi is much more palatable than Ichi the Killer: Miike's 2001 landmark project that put his name on the Hollywood map. Both works share significant similarities – they's set in Kabukicho, Shinjuku, where a yakuza turf war is raging. Both feature double crossing yakuza going at each other's throats. And in both movies, the lead role is a sad underdog who never had a break in his life. In Hatsukoi, this is Leo Katsuragi (Masataka Kubota), a boxer whose day job is a busboy at a Chinese diner. Leo had been abandoned by his parents at birth and since then, he's been licking the bottom of a very rotten barrel. That's about to change however, when he meets a girl on the streets of Kabukicho – hence, the titular first love.
Interestingly, Hatsukoi's present day Kabukicho is a different town from when Ichi had stomped its streets. The yakuza have gone corporate and their street cred is way down, which means they must look for ways to co-exist with the Chinese gangster groups that have infiltrated Shinjuku. But old-school clan boss Gondo (Seiyo Uchino) would rather just go to war and kill them all. This doesn't sit well with Gondo's young underling Kase (Shota Sometani), who is weary of the clan's outdated notions of yakuzahood. He's looking for a fast exit, but not before he lines his pockets with the clan's meth supply. Crooked cop Otomo (Nao Otomo) is looking for a cut in Kase's profits, plus a free sex session with the clan's whore Monica (Sakurako Konishi), forced to turn tricks to pay back her father's debt. Monica is the focal point of the story as well as the eye of the clan wars shit storm, and in the process she inspires Leo to dream of a future with at least a semblance of personal happiness. They fall for each other, and you can see they're very careful not to muck it up with anything sexual just yet – it's the first time either of them have ever been in love.
The big surprise, coming from Miike, is that Hatsukoi is also about female empowerment. Leo and the other males in the cast may be compelling but they never get off the rails of Japanese machismo and as such, very predictable. The women characters on the other hand, are definitely not the familiar cut-out victims from a typical yakuza movie (take your pick between willing sex kitten or giving mother martyr). First, there's Becky as Juli, a hard as nails yakuza moll who supervises Monica. When her boyfriend Yasu (Takahiro Miura) – the clan's accountant – turns up dead, Juli morphs into a raging, screaming avenger with a tremendous blood thirst. She won't stop until she hunts down Yasu's murderer, even if that precludes her own, violent death. And Monica, who starts out as the stereotypical victim – sexually abused by her father, then sold into slavery to repay his debts – matures into a person with her own agenda under Leo's tutelage. In the end, she even gives the ole patriarchy a good, hard kick in the teeth.
The flesh tearing, head-rolling bloodscapades of Takashi Miike is alive and well. But dig a little under the surface and you'll see that maybe the filmmaker has changed, just as his beloved Kabukicho has altered beyond recognition. Far from the nonsensical blood-drenched antics of Ichi, it's now a town where two young people can meet, fall in love and hold hands even as the world bleeds and falls apart around them. Under the current circumstances of virus angst, this particular love story is probably as good as it gets.