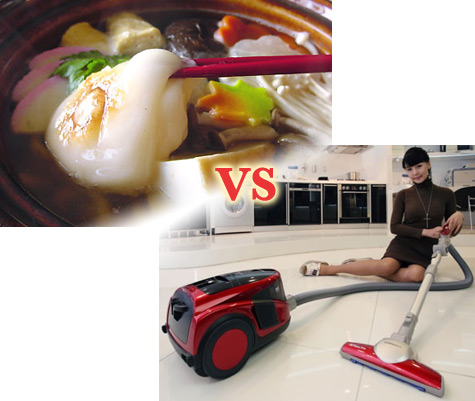 It's that time of the year again, where Family Mart employees don their Santa suits, KFC production goes into high gear, eager bargain hunters start planning their January 2 sale strategy, and families across the country worry about having to launch their fingers down a loved one's throat to dislodge unfortunate New Years mochi.
Yes, those sticky race cake treats essential to every Japanese holiday celebration are, according to the Ministry of Health, Labor and Welfare, one of the biggest dangers to the young and elderly over New Years. In the four years leading up to 2010, the Tokyo Prefecture Fire Department reported that, out of 4,719 choking incidents, 606 occurred in January, when mochi is most often consumed. Also, a 2006 MHLW survey of fire departments and emergency centers found that over 20 percent of the 803 calls received about choking incidents involved mochi–figures they estimate represent a mere 22 percent of the total population.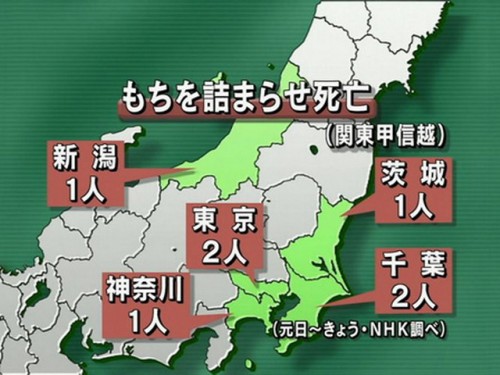 But how to remove sticky mochi that's lodged in grandpa's throat when a good whack on the back has failed? By vacuum cleaner, of course.
Although not officially recommended by any emergency services, the vacuum cleaner rose to popularity after a series of New Years incidents where the elderly were saved by quick-thinking relatives willing to jam a hose down their throat. A popular emergency suction nozzle especially for mochi rescues exists that can easily be attached to any commercially available vacuum cleaner, though the thin, narrow nozzle that comes with most machines will reportedly work in a pinch.
As an aside, the Heimlick Maneuver isn't often mentioned in advice for the lay-person, and "Heimlick Maneuver choking" brings up a mere 1,320 results on Google Japan compared to the 51,300 for "vacuum cleaner choking".
Of course, some people do survive without a vacuum cleaner or CPR.  Luck helps.
One ex-yakuza boss recalled his near-death experience with mochi. "I've almost been killed several times in my life, but the closest I ever got to dying was when I was 16 and almost choked to death on a mochi right before hatsumode. I crammed a whole one into my mouth and then wasn't able to swallow it or spit it out. I couldn't breathe and then I passed out, still poking at the mochi with my fingers in my mouth—I woke up to find that I'd puked it out. The luckiest day of my life. That stuff isn't fit for human beings. Deadly shit."
Still, if you don't have luck, it pays to suck. Keiko Musashi, 34, a physical therapist in Tokyo, tells how here grandmother was saved fifteen years ago."Obaasan had bad teeth and she loved mochi. On the third day after New Year's,  she ate one too many ozoni and started choking. We could see the edge of the mochi in her throat. We pulled the end and only a bit came out. She was turning blue and then my Mom remembered seeing a public service announcement (PSA) on television about what to do. So she grabbed the vacuum cleaner hose, turned it on and stuffed it in to Grandma's throat and jiggled it around until she sucked up the mochi. Mission accomplished."
To this day, Ms. Musashi and her mother refuse to buy a cyclone-type vacuum. "If it doesn't have a hose, it's not good."
So if you do insist on eating those foul Japanese delights this New Year's day and before or after your first visit to the local shrine—at least you make sure you have an old-fashioned vacuum cleaner (掃除機) nearby. Even if no one chokes to death, it'll be handy in starting the New Year with a clean house.