On an Internet message board, a concerned mother writes:
Hello.
My child has been attending kindergarten from March, and since then I've been working as a delivery health girl. I tell my husband, "I'm still looking for a job.. today I went to the employment office but still haven't been able to find anything," but in reality I'm doing good business every weekday from 10am-3pm.
I want to tell the hubby that I've found a job, but am not sure how to go about it. Before I got pregnant I worked an office job, so I want to tell him I've found the same sort of work.
The delivery health place I work at has an alibi service, so I can tell him I'm a temp worker.. but I'm worried he won't really believe me. I'm afraid I'll give them a company name that doesn't exist, and either he or my parents will be like, "I've never seen ads for that company…" or "What are you doing every day?"
What can I say that will be most believable? The shop I work at specializes in married women, so when I go I'm dressed in chic clothes like pencil skirts and look like an office worker. Since it starts at 10am, chances are I'll never bump into my husband, but he takes weekdays off two or three times a month so he'll see what I'm dressed like then.
I don't want it to get out what I'm doing and it makes me think I should quit but don't… I want to keep on working there for the time being. My husband would definitely never forgive me for something like this, and we've got a pretty good relationship right now.
I'm sorry for being so soft about the whole thing, but appreciate any replies.
Could you imagine if you had a wife or girlfriend that was sneaking off every day to work in the sex business while you're in the office? Probably the majority of people couldn't, and thus covering up a "high-income part-time job" is a real worry for a lot of fuzoku girls.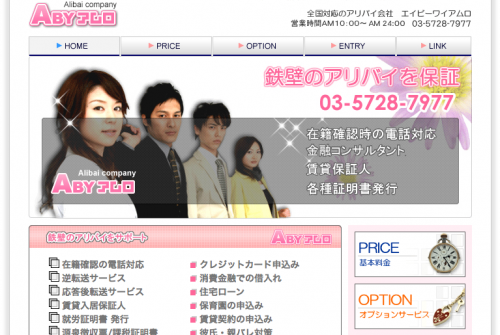 That's when the alibi service comes into play. Much like similar services in the West, the alibi service will drum up evidence of fake jobs, including business cards, employee ID card and statements of income. But while most western alibi companies advertise their services for married people in "discreet relationships," for those who want to take a day off of work or impress their friends with some ultra-cool job or sports experience, Japan's alibi services don't beat around the bush when they advertise their services for those working in "the nightlife business and sex industry."
For a mere ¥5,000 a month, a girl can have a fake pay stub mailed to her home with the name of a temp agency, ad agency, real estate agent or retail business. Shop owners can get discounts when registering a group of women, which is how many fuzoku businesses advertised in magazines can provide alibi services to employees. The services specialize in other business as well, such as creating false documents such as statement of income for those looking to take out a home loan, finding a guarantor for those looking to rent an apartment, or proof of employment for those who want to put their children in daycare but don't have a job.
But what about the query above? Are these things really believable? The top-rated reply:
I'm a woman in my 20s who also works in the fuzoku business.
I think it's best to stick with the "office work" you've always been doing. If someone tries to ask about it, it'll be that much easier to reply if you know the work. But if something happens and you get a call while you're servicing a customer, you can't answer, right? I am (of course) working int he industry without my parents knowing, so I tell them I'm a telephone operator. That way it makes sense when I don't answer the phone.
What kind of services does the alibi company your shop uses have? Most of them provide verification of employment and fake pay stubs…
The place I work has two phone lines, one of which they answer under the name of the fake company created by the alibi service, so that when my parents or husband demand I give them my office number I've got something to give them.
If you're worried about what you wear when you leave the house, I think it's best to change at a station on the way or at the shop. (I know people who do this) Probably 20-30% of the women who do this work keep it a secret from their husband or boyfriend. But they all take it as far as they can to make sure they don't get caught.
I think it's best to get down a company phone number (with someone answering as an alibi), a company address (if the shop has an office, then that address), and what you do at work. Give a thorough look at job magazines and find a good setup from the start.

Finally, while you can obviously make a lot of money, the fact is that a lot of people can't stop once they start. Create a financial goal for yourself and don't be greedy; when you reach it, wash your hands of the whole thing so you don't get found out by your family.
If this is what the person who asked the question has decided to do, then I think they can. Good luck.