Japan has a unique way of celebrating western holidays. On Christmas Eve, men and women check into Japan's ubiquitous, pay by the hour, slightly kinky boutique hotels, also known as "love hotels" and celebrate the event with raucous but tasteful intercourse.
On Valentine's Day, the women buy chocolates for men. The men reciprocate a month later on White Day, a candy industry invented holiday, by saying thanks for their expensive chocolate gifts with cheap white chocolates.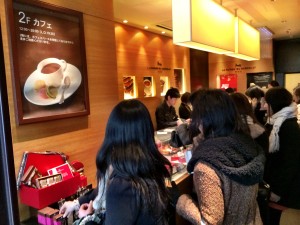 The whole holiday is a huge headache for many Japanese women who not only buy chocolates for the most important lover in their life, which may not necessarily be their boyfriend, or husband, or even a man at all–but they also have to buy and give chocolates to work acquaintances and close male friends. The chocolates that you give to your lover are called 本命チョコ (true love chocolates). Those you give out of obligation (義理) are called giri-choco (義理チョコ).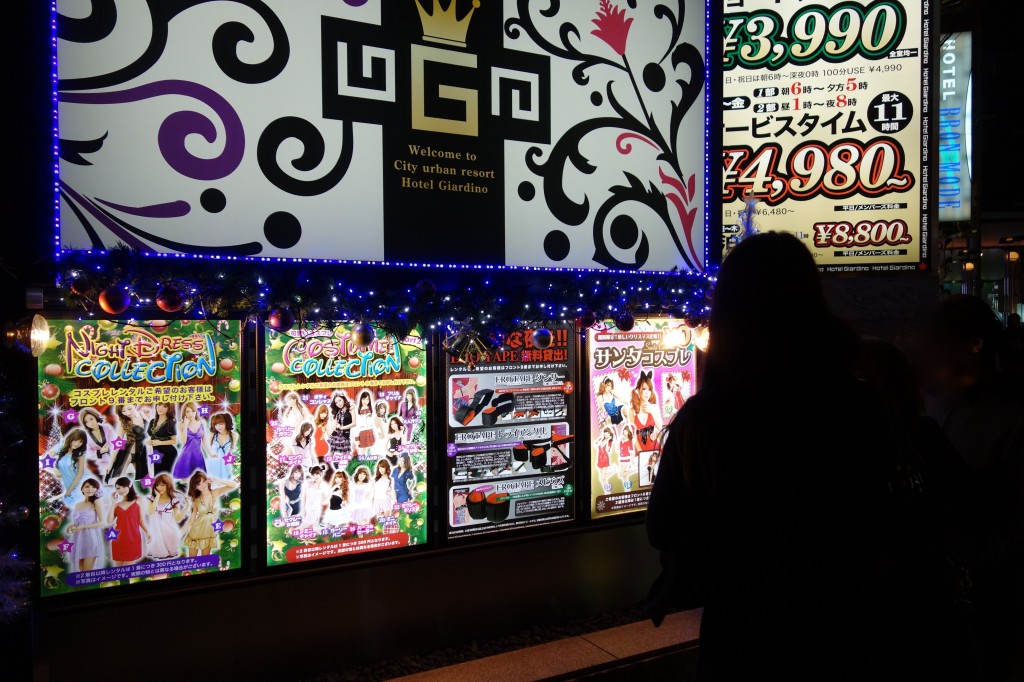 Well, some women in Japan, and probably a very small number of them, in order to spice up their home-made chocolates with a little extra something, or give their store bought chocolates something really special--are reportedly (self-reportedly) putting a little of their own blood and sweat into the cooking of gooey sweets. Literally. Sometimes body fluids such as blood, sweat, and spit are the secret ingredient in chocolates given by Japanese girls to the boy of their dreams. If they aren't really doing it, they are at least certainly tweeting about it. One sneaky chef recommends that people use frozen raspberry puree in their home made chocolates to disguise the blood's taste and appearance. (I always knew there was something about raspberries I didn't like.)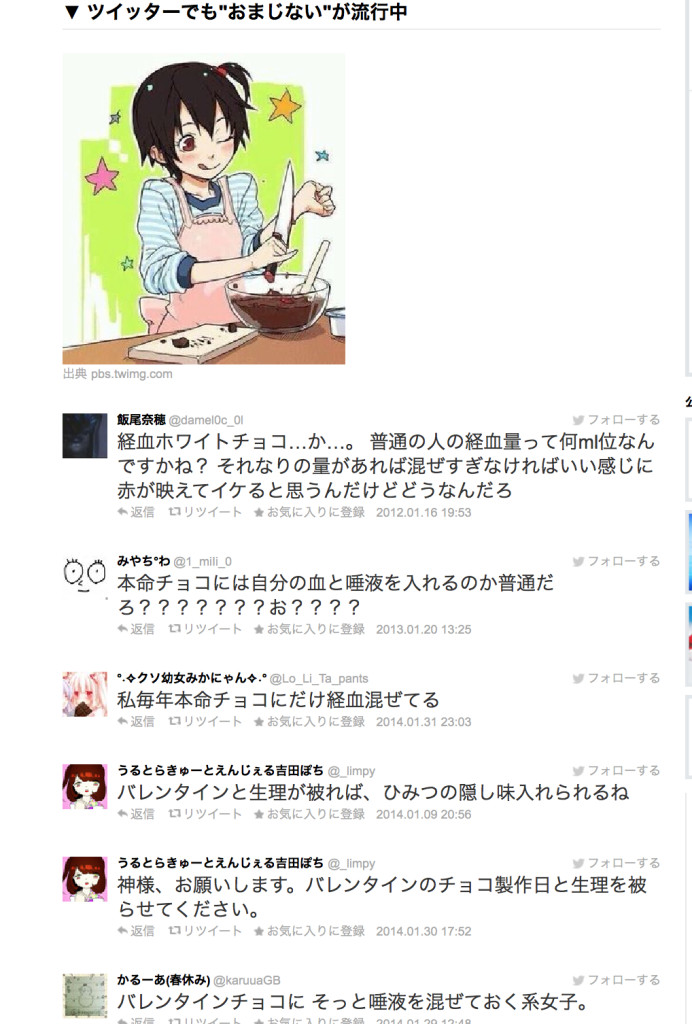 Obviously, some of this self-reporting is dubious and simply black humor but it's not altogether an unknown practice and reports of it date back at least to 2011.
There seems to be a primitive belief in Japan that one's blood or parts of the body have magical powers of attraction and that by having your true love consume it, that they will become a part of you or inseparable. In other words, if you are the one in love but not your partner (片思い), having him drink your blood is believed to make you fall in love with each other equally. (両思い).
The insertion of bodily fluids into chocolates is considered to be a sort of black magic (黒魔術) or a spell/majinai(呪い). Or perhaps, women just do it because a popular website reported it as new trend. In Japan, what is reported to be a trend, often becomes a trend based on that report. The news makes the news. Of course, one respondent to JSRC explained her reasons for putting her blood in the chocolate as simply, "I thought it would make the chocolate taste better." (血液を入れたら美味しくなるかと思ったから)
Ideally, says the blogosphere, if you are going to lace your true love's chocolates with blood, menstrual blood is the most powerful. For those women to be having their period during Valentine's Day is an auspicious sign. Women are advised that if they don't have blood to give, to try fingernails, skin, or other materials from their own body.
We agree that the "bloody valentines" are not a trend, and probably only made only by a fringe element in Japan but there you go. Japan apparently isn't the only place where the magical attractive powers of a woman's blood in the food of her man are supposed to to make him a love slave. This is allegedly a common voodoo belief as well. However, in Japan they seem to be more methodical in how to do it, including recipe suggestions—even if some of that is in jest.
It goes without saying that consuming the blood of another person is probably not healthy. And the jury is out on the efficacy of chocolate's sterilization of harmful viruses in the red elixir of life. So for you lucky guys in Japan getting a box of chocolates from your "true love" or would be "true love" ; be sure to get vaccinated first and consume carefully. If you suddenly find yourself feeling strongly for your lover in what was once a one-sided relationship, well then you'll know something magical is happening.
Happy Valentine's Day.
Note: This article was originally written without one tasteless pop-culture reference to horror/slasher film "My Blood Valentine." Angela Kubo, food writer, gracefully contributed to this report.