"I want a tiny face!"—This is apparently the clarion call and desire of every Japanese woman, and now thanks to The Absolute Tiny Face Corset Kit (1日3分巻くだけ!絶対小顔コルセット―整形レベルのW巻き)and instructional book, issued by Japanese publisher, Shufu No Tomo (主婦の友)–it may now be possible for every woman in the world to at last enjoy true cuteness.
All it takes is three minutes of horrible pain a day.
The kit promises that simply by wrapping your face tightly in two lovely pink fluffy facial corsets (Velcro included!) for a mere three minutes a day, that any woman can achieve the ultimate small face.
The Absolute Tiny Face Kit was first released in July of 2011, and has gone on to be such a hit, that as of the time this article was being written, Amazon Japan only had five in stock. (And now only four because we bought one to give away to a lucky reader.) In Japanese there is a saying, Kao ga Hiroi (顔が広い)which means to "to have a wide face" aka "to be well-known, to be very recognized." While on a social level, a "wide-face" may be desirable on an aesthetic level, clearly, this is unwelcome in Japanese society, especially for a woman.
According to the maker: "I want to have a tiny face!"—This has been the wish of all girls for eternity. At last now, there is a tiny face instruction booklet, including two dreamy face shrinking items, that can make that wish come true. It only takes three minutes a day to give you a salon quality face-lift and if you combine wearing the facial corset with a massage—why, you might have a Japanese pop idol grade small face. It will diminish your double chin, facial puffiness, wrinkles and best of all—when your face gets smaller—it'll look like your whole body is thinner.
It sounds almost too good to be true.
In order to test it out, we enlisted one woman to test out this amazing product:  our PDP (Possibly Dangerous Products) tester and model, Cara Streenstra (JSRC Hong Kong Office). We were amazed at this amazing product.
We think you'll be amazed as well.
We have one Absolute Tiny Face Kit to give away to the person who can write the most touching letter on why they need a smaller face. Please send in your comments or emails and we'll announce the winner and the letter at a later date.
Disclaimer: Photos may not reflect efficacy for all people; results may vary according to camera settings and lack of seriousness in article tone. Please use the Absolute Tiny Face Kit at your own discretion. JSRC is not responsible for any cranial damage, crushed ears, or loss of self-respect. No bribes were taken (yet) in writing this article from Shufu No Tomo. This article does not condone or endorse tiny faces as ideals of feminine beauty and apologies to any non-cute big-faced women or men who are not lucky enough to have tiny cute faces.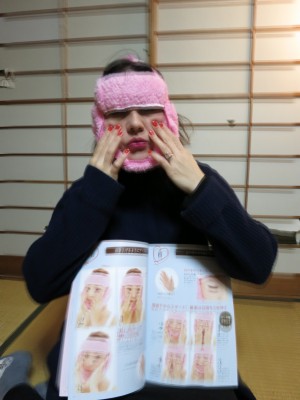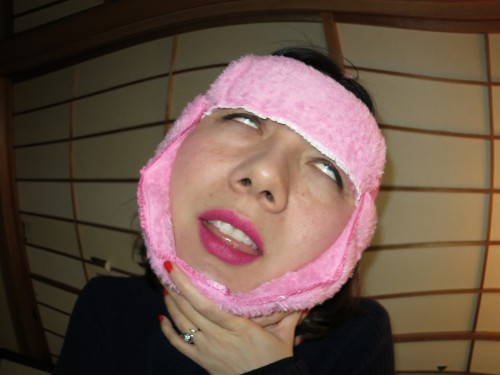 They say a picture is worth a thousand words. Well, if you ask us, a smaller face is certainly worth one thousand and five hundred yen coins–that's a greater value than words for pictures. People may say that Japan's era as a leader of technology and the world economy, nay even pop-culture, are over. Products like the Absolute Tiny Face Kit may not sway those naysayers but it does show that no one beats Japan when it comes to "saving face."