Last November, the Tokyo Metropolitan Police Department Organized Crime Control Division (警視庁組織犯罪対策部)arrested the ex-CEO of a Tokyo Stock Exchange listed company  on charges of violating the financial instruments and exchange law (金融商品取引法違反容疑) . Members of the Yamaguchi-gumi, Japan's largest crime syndicate, a yakuza group, are said to have been involved in the crime. On February 20th 2012, more arrests were made of individuals working for a Yamaguchi-gumi front company. (See UPDATE at bottom).
*This article was originally published in November of 2011 and has been updated March 26th, 2012. 
The company was not Olympus and the man arrested was not Tsuyoshi Kikukawa, the former CEO of Olympus.
However, Olympus is currently under investigation by the Tokyo Metropolitan Police Department, the Tokyo Prosecutor's Office, and the FSA/SESC for suspected violations of the same law. Olympus via its allegedly independent investigative committee announced recently that there was no evidence of organized crime involvement in the massive financial fraud the firm perpetuated for more than a decade. In that fraud, Olympus used a network of dubious companies. Individuals who have been found guilty of investment fraud and insider trading, managed at least two of the companies Olympus used to hide past losses: NEWS CHEF and J-Bridge.
In this particular case, the man arrested along with four others was Tsuyoshi Nakamura, former president of general contractor Inoue Kogyo Corporation. He was charged with arranging a fake capital hike in violation of the financial instruments and exchange law.
The police also arrested four others on charges of violating the law. Nakamura and the others are suspected of arranging a false 1.8-billion-yen capital hike of the company by issuing of new shares in September of 2008.
  Investigative authorities suspect that 1.5 billion yen of the total "capital hike" was money  circulated from an investors union known as Apple Limited Fund (Tokyo Chuo-Ward).   Yamaguchi-gumi members had a role in running the fund, but it is not clear whether it was front company or simply a "cooperative entity." Police believe the fake capital increase was used to  raise the stock prices long enough for Yamaguchi-gumi members to sell their acquired shares at a large profit.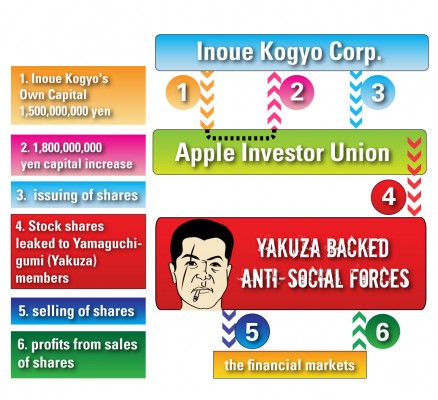 Nakamura and his associates are also being investigated for possible violation of the organized crime penal laws, specifically money laundering. Inoue Kogyo, which was listed on the second section of the Tokyo Stock Exchange, filed for court approval for the start of bankruptcy proceedings in October of 2008, due to financing difficulties. It was delisted the same month.
This is not the first time a company listed on the Tokyo Stock Exchange has been involved with organized crime. In March of 2008, Suruga Corporation, had its offices raided in connection with their use of a Yamaguchi-gumi Goto-gumi front company to evict tenants from buildings that Suruga Corporation wished to acquire. The Yamaguchi-gumi members involved were arrested for violations of the lawyers law (弁護士法違反) . In Japan, only legal counsel has the right to negotiate eviction with building tenants. No one from Suruga Corporation was arrested for hiring organized crime members to do their dirty work; it was not a crime to utilize yakuza for business purposes in 2008. At the time of raid and the arrests, Suruga Corporation had on their board of directors a former National Police Agency Organized Crime Control Division bureaucrat and an ex-prosecutor. After the firm's organized crime ties were revealed, banks refused to loan the firm money and they began corporate rehabilitation procedures in June of 2008. In the same month, the TSE announced they would be delisting Suruga Corporation–because of the firm's financial difficulties–with no reference to the firm's ties to organized crime. Suruga Corporation was delisted on July 25th, 2008.
It should be pointed that Inoue Kogyo and Suruga Corporation were listed on the second section of the TSE, while Olympus is listed on the first section, so obviously different standards of corporate compliance and investigation are to be expected.  First section companies, we assume, would never, ever, get involved with organized crime. Not like those second sector guys.
UPDATE
More arrests were made in the Inoue Kogyo case on February 20th this year according to the Yomiuri Shinbun and other sources. Yu Kanatake (金武雄) , the president of Shinsho (神商)a business loan firm and two other individuals are charged with violations of the lending laws. Allegedly they lent over 7 million dollars (7億円以上)to  those involved with the fake capital increase, without the proper license. In March of the same year, the Tokyo Metropolitan Police arrested Itchu Nagamoto, notorious Yamaguchi-gumi moneyman and financier for his role in the capital increase. Nagamoto, who is of Korean origin, had fled the country when the investigation began. The Tokyo Metropolitan Police Department stated to the Yomiuri and other media that Shinsho was closely linked to the Yamaguchi-gumi, Japan's largest organized crime group and that they believed profits made on the financial transactions were kick backed to the Yamaguchi-gumi.