by Kaori Shoji
You don't know cool until you've seen
ZAN (international title: "Killing")
. A period action film set in the late Edo Period,
ZAN
 is everything that
The Last Samurai 
is not: minimalist, unpretentious and totally unsentimental. Back in Old Japan, sentiment was often a luxury few people could afford. It was hard enough to secure things like food and basic comforts, and the situation was harder for the samurai because they had to keep up appearances as the authoritative class.

"I want you to think about all the mistakes you've made in your life up to this point," he tells his bleeding victim. "You have plenty of time for reflection until you finally manage to die."
ZAN notes that a samurai was defined by two things: 1) his sword and 2) his ability to kill others with that sword. The film also makes no bones about the incredible pain and grossness that accompanies a sword fight. It's not like a TV period drama where one swish of a katana brings on instantaneous death–the process takes hours or even days of intense suffering. In one scene, after a close battle a samurai slices off the arm of an opponent, right from the shoulder. "I want you to think about all the mistakes you've made in your life up to this point," he tells his bleeding victim. "You have plenty of time for reflection until you finally manage to die."

Chilling. Isn't it? ZAN is a lesson in Edo Period brutality and despite the obvious disregard for period detail (like speech patterns and vocabulary) it all feels eerily true. No one cracks a smile, wears make-up or even changes out of soiled kimonos. The sky is heavy with perpetual rain, the houses are pitch dark, cramped and dingy. The threat of pain and death is ever-present and the only respite is sex, or more often, masturbation. Something has got to give, but you sense right away that the giving isn't going to be happy.

ZAN is directed by Shinya Tsukamoto – arguably the most innovative auteur working in the Japanese flm industry today, and distinctive for working solo. An indie wunderkind, he directs, writes his own screenplays, works on his own production designs and acts in crucial roles, in his own and other peoples' films. Tsukamoto even auditioned for Martin Scorsese's Silence and got the part of Mokichi. Rumor has it Scorsese thought Tsukamoto "looked familiar," as the American director is a fan of his work, but didn't believe that a man of Tsukamoto's repute would actually show up for an audition. Scorsese was later flabbergasted to learn the truth and professed to be "in awe" of Tsukamoto – at least that's the story floating around in the Japanese movie industry.

But it's easy to believe that Scorsese was impressed because as an actor, Tsukamoto radiates a macho allure that's hard to resist. In the movie, he plays an older samurai named Sawamura, a mysterious vagabond traveling from village to village in search of talent. Sawamura has an agenda – to form a platoon of free agent samurai and offer their services to some powerful lord. The era is late Edo, when the whole of Japan was in the fever grip of confusion and intrigue, all the while being pressured by Europe and the US to open up the nation, after nearly 260 years of isolation. Against this backdrop, hordes of samurai were fired from their clans and left to fend for themselves. Many of them were recruited as foot soldiers by the Tokugawa shogunate and its supporters that were anti-foreigner and desperate to preserve the status quo. Sawamura's own political views are unclear but most likely he has none. Like many unemployed samurai at the time, gaining a steady position was the biggest priority and as a samurai, that meant killing people with his sword. "I want to do my part in these chaotic times," he explains.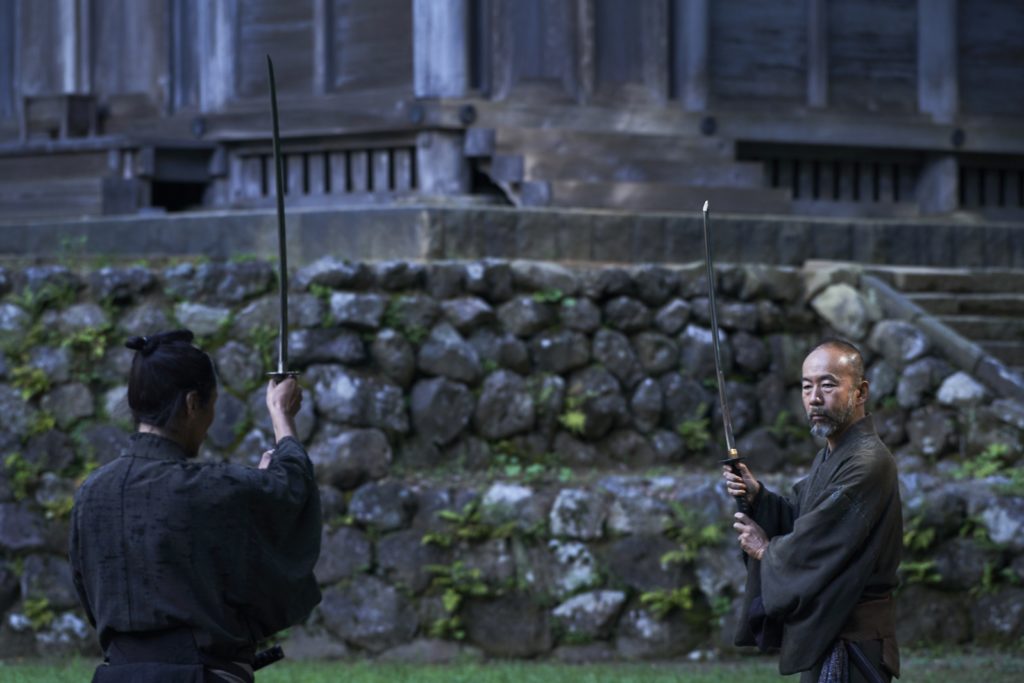 Sawamura's statement reveals the Edo samurai mind-set: Fighting for a cause or a political slogan was tacky. Killing to assert one's identity as a samurai, was more like it. He wanders over to a village on the outskirts of Edo and observes a young samurai, Tsuzuki (Sosuke Ikematsu) having a mock sword battle with farmer boy Ichisuke (Ryusei Maeda). Tsuzuki had been hired on a farm in lieu of food and board, and had been giving katana lessons to Ichisuke whenever they had a moment free from working the rice paddies. Tsuzuki is an excellent swordsman and under his tutelage, Ichisuke has acquired a lot of skill. Sawamura wastes no time in recruiting them both, and proposes leaving for Edo in two days. Ichisuke is keen to go but Tsuzuki is inexplicably reluctant. The presence of Ichisuke's sister Yu (Yu Aoi) is part of the reason – Tsuzuki always masturbates to the sight of her bathing and the story suggests he is a virgin. Could it be that he's also a virgin as a murderer, and for all his grace and expertise with the sword, Tsuzuki has never brought his blade down on another man's flesh?

ZAN twists and writhes its way to a bloody climax and by then you become well aware of the wondrous weirdness of the samurai. They are darkly backward in their thinking, swayed by a single desire to assert their samurai identity, which is on par with the will to kill. It overrides all other desires – for happiness, for justice, even for survival. It depicts not the noble samurai of Japanese fiction and The Last Samurai, but the samurai as they really were: bloody, brutal, barbaric and with no notions of the word Bushido(武士道). Bushido, both the word and the concept of a noble samurai were retroactively imposed upon the Edo-era culture by the writer Inazo Nitobe in 1900. His book Bushido: The Soul of Japan, written in English, was aimed at Western audiences, and tried to elevate the popular image of Japan. (The "Cool Japan" strategy of 1900).
In ZAN, the opening of Japan to the West and the subsequent demolishment of the samurai was just around the corner, but Tsuzuki and Sawamura are locked into an existence that no one, not even themselves, could fully comprehend or accept. They take us to a place that defies logic and explanation, to a time when such things were beside the point. It's only when the lights come on that we take stock of what Japan has lost in the wake of modernization and wonder briefly whether the trade-off was completely worth it.
Now playing in Japan. Click here for showtimes and venues are here
Editor's Opinion: Yet, are the samurai really missed? " For the peasants and underclass who were often brutalized by the samurai, probably not. Samurai could legally murder the lower class of merchants, farmers, prostitutes, etc–kirisutegomen–for being impolite or simply being annoying. The movie reminds us that maybe for the rest of us, the cutting down of the Samurai was a boon to Japan, not a curse. What do you think?
タイトル:『斬、』
読み方:ざん
公開表記: 11月24日(土)よりユーロスペースほか全国公開!
クレジット:
監督、脚本、撮影、編集、製作:塚本晋也 
出演:池松壮亮、蒼井優、中村達也、前田隆成、塚本晋也
2018年/日本/80分/アメリカンビスタ/5.1ch/カラー 
製作:海獣シアター/配給:新日本映画社