by Kaori Shoji
We're nearing the end of the world but there's a sliver of a chance that we may be able to go out in style.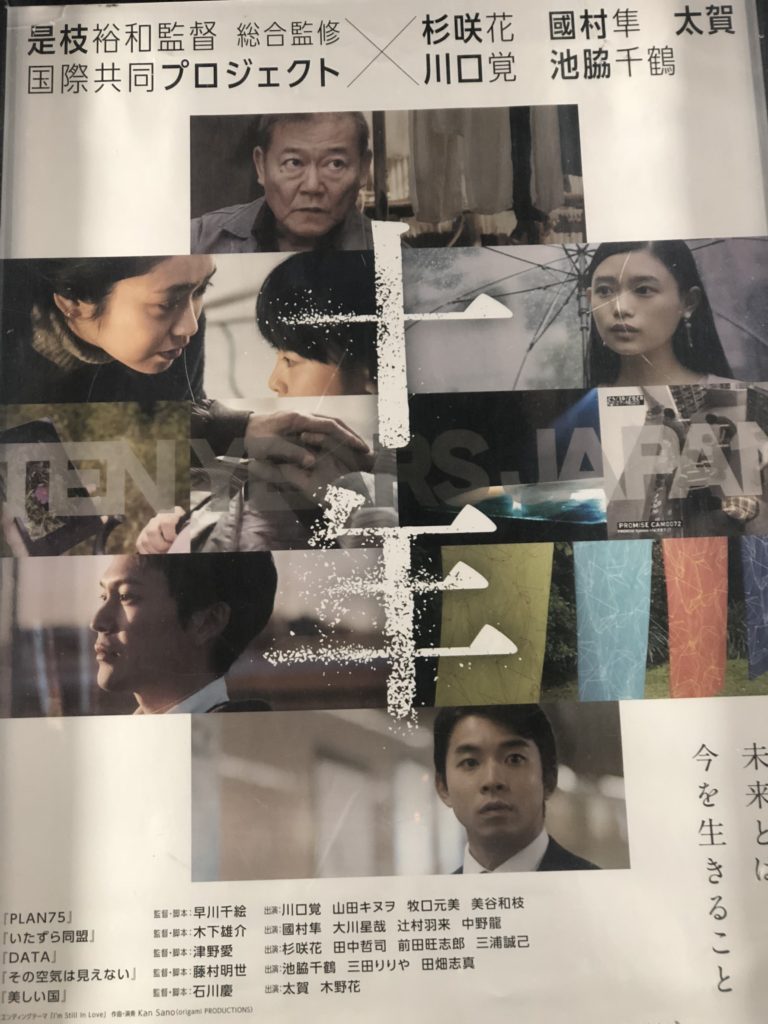 That pretty much sums up the message behind "Ten Years Japan (十年)" part of a film project in 4 Asian locales (Honk Kong, Taiwan, Thailand, Japan) to imagine the future of their nations, 10 years from now. "Ten Years Japan" is a 5-story omnibus, showcasing the talents of five directors – three of whom are women. You can see it in the way they grapple with themes like aging, nuclear fallout and a mother-daughter relationship. Gender comparisons are always dangerous but in the case of "Ten Years Japan," these women directors clearly offer more wiggle room for hope and emotions like heartfelt gratitude, wrenching nostalgia and love. In the bleakest moments of their stories you sense that love will show up, eventually; a much-awaited guest late for the planet's last dinner party.
The launch force behind "Ten Years" was Hong Kong in 2016. Hong Kong's "Ten Years" played to wildly enthused audiences at home and went on to the international film festival circuit, but the contents were viewed as "problematic" by Beijing and banned in mainland China. Inspired by the Hong Kong team and their stories, the Thailand version came out in May this year. And now we have our own, here in Japan, which has been playing in a few Tokyo art house theaters for a limited 3 week release from November 3rd. Which is way too short to do this film justice but given the current political climate, maybe we should be thankful it's being released at all.
"Ten Years Japan" was creatively supervised by Hirokazu Koreeda whose name and international repute has become on par with if not replaced, that of Takeshi Kitano. Koreeda is now the film critics' darling in Cannes and London and when he speaks, his words become news print.
Koreeda shows a side of Japan that rarely makes it to the international stage. No samurai, geisha or yakuza splash guts and sex  in his vehicles. Instead, he wants to tell stories about quietly dysfunctional families. Or a mom who abandoned her four kids and never told anyone, until one of them dies. In his latest triumph "The Shoplifters" Koreeda addressed the problem of poverty and child abuse and was snubbed by none other than Prime Minister Abe when the latter said that Koreeda was perhaps, exaggerating a bit and that poverty in Japan is practically non-existent. Cue: sad laughter.
Koreeda has repeated said that he's interested in the here-and-now of Japan, and working with performers that can transport and translate the urgency of our times onto the screen. This is probably why Koreeda demonstrates a flair for working with child actors. In his stories, they are sharp observers of adult sins and tellers of inconvenient truths as at the same time they are victims in a world over which they have no control.
A stark example of that is seen in "Itazura Doumei (Mischievous Alliance)," a tale directed by Yusuke Kimura. In this, elementary school education has become all about relentless surveillance, as the pupils are made to wear command devices on their heads, obeying instructions on where to go next, what to study and how to interact with classmates. They also receive "suggestions' to consider this career or that, and how they can optimize their studying choices. Sort of like push notifications on a much more pushier level. The teachers fare no better. Only the school janitor (played by the always reliable Jun Kunimura) seems to enjoy a modicum of independence. The janitor takes care of an aging horse (part of a school experiment), soon to be exterminated on the whim of a digital authority. He can't help but side wth the rebellious Ryo (Seiya Ohkawa) when the latter breaks the key to the stable and sets the horse free.
Another tale of childhood helplessness is "Sono Kuukiwa Mienai (You Can't See This Air)," directed by Akiyo Fujimura. In this, the stage is an underground nuclear shelter inhabited by a small community of survivors. Mizuki (Ririya Mita) nurses a growing obsession with "the world above" as her anxious mother (Chizuru Ikewaki) warns there is nothing but danger "up there." Mizuki longs for sunshine and rain until she can't stand it anymore. The audience is left to surmise the consequences of her escape to freedom.
Utsukushii Kuni (美しい国) is a sharp poke in the ribs of Prime Minister Abe, who authored a book of the same title. The episode depicts in subdued tones, the ultimate outcome of Japan's militaristic leanings as the Ministry of Defense puts a mandatory draft into place. The episode centers around an up and coming advertising executive who must inform a famous artist that her propaganda poster design, just isn't quite what the ministry wants. It ends with a subtle twist, reminiscent of a Twilight Zone episode, that leaves the viewer with a tiny chill–in a moment of quiet understated dread.
Perhaps the most harrowing is the first story: "Plan 75" directed by Chie Hayakawa. It's about our super-aged society: the most urgent and costliest problem facing Japan today. Hayakawa imagines a near future in which the government launches the titular program: people over 75 are offered a quick and painless euthanizing. The public service announcement advertising this expedited exit, sponsored by the Ministry of Health and Welfare, is such a dead-on parody of  Japanese PSAs that it almost seems real. Those urged to cross over to the other side, of course, are the low-income elderly or the infirm. But there are perks; those who agree to die even get a cash reward of 100,000 yen, so they can go out in relative style. There is an unforgettable death scene where an old man lays prostrate on a clinical cot – there are sounds of another man groaning nearby. The old man is visited by an intense loneliness and just as he's about to burst into tears, a pair of female hands reach out to clasp his own. His face relaxes and there's a wave of joyful relief. Cliched as it sounds, "Plan 75" confirms the old adage: all we need out of life is someone to hold our hands when we die.

"Ten Years Japan"
1) "Plan 75" Directed by Chie Hayakawa.
Starring: Satoru Kawaguchi, Kinuo Yamada, Motomi Makiguchi
2) "Mischievous Alliance" Directed by Yusuke Kimura.
Starring Jun Kunimura
3) "Data" Directed by Ai Tsuno
Starring: Hana Sugisaki, Tetsushi Tanaka
4) "Sono Kuukiwa Mienai" Directed by Akiyo Fujimura
Starring: Chizuru Ikewaki
5) "Utsukishii Kuni" Directed by Kei Ishikawa
Starring: Taiga, Hana Kino