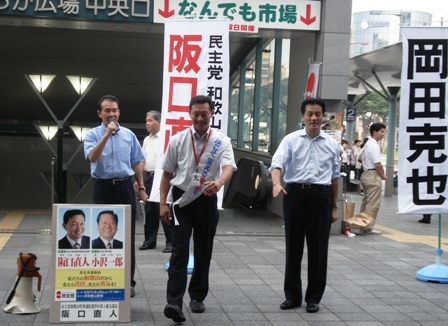 An English teacher was arrested this Easter Sunday after he did what many Japan residents dream of doing: Telling those pesky campaigning politicians that they're loud and obnoxious.
English citizen Edward Jones, 34, was in Tokorozawa, Saitama, and had been having a few drinks with friends when the group happened upon a local politician campaigning with microphone and loud speaker outside of JR Higashi-Tokorozawa Station. Jones grabbed the mic from the politician's hand and yelled at him, amongst other things, "nihon no senkyo wa urusai!" (Japanese elections are loud!) He was arrested for "obstruction of freedom" (自由妨害).
To this we say, "Right on, Jones-san!!" Noisy campaign trucks plague neighborhoods around the country during the weeks leading up to any election, as hopeful candidates mindlessly repeat their names and manifestos for hours on end, finishing each loop with an unwelcome "yoroshiku onegaishimasu!"
Japan's outdated election rules disallow politicians from using the Internet to campaign (though for a few years now there have been hopes this will change), and candidates are forced to rely on newspapers, TV and public appearances to make their appeal.
Fun fact: The custom where candidates and politicians to stand out in front of a station or other public place and greet passer-bys first thing in the morning is known as asa-dachi (朝立ち). Asa-dachi has a few other meanings, one of which is morning wood.
Original article here.