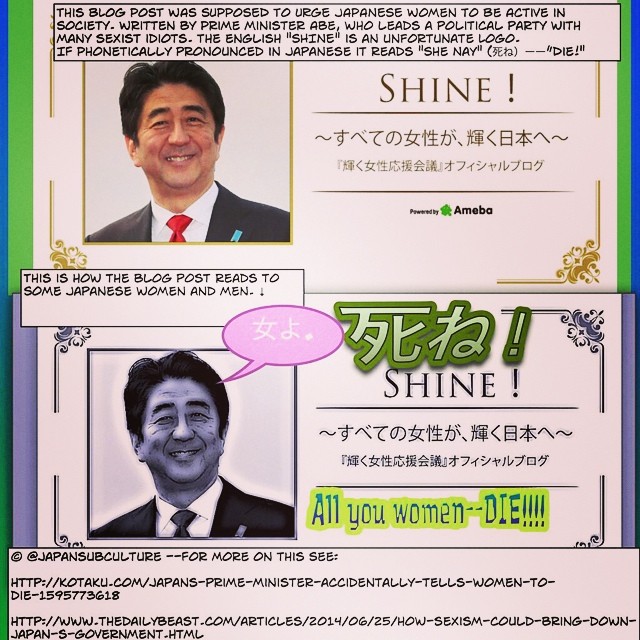 "Can't you make babies!?"—
A online petition calling for punishment of a Tokyo Metropolitan Assembly  member who hurled sexist comments at a fellow female assembly member gathered more than 32, 000 signatures throughout Japan in under 24 hours.  The petition was posted on change.org, a website which provides a platform for citizens to gather signatures and support for popular causes..
Ayaka Shiomura,  35-year-old woman from the Your Party, and elected member of Tokyo Metropolitan Assembly, was calling for support for women who are infertile or need assistance while pregnant or raising children in a session of the assembly, and was interrupted with jeers and insults from fellow assembly member. The jibes came from someone in the seats reserved for Japan's ruling party, the  Liberal Democratic Party members.  The insults included such gems as: "You should hurry up and get married!" "Can't you have babies?"
The remarks brought up bad memories for some of the population as it mirrored the infamous 10 Precepts for Marriage issued by the Ministry of Health and Welfare in 1939 under the Imperial Japan regime. The guidelines concluded with the infamous line: 産めよ殖やせよ国のため (For the sake of the country, give birth and grow the population). These guidelines were based on similar ones issued by the Nazi regime.
It's no secret that many of the privileged old men in the LDP view women as being primarily vehicles for siring more young Japanese men to ensure Japan can take care of its elderly and keep out foreign workers. 
The petition is the fastest growing on Change.org Japan ever, according to Emmy Suzuki Harris, Campaigns Director for Japan at Change.org.
But according to the creator of the petition, who is a man who does not want to have his name published, the signatures are not enough.
"Why?" he said, "Something that the citizens cannot really forgive happened. However, to see people in other regions showing the same anger at what happened touched and reassured me."
"I'm deeply angry not only as an individual, but as a male. Because pressure and discrimination against women is, in fact, always pressing on men a different way of living at the same time."
"These sort of taunts fly around and there are assembly members who laugh in an assembly where members who say 'we'll promote the social advancement of women!' or 'we'll work firmly toward providing child care support!' gather," Shun Otokita, a colleague of Shimomura's, wrote on his blog. "This is the reality of the Tokyo Metropolitan Assembly in the capital of our country."
The secretary-general of the LDP assembly members, Osamu Yoshiwara said that it wasn't in his position to confirm whether or not it was a member of his party who yelled out the comments, but he asked assembly members to behave in a "in a dignified manner."
The Mainichi Shimbun reported that Yoshiwara said that he hadn't heard the comments and suggested, "How about each assembly faction makes sure its members don't make rude comments."
Shiomura wrote on Twitter, "I will take taunts about my policies, but I don't think this is something you should tell women who are suffering."
Japan is also very far behind in terms of gender equality. Japan was ranked 105th last year in  the  2013 Global Gender Gap Report, which  ranks women's equality in 136 countries. Under the Shinzo Abe (LDP) administration, Japan's ranking in press freedom has already fallen to near Uzbekistan levels.
Shiomura is reportedly going to seek punishment for the person who yelled the comments at her.
Taunting and yelling out abuse isn't uncommon during parliament sessions in Japan, as evident in this video and this video.