Japan on the whale path again; kills 30 minke in latest hunt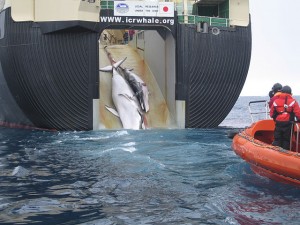 The Japanese Fisheries agency announced that the results of the April-June whaling season in the northwest Pacific Ocean. 30 Minke whales were killed in the name of "research." Media sources have come out with headlines such as "Japan Kills 30 Whales in 1st Hunt Since ICJ Ruling." It should be noted, however, that there is no connection between the International Court of Justice ruling from this March and the recent hunting season. The ruling only covers hunts in the Antarctic area and does not extend to Japan's hunting activities in other parts of the world. Japan has not violated the court ruling at all—but it's still dubious that these hunts are done purely for scientific research. Of course, maybe Japan's theory of a valid scientific study requires you kill whatever you are researching and then eat it.
For more information on Japan's whale hunts you can check some of the recent articles in The Daily Beast written by JRSC reporters.
Court Rules Japan Can No Longer Slaughter Whales in The Antarctic
Welcome to Japan's Whale Week, Featuring Curried Whale Meat And Exploding Harpoons
I'll Have the Whale, Please: Japan's Unsustainable Whale Hunts
Photo from Wikimedia Commons