Editor's note: Mr. Bryan sent us JSRC the book a few months ago but as we were getting ready to post the review, 3/11 came upon us. It seemed like a very wrong time to publish it.
Many people may find this book a little offensive, some may find it eye-opening. Amy Seaman, one of the JSRC staff writers reviewed the book, because I felt that a woman's perspective on it might be more useful and because she's a better reviewer than I am.
If you think the term "yellow cab" used to refer to Japanese women itself (easy to ride, easy to leave)  is offensive, the term came into vogue in Japan in the year 2000, with the publication of YELLOW CAB (イエローキャブ) written by noted author Shoko Ieda (家田 荘子), who is a woman and also a Buddhist priest. The book describes the adventures of  young Japanese women and exchange students who went to America and describes their sexual and romantic adventures with foreign men in lurid detail.  In some senses, Mr. Bryan's book is an English language counterpart to the Japanese "classic" reportage.
Please remember, the reviewer is not the same as the book being reviewed. Love the book or hate it, it's an interesting read—Jake.
Black Passenger Yellow Cabs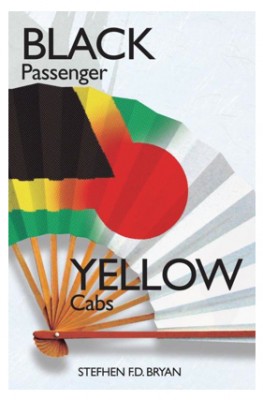 Reviewed by Amy Seaman
Black Passenger Yellow Cabs is a more than fitting title for Stephen FD Bryan's self-termed erotic ethnographic memoir. The book chronicles Bryan's sexual exploits during his seven years as an English teacher in Japan, Japanese girl by Japanese girl, one by one, two by two. A acknowledged sex addict, Bryan narrates the numerous affairs he had in Japan from an explicit—if not sometimes superficial—perspective: The majority of the chapters are named for each woman he sleeps with, almost as if he wants readers to keep a running count of his exploits. There's his Japanese teacher Karin, the half-Japanese, half-Dutch Janelle—who does not catch Bryan's fancy because of his "yellow fever"—and his wife-to-be Shoko, just to name a few. Sure, there are bits and pieces in there about what it was like to be an English teacher, how it felt to meet parents and descriptions about life in Jamaica and various Japanese phenomena, but the majority of it is focused on the girls.
While readers interested in the fine art of picking up Japanese women may learn a helpful thing or two (speak English even if you aren't sure your target speaks the language; they will most certainly be flattered by the fact that you think them cosmopolitan (!))those looking for a comprehensive and well-substantiated analysis of Japan's sex culture should look elsewhere. Perhaps that was not what it was meant to be and I am being unfair by reviewing this as a somewhat academic text, but Bryan's citations of news articles and statistics, though few and far between, make the book feel somewhat research-based at times. That said, Bryan provides a plethora of interesting tidbits about Japanese culture and formulates a theory about how the many women who are eager to sleep with him are so because of their past experience—he concludes that these women suffer from low self-esteem, perhaps a result of childhood trauma. It's hard to take his claims seriously though, because they are nestled between chapters boasting how many orgasms he was able to coax out of his newest play toy and how he balance multiple affairs simultaneously.
If you can look past the blatant racism that Bryan demonstrates in the book (he pride fully refers to himself as a Negro because "black does not require capitalization in print, to which I take great offense," but maintains a somewhat consistent usage of the age-old "yellow" slur when referring to Asian girls), and that many of his universal conclusions are based merely on personal experience, then you will see the true beauty of this book. It is the story of a Jamaican man who followed his sexual cravings to Japan in 2001, satiated them, and returned to America in 2008 to wed his Japanese wife. If you can ignore the fact that many of the chapters are play-by-play descriptions of how he managed to get a certain girl into his bed that leave no detail up to the imagination—and little more than that—then maybe you too will believe Bryan when he says that he is not attempting to brag about his sexual expertise by narrating his tales, but is instead trying to show how easy it is for people to initiate relationships.
Black Passenger Yellow Cab is the story of a black passenger who rode in multiple cabs until he found the best one. It takes readers through Bryan's seven years in Japan and explains how, out of all of the women he slept with, his wife was the one. It describes a man's fight to understand Japanese culture and why things work the way they do in a non-euphemistic way, and above all, it is honest. Bryan shows no shame about his addiction to sex with Japanese girls and speaks objectively about the girls he sleeps with to fulfill his desires, which is what makes the book so disagreeable yet engaging all at the same time. True, there were times when I was disgusted by Bryan's seemingly insensitive behavior, but others when I completely empathized with him, when I empathized with his very true statements about underreported sexual harassment and the subordination of women throughout Japanese history. If you have the time for it and can stomach reading about the sexual exploits of another, Black Passenger Yellow Cab is a intriguing, honest read about a rarely discussed topic that dares to go where few books do.