Despite the fact that Unosumai Elementary School in Iwate-ken was engulfed by a tsunami (津波・tidal-wave), every one of the 350 students who were in the building at the time managed to escape, according to an article in the Asahi Shogakusei Shinbun published on March 24th.
When the ground started shaking, the students initially all ran to the 3rd floor of their school. However, when they saw the middle school students next door congregating in the playground, without waiting for instruction from their teachers, they ran down the stairs, met up with the 212 middle school students, and all together ran one kilometer to a nursing home on higher ground. From the safety of the hill, they watched the tsunami swallow their schools.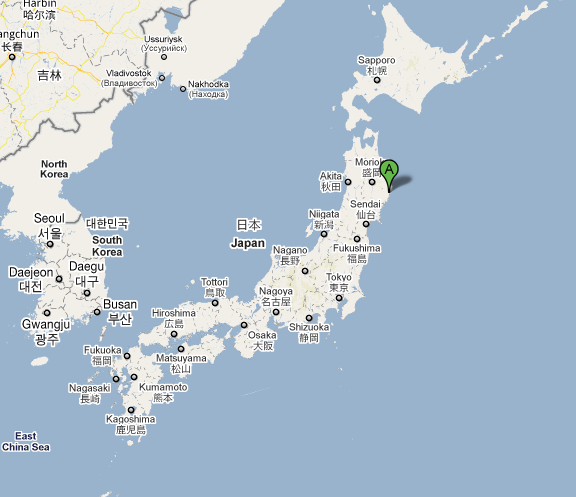 The site of both schools, approximately 130 miles (or 210 kilometers) north of Sendai
Of the 3,000 junior high and elementary school students in the district, only five are missing, four of which were absent from school that day.
This school district had been particularly well-equipped for such an event. Teachers brought in hazard maps created using data from the 1993 Hokkaido tsunami and held disaster preparedness classes for the students. The principal of the elementary school credits the fortunate outcome to the young students' understanding of both the gravity of the situation and the immediate action required.
Although students go through emergency drills a few times a year, they are taught to remember three main things:
1. If the ground starts shaking, don't go back to your house; run to high ground.
2. Don't necessarily follow the hazard map; examine the current situation, consult with others, and make the best judgment.
3. Help others.
The Asahi article suggests one bear in mind two other qualities of tsunami: first, even if the tremors felt are relatively minor, a large tsunami can still develop; and secondly, that a tsunami can come in not just one large wave, but several phases; so even if the water does recede, one should never return to one's house for supplies or possessions.
Jake's note: These grade-schoolers were better prepared for disaster than the government of Japan. I wish we could replace Prime Minister Kan Naoto with the Unosumai School Principal.