The yakuza, Japan's organized crime groups, have close to 79,000 members. It's very hard to understand why they are tolerated in Japanese society and not simply banned. Part of the reason for this is that for many years the yakuza observed, to some extent, a set of internal codes which made them appear to be a effective deterrent against street crime: robbery, muggings, theft, sexual assault.
Each group has its own code of ethics, usually posted on the wall of the organization offices. The rules are intended to prevent yakuza from being involved in ordinary street crime, such as purse snatching or mugging. Some groups actually adhere to the rules.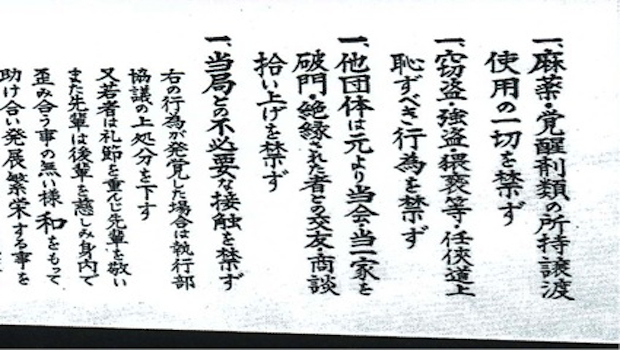 Depending upon the Oyabun (father figure), the leader of a group, violators are quickly expelled. The code here forbids: 1) the usage or selling of drugs, 2) theft 3) robbery, 4) indecent acts (猥褻) and anything else that would be shameful under ninkyodo (仁侠道) aka the chivalrous/humanitarian way.  The other rules are about relationships amongst yakuza. What is a fairly recent addition to the code is "do not have any unnecessary contact with the authorities."  In the old days, it was not uncommon for detectives to drop by yakuza offices and have chats over tea. One thing that should be noted, extortion and black mail are not expressly forbidden. One yakuza boss explains this as follows: "If you're being blackmailed by the yakuza, obviously you've done something bad and deserve it. We're enforcing social justice and fining people for their misbehavior. What's wrong with that?"
I spoke with one yakuza who argued that the Sokaiya (racketeers) 総会屋 actually functioned as a the fourth estate in Japan. By digging up embarrassing information on large corporations and threatening to expose them, they would sometime force the companies to correct the error of their ways and behave in a socially responsible fashion. Of course, the primary motivation of the sokaiya wasn't social welfare but their own profits. However, I'm willing to consider all opinions.
The reasons the police are cracking down on the yakuza like they never have before is that there is barely a semblance of even lip service to the old codes. As one yakuza boss put it rather eloquently, "When the yakuza rob people, deal drugs, when they attack civilians, their family members, or their children–they're no longer yakuza, they're just mafia. We have existed this long because the police have allowed us to exist and we have cooperated with them to some extent. Those days are gone. We are being replaced internally and externally by thugs and gangs who make no pretense of having any codes at all. I'm not sure that will make Japan a better place."