Last year, we told you the story of Naoto Matsumura, Tomioka City, Fukushima Prefecture, Japan–the last man standing in  Fukushima's Forbidden Zone. He will not leave;  he risks an early death because his defiance of Tokyo Electric Power Company (TEPCO) and the government is his life now. He is not crazy and he is not going. He remains there to remind people of the human costs of nuclear accidents. He is the King of The Forbidden Zone; its protector. He is the caretaker or empty houses, a point of contact for those citizen who can't return. He takes care of the animals, "the sentient beings", that remain behind because no one else will.  He is the Buddha of the forbidden zone. 
This is how things are now.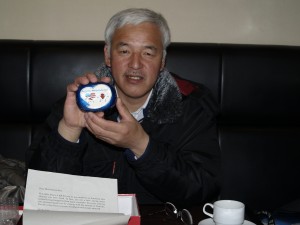 "Nothing has improved inside the 20km zone."
One year after the great Tohoku earthquake and tsunami disaster that hit northern Japan, the living conditions for most of the evacuees has not changed much, especially for the evacuees of the most dangerous zone defined by the Japanese government as being forbidden for people to stay in or live in. Naoto Matsumura, "the Buddha of Fukushima", stayed in his farmhouse, in his town Tomioka, all this time. Although the people are not allowed there, the animals have been left behind, abandoned by the human beings.
(Naoto Matsumura、came to speak on February 28, 2012 at the Foreign Correspondent's Club of Japan in Tokyo. This is what he had to say.)
Life in Temporary Housing Shelters
All the people who evacuated the town have been stuffed into very small quarters in these evacuation temporary housing shelters. Most of them have anything to do with their time waiting for the day the government will announce they can return to their homeland. The people in the temporary houses have a tremendous amount of stress, many people have developed illnesses over the past year. Many people have actually died. "The government is not taking action, in fact they don't even think about us." Matsumura says.
The victims ask themselves: "How many years will it be before we will be able to return?" It may be in fact many years before people might be able to return, if that is the case. Although the older people will be able to return, the younger people will not be willing to return in such deeply contaminated land.
Matsumura's Dream 
If things remain as they are, Matsumura thinks that many years from now, Tomioka town will continue to be a ghost town. There are however many Japanese, who feel frustrated with this, who want to try to act where the government does not. Therefore some of Matsumura's friends are trying to establish an NPO group, believing they might be successful if we are able to develop the NPO framework, and even to establish it. "Because many people will come together, we will be able to do things where we do not have to depend on the government."
"Of course, my days are spent now trying to do everything I can to take care of the abandoned pets, and the animals that remain in Tomioka." Matsumura adds. His fervent wish is that decontamination procedure progresses, and he hopes that someday people will be able to go back to Tomioka.
A great thanks to the supporters in the world
Matsumura took the time to express his thoughts to the people who have been writing post-cards and letters. Many supporters all over the world, from the USA, Australia, Italy, Russia, France, have sent their message of support to Naoto Matsumura. Because he lives inside the danger zone, the postal service have been delivering the important messages to the address of his evacuation shelter, which he visits once in a while also to charge his mobile phone: "I feel great gratitude for the people throughout the world who have a thought and willingness to cooperate and help. If their wishes are meant, I think that in the near future, this might change in a very big way."
"I do not know how many years are left to me, maybe 10 years, or 20 years, but I hope very much to see my dreams realized while I am still alive." Matsumura's dream is to see his town restored to its former state. The government seems not to be of any great help, according to Matsumura, and the Japanese media has not really reported what is occurring in the areas in which he lives: "I am making an appeal to any media organization in the world, any audio-visual organization to report it as it is." Matsumura believes that people throughout the world have much more information about what is happening in Tomioka and the cities around it, compared to the people in Japan. The progress is very slow and Matsumura and his friends from Tomioka do not have a great deal of power, but people like him, are willing, step by step, the realization of his dream.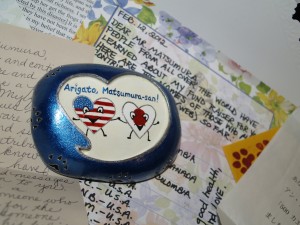 "The government and TEPCO are liars."
TEPCO are at present shutting down their nuclear reactors, but many Japanese people know that their plan is to say that Japan is lacking electricity, or that Japan has electricity shortage problem. "TEPCO will say that they need to restart the Fukushima nuclear power plant as well," Mastumura fears.
If this happens, even if soil and building decontamination proceeds, and even people will be able to return to these areas, they will face the same fear and terror of another accident occurring. In reality, they will not be able to return to their homes. "My desire is that TEPCO disappears from this earth. People working at TEPCO have no tears nor blood, they are not human!" Matsumura says.
In the past, TEPCO had many nuclear accidents but whenever these reports were presented on television, the ending phrase was always: "The amount of radiation leaked is not enough to adversely affect the human body." Matsumura adds.
Japanese Media Over the Years
In Japan, because all the TV broadcasts always used to say that nuclear power plants are "absolutely safe", "you can always have peace of mind, because we are taking all measures necessary," Matsumura believes that as a result of all this publicity, TEPCO staff itself were brainwashed: "They feeling they are working in a very safe environment."
Matsumura says he spoke to people who worked at TEPCO at the time of the accident, and heard a story form a man who was working outside the facility on March 11, 2011: "Suddenly, there was a broadcast urging to seek shelter inside immediately." "The man told me that once they were inside the building, they heard this huge explosion outside, and what they thought at first is that they were under a missile attack." In other words, it never even occurred to them that they were working in such a dangerous facility that this facility might ever produce an accident, they thought it was an outside reason.
"TEPCO's Apology Manual"
In the continuous negotiation between TEPCO and the Japanese government, TEPCO always said it was the responsibility of the government and the government was responding the same arguments. In other words, many believe that nothing would change unless one of them collapses. And since the Japanese government cannot collapse, Matsumura believes that the natural solution is that TEPCO collapses: "But until TEPCO collapses, we will make no progress on the compensation and negotiations."
When Matsumura went to meet TEPCO at their headquarters in Tokyo with his friends, he says they really lost temper, but the only thing TEPCO could answer was "sumimasen" and apologize. "They must have written a manual on how to apologize."
Matsumura believes that there will be a court case in the end. As it is very well known, the court cases are very long in Japan, this one may take 20 or 30 years. The current victims will all be dead by then. This is always the way the government deals with difficult issues, according to some experts. If one looks back at history, when there were similar incidents, the Japanese government is finally resorted to fighting it on the court, and the court comes with a final decision so many years later that most of the people involved in the case, and most of the victims are already dead by the time it issues a decision.