Kenji Goto, a freelance journalist, known for his dedicated reporting on the atrocities of war and humanitarian activities, was killed by the Islamic State (ISIS) circa February 1st, 2015 (Japan Standard Time). He wasn't a war reporter; he was an anti-war reporter. He shared his knowledge with the world, educating others and learning from them as well.
According to The Guardian: "Kenji tweeted about many things. But one tweet has captured imaginations, seeming to sum up the character of the journalist who was beheaded by Islamic State (Isis) extremists after a months-long hostage ordeal.
The viral tweet is from 7 September 2010: "Closing my eyes and holding still. It's the end if I get mad or scream. It's close to a prayer. Hate is not for humans. Judgment lies with God. That's what I learned from my Arabic brothers and sisters."
It had 20,000 retweets on Goto's Twitter account by Monday, and was being repeated by the minute."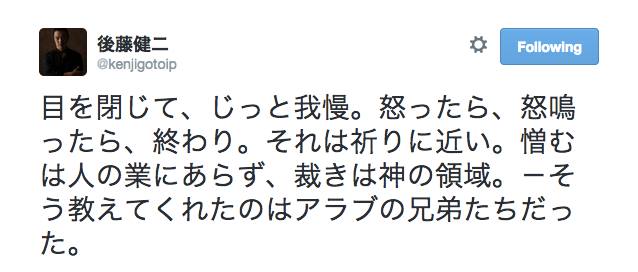 All who know him, or know of him, mourn his loss and wish to express our condolences to his family. He went to Syria to report on the real state of affairs there and to try and help his troubled comrade, Haruna Yukawa, get free from the clutches of ISIS. He wasn't a reckless man, he was a journalist doing what we are supposed to do, report the truth, even in dangerous situations. Trying to save his wayward friend wasn't his duty as a journalist, but he must have felt it was his duty as a human being. He had noble intentions. His long-time friend and fellow journalist, Toshi Maeda, met Goto two hours before he left on his fatal trip. He was supposed to be back in a week.  Maeda told us, "He has been called a war reporter–he wasn't, he was an anti-war reporter. He came and lectured at my class at Komazawa University on the importance of maintaining a compassionate perspective when reporting the news and the class was mesmerized by him. He had an immensely positive impact. He was inspirational."
Kenji Goto's lecture is still inspirational: 'War Journalist' Advocates Human Side of Journalism
Maeda said that Goto had been captured in Syria before; he had managed to persuade his captors to let him go. They recognized he meant no harm and was a force for good. Not this time.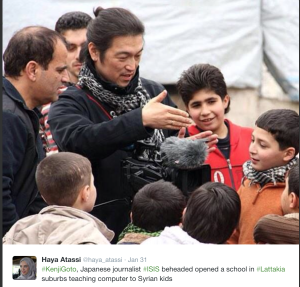 In the end, it seems, he ended up as a pawn between ruthless terrorists and ruthless politicians hell-bent on scoring political capital. We hope that his death does not serve to become a pretext for the thing he most opposed in his life as a journalist–the senseless killing and loss of life inherent in all warfare. As one of his close friends said so eloquently, "Let's remember Kenji as he lived, not as he died."
ご愁傷様です。ご冥福を祈ります。
The Committee To Protect Journalists issued a statement condemning his death on the day the video of his execution was released. We've reprinted it below.
New York, January 31, 2015–The Islamic State militant group released a video Saturday purporting to show the murder of Japanese journalist Kenji Goto, according to news reports. Japanese authorities have not yet verified the footage is authentic, according to news reports. Goto, a well-respected journalist who reported primarily on humanitarian issues, was kidnapped in Syria in October 2014, according to news reports.
"Islamic State militants have proven they do not care if you are a journalist from Syria, from the West or from the East. They only care about expanding their reign of terror," said CPJ's Middle East and North Africa program coordinator, Sherif Mansour. "We are deeply concerned about the safety of all journalists in territory controlled by the militants–and about the information vacuum that has resulted from their bloody, intimidatory tactics."
Syria has been the most dangerous country in the world for journalists for more than three years. At least 80 journalists have been killed covering the conflict, including one who died over the border in Lebanon. More than 90 journalists have been kidnapped in Syria. Because some abductions are not publicized it is difficult to determine the exact number. CPJ estimates that approximately 20 journalists are currently missing in Syria, the majority of whom are Syrian and believed held by the Islamic State.