After the ISIS hostage deadline ended yesterday, the wife of Kenji Goto, made a statement today via a NGO, pleading for his life and the life of the Jordanian pilot who plays a critical role in the hostage negotiations. The Jordanians refuse to make a deal with ISIS, who hold both Goto and a beloved Jordanian pilot as hostages, until they have proof of life for the pilot.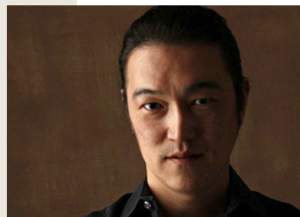 On Thursday 29th, at 1:30 PM UK time, Mrs. Rinko Goto gave her first statement on the case to the Rory Peck Trust, an international NPO that supports freelance journalists and their families in times of crisis. She pleaded for the release of her husband and in crisp British English also said that she was very fond of Jordan where she used to live and was praying for the life of the Jordanian pilot, Lt. Mu'ath al-Kaseasbeh as well.
The Rory Peck Trust office in London received a Skype call from Mrs. Goto, Kenji Goto's wife, through people acting on her behalf. Mrs. Goto said she didn't want her pictures to be published and requested all media organizations to publish her statement in full and without edits.
"It may be Rinko's final message to her husband and she asked that it be printed verbatim, if possible, " said Tina Carr, Director of the Rory Peck Trust, speaking to The Daily Beast. She said that the group had worked with Kenji Goto since 2010 and he dwas widely admired in the freelance world for his hard work and kind spirit. However, while Rory Peck Trust is providing support to the family they are taking no part in the negotiations to secure his release.
There are some questions as to the goals of ISIS in almost forcing Mrs. Goto to make a statement but in consideration of her wishes and what it tells us about Kenji Goto and his family, we have decided to post it.
The statement, with audio, is as follows: urgent plea from wife of Kenji Goto.
****
 My name is Rinko. I am the wife of Kenji Goto, the journalist who is being held by a group in Syria. He was taken from me on 25 October 2014, and since then I have been working tirelessly behind the scenes for his release.
I have not spoken out until now as I have been trying to protect my children and family from the media attention Kenji's plight has created around the world.
My husband and I have two very young daughters. Our baby girl was only three weeks old when Kenji left. I hope our oldest daughter, who is just two, will get to see her father again. I want them both to grow up knowing their father.
My husband is a good and honest man who went to Syria to show the plight of those who suffer. I believe that Kenji may have also been trying to find out about  Haruna Yukawa's situation. I was extremely saddened by the death of Haruna and my thoughts go out to his family. I know all too well what they are going through.
I became aware that Kenji was in trouble on 2 December when I received an email from the group holding Kenji.
On 20 January I saw the video demand for $200m for the lives of Haruna Yukawa and Kenji. Since then, there have been several emails between the group and me as I have fought to save his life.
In the past 20 hours the kidnappers have sent me what appears to be their latest and final demand:
Rinko, 

YOU MUST PUBLICISE AND EXPOSE THIS MESSAGE TO THE WORLD MEDIA NOW! OTHERWISE KENJI WILL BE NEXT!

If Sajida is not on the Turkish border ready for the exchange for Kenji by Thursday 29th Jan at sunset, The Jordanian pilot will be executed immediately!

I fear that this is the last chance for my husband and we now have only a few hours left to secure his release and the life of Lt. Mu'ath al-Kaseasbeh. I beg the Jordanian and Japanese Government to understand that the fates of both men are in their hands.
I thank the Governments of Jordan and Japan for all their efforts. I thank the people of Jordan and Japan for their compassion. My family was based in Jordan when I was young, and I went to school in Amman until I was 12 years old, so I have great affection and fond memories of Jordan and its people.
Lastly I thank my family, friends and Kenji's colleges for the support they have shown my daughters and me over the last 3 months.
I pray for the lives of my husband and the Jordanian pilot Lt. Mu'ath al-Kaseasbeh.
Rinko
The full statement of Mrs. Rinko Goto is here: An urgent plea from the wife of Kenji Goto