According to an NHK online article published on May 25th, the Japanese Ministry of the Environment announced last week its findings that children who were exposed to higher amounts of automobile exhaust fumes had a higher probability of being diagnosed with asthma. Previously, the ministry refused to accept the correlation, claiming scientific evidence on the subject was lacking (despite studies that for years have suggested so: here in Environmental Health Perspectives, a cross-continental study here published in the American Journal of Respiratory and Critical Care Medicine, and here in the American Journal of Public Health).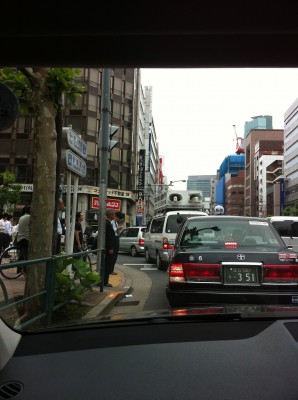 In the first study of its kind ever done in Japan, the researchers looked at 12,000 children living near 10 different highway spots in large cities across the country between 2005 and 2010.  They administered a yearly questionnaire, asking parents to estimate how much time the child spent outside and in what areas.  From this information, researchers estimated about how much exhaust they had inhaled.  309 of those children were diagnosed with asthma during that time period; further analysis of the numbers (taking into account previous history of respiratory illness) indicated that living near the highways did increase the likelihood of getting asthma.
Those hoping for policies or solutions that might arise in light of the study shouldn't (or should?) hold their breath – the ministry states in the NHK  article that they "would like to continue researching the influence of exhaust fumes on health".