Tokyo's 3rd annual gay pride parade was held yesterday. A long line of members of the LGBT community and their supporters marched from Yoyogi Park, through Shibuya and back to the starting point.
In addition to campaigning LGBT rights, attention was brought to other issues such as AIDS. Notable supporters in the parade included Japan's First Lady Akie Abe. Despite being married to the hawkish Shinzo Abe, Akie has a large public profile and takes a strong stand on some issues, even in opposition to her husband. She also maintains a regularly updated Facebook page.
People of all ages and sexual orientations marched in the parade. Some of them wore face paint. While others wore more elaborate, eye-catching costumes to stand out.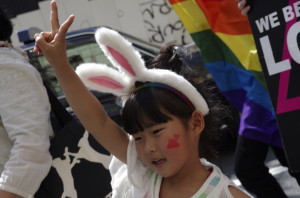 Unlike in the United States, where LGBT rights are a polarizing political issue, gay rights are hardly ever debated within the Japanese government. You can find out more about the parade here.