IAEA to work with Japan's Nuclear Regulation Authority on Fukushima nuclear disaster monitoring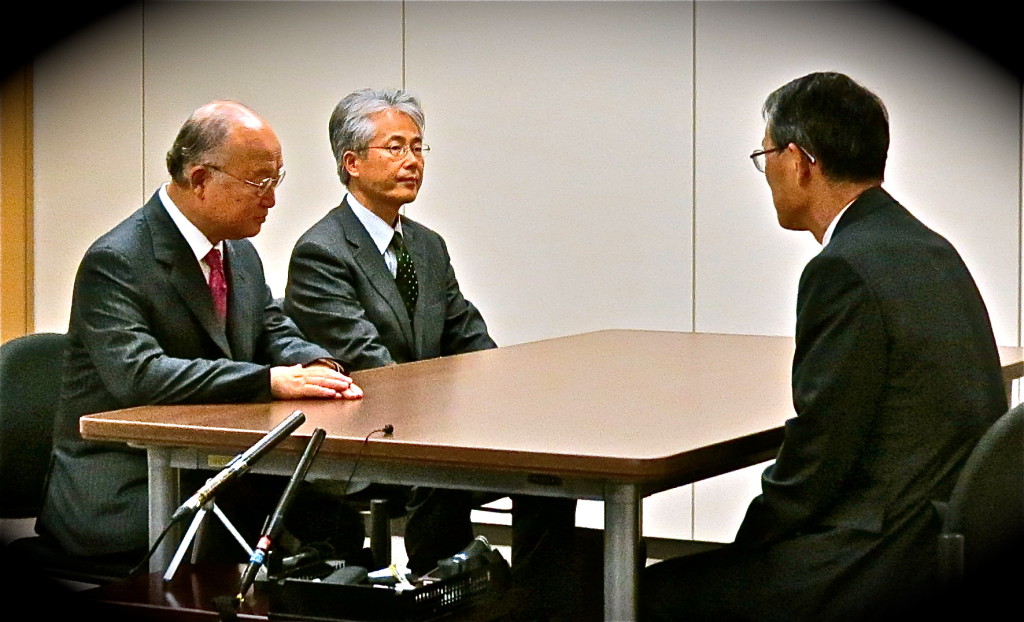 After a meeting held in Tokyo with the Director General of the International Atomic Energy Agency (IAEA), Yukiya Amano, and the Chairman of Japan's Nuclear Regulation Authority (NRA), Shunichi Tanaka on Thursday last week,  it was decided that experts from the U.N. atomic energy agency will start helping Japan to monitor the radioactive water leaks around the crippled Fukushima Daiichi nuclear power plant by November.
Earlier last week, the chairman of the NRA admitted that another "careless" accident resulted in the leak of 7 tons of highly radioactive water from a pipe mistakenly disconnected by a worker at the crippled facility for a period of more than an hour. Reportedly 6 among 11 workers were affected by the incident. They were wearing waterproof jackets, protective gears and full-face masks and it was reportedly "highly unlikely" that they suffered from internal exposure, the plant's operator said. The facility reported 300 ton of radioactive water leaking from a storage tank into the groundwater last August as workers over-filled the already  over capacity tanks. Last week, TEPCO said 430 liters of radioactive water leaked from another tank due to the miscalculation of the inclination of the ground where the tank was built.
According to Yasuhiro Muroishi, an expert from the Radiation Monitoring Division of the NRA, Yukia Amano also pointed out that the NRA's lack of information displayed in English language on its homepage was an issue. "We need more manpower to conduct the translations of the reports submitted by the Japanese side when international experts will start their joint radiation monitoring of the sea," Yasuhiro Muroishi said.
The radiation leaks continue 
Japan Prime Minister Shinzo Abe recently said that Japan is open to foreign expertise regarding the contaminated water problem. In a speech at the International Olympic Committee's general meeting in Argentina in September, he was criticized for declaring that the radioactive water leaks at the crippled Fukushima Daiichi nuclear power plant had been "completely blocked," within a zone of 0.3 square kilometers in the plant's port area. Earlier this week, TEPCO announced that 1.4 becquerels per liter of radioactive cesium-137 was detected in sea water taken from around 1 km around the plant. Experts say that cesium-137, which has a half-life of about 30 years can cause cancer and accumulates in fish. Last month, Korea banned fish imports from certain prefectures in Japan, concerned by the increasing radioactive water leaks.