Over the past few weeks, foreign models working in Japan have been gracing a different runway– the one that leads directly out of the country.
According to a recent article in the Asahi Shinbun(朝日新聞), models for major names like Louis Vuitton and Gucci are leaving in great numbers due to panic over the nuclear situation in Fukushima. The parents of one 19-year old Belgian model, while crying on the phone to their son, begged him to come home; "We don't want you to get cancer!!"
A spokesman from a modeling agency also noted that this panic is exacerbated by the models' respective governments, some of which have ordered its citizens to leave Japan or move far to the south. That Air France sent 2 planes to begin evacuating its citizens has become a well-known story among the modeling agencies.
The Czech Republic embassy, immediately upon hearing the news of the quake, pulled its models out of a photo shoot and evacuated them, along with other Czech nationals, on a military plane.
A fashion show in March also had to be canceled; although the official stance is that the rolling blackouts were to blame, the reality, one modeling agent claims, is that there were no models left to walk. The weekly magazine Shukan Shincho (週刊新潮)in their April 14th issue, also notes that many fashion magazines are having trouble to go to press after their cover models cancelled on them and left Japan.Editors of fashion magazines have reported trouble filling their pages, as they usually employ Western models. "We had several models scheduled to appear in our magazine next month, and as they have left the country, we may not be able to publish the issue".
Japan fashion expert, stylist and renown fashion blogger, Misha-Janette, confirms that there has indeed been an exodus of fashion models leaving Tokyo akin to the Jews fleeing Egypt, but she says the fashion Diaspora may be slowly coming to a halt.
"Many of the current high-end fashion models are from Eastern Europe and they left in droves. There have been a number of photo shoots cancelled because there weren't enough models to do them. There has been an upsurge of casting calls on twitter and other social media as well."
Misha-Janette also notes that there are two types of foreign fashion models in demand in Japan now. The tall, thin, and drop-dead gorgeous models are in demand for Japanese companies marketing their wares internationally, while Japanese companies focussed on domestic marketing prefer "the gaijin-girl-next-door look".  She explains, "The word for it is busu-kawaii (ブス可愛い), homely and cute. These are girls who don't look like typical fashion models. They smile, don't wear much make-up, seem friendly. That's the natural look that's big here. Some women are able to do both."
Camille Blanchot, a french model, with her red curly hair, freckles, and friendly smile is always in demand as a model and actress, domestically and internationally. However, after ignoring the French government and resolving to stay in Tokyo, she has been besieged with calls for modeling jobs. She's glad she stayed. Her name Camille, when shortened into Japanese is Cami and she is playfully referred to by those in the industry as Kami-sama (神様)literally  "Honorable Goddess."  She was nice enough to come down from the heavens and speak with us about this dire crisis.
"I'm a big fan of  the weekly magazine Shukan Shincho (週刊新潮) and their article is right on le money. A few weeks ago, I  still had to go to auditions to get really excellent jobs, but now it is like I get to audition the clients. I'm very happy to be getting so much work and so happy I stayed. The tremors are a little scary but you get used to them. I am always happy to walk down the runway; I never run. I like the runway. I am not the type to run-away," she says laughing and demonstrating "model behavior."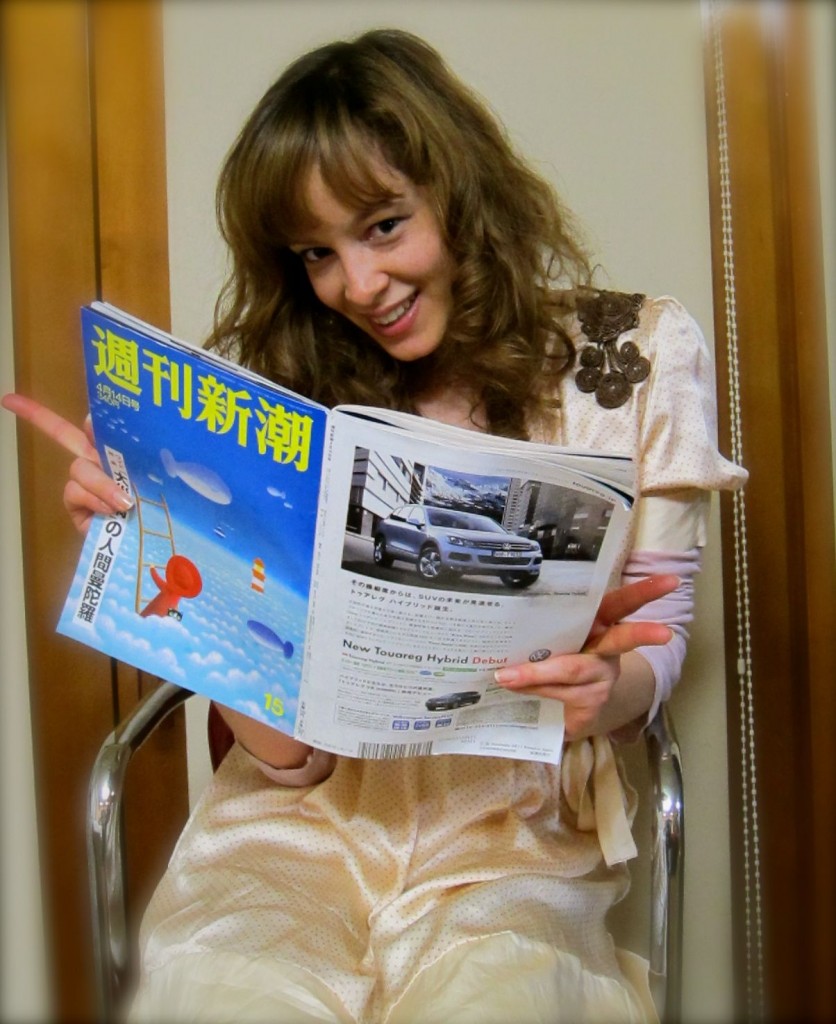 This article was a Stephanie Nakajima and Jake Adelstein production. No models were injured or fled during the making of this article.