Bad Lands is the latest film release from Masato Harada who at this point, is Japan's most exciting filmmaker. Forget the foreign critics' darling Ryusuke Hamaguchi of Drive My Car fame – Harada is sexier, racier and much more unscrupulous. He has no qualms about lifting (or if you prefer, 'paying homage to') Hamaguchi's elitist plot quirks that have endeared that director to discerning Western audiences. In Drive My Car it was Chekov's Uncle Vanya. In the case of Bad Lands, Harada refers to Dostoevsky and Beckett. These may go over the heads of Japanese viewers but will surely get mentioned in foreign review sites.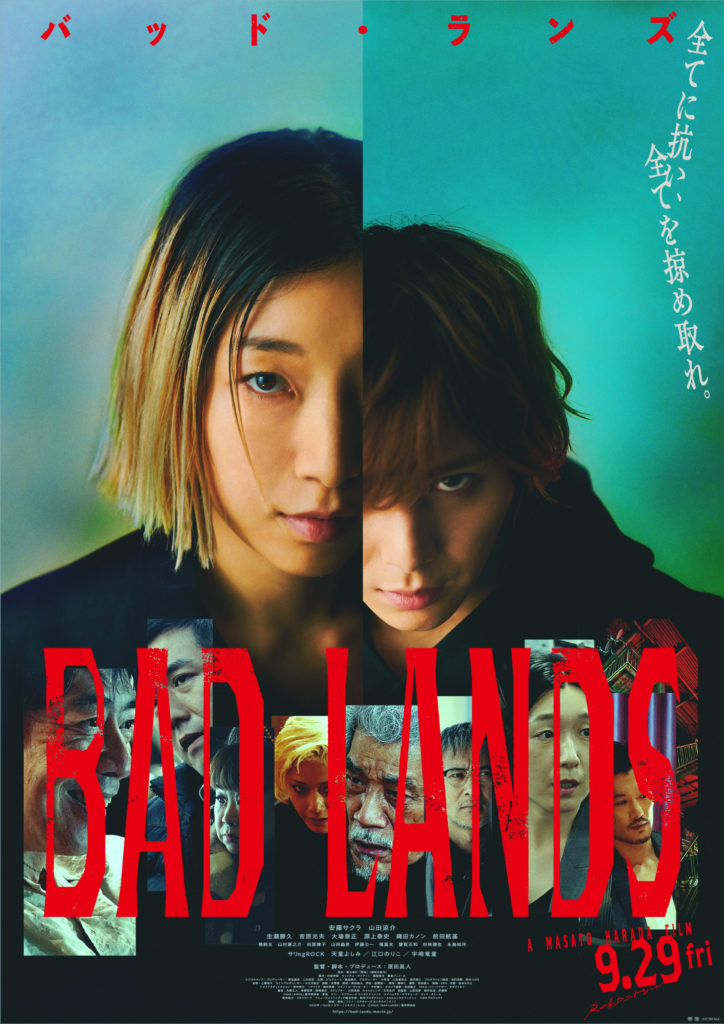 But Harada doesn't want to go the route of international film circuit triumphs while getting almost no love at home. This is why he always anchors most of his pop culture references, visual aesthetics and comedy factors firmly in Japan. In interviews, Harada says his spiritual mentors are Akira Kurosawa and Howard Hawkes, two film giants who made movies that broke box office and pleased critics.
Harada's last five films have formed a league of their own. Bad Lands feels like the grand finale, a piece de resistance that caps off a winning streak.
If there's a snag to any of this, it's that Bad Lands's main cast has two prominent performers from Johnny & Associates: Ryosuke Yamada and Junichi Okada. Japanese media is agonized over how to react to the alleged sex abuse inflicted on underage idols by the late Johnny Kitagawa, going back several decades. Right now, major sponsors are backing out of endorsement contracts or, as in the case of Nestle Japan, issuing statements that they never have and never will, use a Johnny member in any of their ads.
How badly would this affect Bad Lands's box office? The word on the street is not much. The bulk of Johnny fans consist of women who couldn't care less about the sex abuse scandal or its repercussions; they simply want to keep buying into the myth of their idols, in this case Yamada and Okada.
Both Ryosuke Yamada and Junichi Okada starred in Harada's Moeyo Ken (Burn, My Sword) in2021 and Okada was the centerpiece in two other recent Harada films. The unwritten maxim on the wall of Japanese media have long been: 'if you want your product to sell, get a Johnny in it.' And many old guards (read: media company presidents) have long sided with Johnny Kitagawa who came up with a business model of recruiting pretty boys from lower middle class families and turning them into idols who can sing and dance. And he did this when Japan was still mired in the ashes and rubble of WWII. They are perhaps, reckoning that when the scandal is dusted and done, the business model will be back in full swing.
Harada, who himself has acted in The Last Samurai and has an actor son, is rumored to have strong ties with the agency. He's expected to weather out this storm though it may be awhile before he'll work with a Johnny member again.
Having said all that and once you filter out the muck, there's no disputing that Bad Lands is an excellent film. It runs on Harada's signature adrenaline and rocket fuel combo and the events unfold faster than you can keep up with the narrative.
The protagonist is Neri, played by the always mesmerizing Sakura Ando. Neri works for Takagi (Katsuhisa Namase) who runs a scam operation in Osaka targeting old people and their savings, known in Japan as "ore-ore sagi" or "It's me, mom" scam. Neri's position in Takagi's scheme is 'third base coach,' meaning she oversees the final segment of the scam by taking the 'ukeko (receiver)' to meet the mark and get the cash.
Neri's job is sensitive and nerve-racking. Aside from the logistical difficulties of getting the mark to come out with a load of cash stashed in a handbag, she must be on the alert for police and surveillance cameras, AND make sure the ukeko doesn't love his nerve. Neri is smart and skilled and clearly this isn't her first rodeo. But she doesn't trust Takagi and this operation gives her no joy.
Neri has a room in one of the labyrinthine apartments in the notorious Nishinari district of Osaka. This is where homeless and day laborers co-exist in precarious harmony and where scammers, fugitives and yakuza has-beens gather from all corners of the archipelago.
"What's a beautiful young woman like you doing in this town and this trade?" asks the ukeko, whom everyone calls 'The Professor.' Neri shrugs and makes an obscure reference to Dostoyevsky's The Humiliated and Insulted, which features Nellie: a girl who is also sucked into the vortex of scams and poverty. Accordingly, Neri resembles a street waif, perhaps channeling her fictional Russian counterpart, dressed in an oversized jacket, black jeans and a dark cap. Her back story is revealed in fragments that in the end, forms a patchwork quilt of the pain, insults and humiliation she has had to endure. Neri has lost hearing on her right ear and even when someone is threatening to kill her, she must ask them to stand on her left because she can't understand what they're saying.
Neri does have an ally though. Her kid brother Jo (Ryosuke Yamada) who has spent most of his young life in and out of prison. Jo is not a blood relation, her mom and his dad got married when the two were children. It was never a happy home and the siblings reminisce about being hungry and drinking cocoa with no sugar and the year that Neri was repeatedly raped by her step-dad. "You should get a life sis," Jo tells Neri. "I'll do right by you so that from now on, you can have a nice life."
Through it all, the shabby streets of Harada's Nishinari glow feebly in the night, an unlikely and defunct amusement park where men get drunk on cheap beer and bet on games of dice and hopefully wait for a scam to go through so a little bit of cash can land in their laps. In Bad Lands, poverty and humiliation morphs into entertainment, laid out in precision frames for public consumption which when you think about it, is something Johnny & Associates has been doing all along.