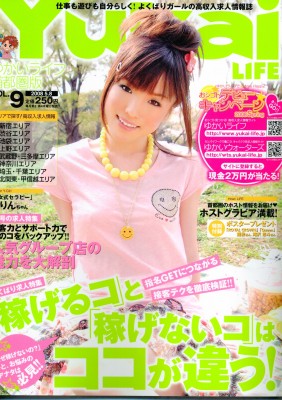 "HEY GIRLS! EARN BIG MONEY IN YOUR SPARE TIME! EVERY DAY IS PAYDAY! BONUS PROVIDED! WE HAVE CUTE UNIFORMS! AND ALL THE MALE CUSTOMERS ARE REQUIRED TO WEAR CONDOMS!"
In Japan, prostitution isn't just for professionals anymore. The quasi-legal sex industry in Japan is estimated to be a multi-billion dollar market and all signs indicate that it continues to grow. In an otherwise stagnant economy, despite the efforts of the local police to contain it, the fast-food restaurant inspired fellatio-for-sale coffee shops (pink salons), the home delivery service sexual massage operations, and the S & M clubs and their like show no signs of disappearing. Continue reading Prostitution isn't just for Professionals anymore! How to find a high-paying job in Japan's Sex Industry.
We at the Japan Subculture Resource Center have been working to provide you with the latest insight into Japan's lesser known institutions. This blog will help you find the latest information on the "other" Japan – that largely unknown to the foreign public. Topics such as organized crime (ヤクザ, the Yakuza) and other strange and pervasive mores and institutions will be brought to light.
Subscribe to our feed at the right, or check back often. Prepare to discover another side of the rising sun.