by Kaori Shoji
Note: Theories abound as to how mahjong originated in China. Some say the inventor was Confucius who played it, was hooked and ultimately abandoned it because of its addictive nature, some time in the 6th century B.C. In its present state, mahjong is played with 136 to 144 rectangular tiles, over a table seating 3 to 4 players. All the tiles are marked with Chinese characters and symbols.The goal of the game, simplified, is to get a mahjong, which consists of getting all 14 of your tiles into four sets and one pair. A pair is two identical tiles. A set can either be a "pung," which is three identical tiles, or a "chow," which is a run of three consecutive numbers in the same suit. A single tile cannot be used in two sets at once. In the west, the closest thing is gin rummy. In Japan, mahjong has been around since the 1900s and is a semi-legitimized form of gambling, provided the stakes are low. It used to be the favorite past-time of college students and bored reporters in the police press club.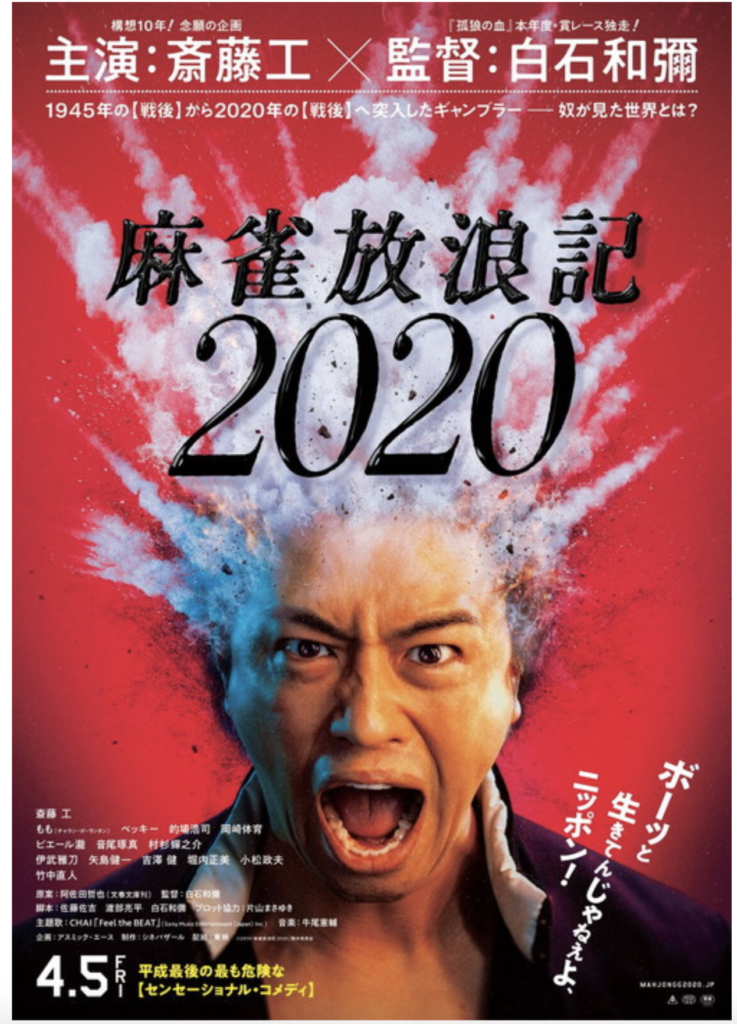 On March 17, the day that character actor and performer Pierre Taki (real name: Masanori Taki) was arrested for possession of cocaine, the producers of the film Mahjong Horoki (Mahjong Chronicles) inwhich Taki appears in a significant role, held an emergency meeting. First item on the agenda: to open the film on the slated date of April 5, or to scrap it? Already the Japanese media was moving to make Taki disappear – all his endorsements, events and TV appearances were cancelled. A concert scheduled for this year's Fuji Rock Festival, evaporated. NHK even rubbed out all of Taki's scenes in their prime time Sunday night drama Idaten, (including those already aired), making preparations to shoot everything all over again.
Taki had never sold on a nice-guy image but this scandal was huge, packing enough explosives to rock Mahjong Horoki 2020's distributor company Toei, from its very foundations. After much discussion, the makers of the film – in particular director Kazuya Shiraishi, Taki's long-time friend, pushed for a go. Letters were sent out to the press explaining the move, and why Shiraishi decided not to slash any of Taki's scenes before opening. "Taki's arrest is not the movie's fault," said the letter. Fair enough and a good thing, too. "Mahjong Horoki 2020" is weird, gross and ultimately appealing – it's a celebration, among other things, of the sheer, raging wonders of the Showa era (1926 – 1989). So much, that the last 31 years of the Heisei era start to look like a bland, blah wasteland. As a line in the movie aptly describes it, "the only thing anyone does around here is to live a long, long time." Ouch.
Still, the Heisei era should be given credit for supplying Shiraishi with the iPhone 8, (eight of them to be exact) that he deploys in shooting the film. The colors schemes are too lurid, and the jittery, hand-held effect doesn't really work in scenes with open spaces but the device is brilliant for close-ups, of which there is plenty, including Taki's scary, deadpan visage.
Taki plays a man called Mori – and he's the kind of snide, rude, power-hungry asshole that Pierre Taki portrays to perfection. Mori is the director of the 2020 Tokyo Olympics, which is abruptly cancelled with the breakout of WWIII. A very pissed off Mori vows to hold an Olympics of something, and as the story progresses that something turns out to be mahjong. On the Friday that the movie opened, Pierre Taki was released on bail and director Shiraishi announced in a press conference that he hoped the Japanese public would "laud and encourage" Taki, once he was rehabilitated and reinstated as a media figure.
Speaking of reinstated, another intriguing presence in the movie is Becky, the half-British, half-Japanese comedienne whose career was all but obliterated following a noisily publicized affair with a married musician. In Japan, infidelity is a serious offense among celebrities, perhaps more so than drug use. Becky was benched for over 2 years while her partner in crime came out relatively unscathed (which is another can of worms labelled gender discrimination). In "Mahong…," she stars in a double role – first as a mysterious club hostess with incredible mahjong skills, and next as the android "AI Yuki," programmed to win against the most talented mahjong player.
As you may have guessed, Mahjong...is defined by and obsessed with, the titular game. Based on the first of the 4-part novel series by Tetsuya Asada (aka Takehiro Irokawa) published in 1969, Mahjong…recreates the blood, sweat and tears backdrop of Tokyo's immediate postwar years as well as highlight the dark grotesqueness that often accompanies the game. Unlike pachinko, mahjong comes under illegal gambling and liable for prosecution, as in the case of a mayor who was arrested in the middle of a game in Fukuoka prefecture 3 years ago. Like pachinko however, the police turn a blind eye to most mahjong players and the "jyanso," or mahjong houses that host them. As long as the stakes are low, the cops won't come bursting in – theoretically. The crossover line is 200 yen at 1000 points, which roughly adds up to about 30,000 yen an hour for the winner.
In Japan, one hears of fantastic mahjong stories, like the woman who won 550,000 yen on a single night and then lost double that amount in her next game. Or the guy who put up his home as collateral and how his wife and kids found themselves on the street even as he holed up in a jyanso to turn his luck. When it comes to addiction and self-destruction, mahjong players are in a league of their own and the tumble into the mud sludge of debt generally comes quicker than anyone bargains for. The consequences (since most jyanso are owned and operated by the yakuza) can be severe. Tetsuya Asada's novel series laid it all out, tracing the life of the protagonist "Boya (which means little boy) Tetsu." At first, Tetsu was a fresh-faced 16-year old mahjong rookie, being groomed for the game by the pros in Tokyo in 1945, when the city was nothing but ash and rubble. In the last volume, Tetsu is a salariman in his his early 30s, struggling to break free of his addiction (and failing) as Japan gears up to become the world's number one economy.
Mahjong Horoki was adapted to the screen once before, in 1984 by Makoto Wada. A young and perky Hiroyuki Sanada played Tetsu, and Mariko Kaga played his benefactor and the story's mahjong goddess. Now in 2020, those roles have gone to Takumi Saito and Becky, respectively. Saito is best known for having cornering the market on degenerate, sexy dude roles but now in his late 30s, the role of Little Boy Tetsu may be a stretch (in the story, he's also supposed to be a virgin. No way.). But to Saito's credit, Tetsu's addiction to the game oozes out of his every pore. The guy can only think of one thing: to sit at the mahjong table and play for the kind of stakes that, even if he wins, would destroy his soul forever.

Japan has changed beyond recognition since Asada penned the original novel series, but addiction – as this movie abundantly illustrates – is a monster that never dies.