by Giles Poitras
 Nitta Tatsuo's Shizukanaru Don (静かなるドン), translated into English as The Quiet Don, began publication in November 1988 in the men's manga magazine Shukan Manga Sunday (Weekly Manga Sunday) and ran until the January 2013 issue when it concluded with a 50 page chapter. The cover of that final issue had the two major characters set against a night sky and text announcing this final chapter of this long running series. The series was so long running there are a total of 108 tankobon of the series, the last volume being released on June 29, 2013, with well over 1,000 chapters selling over 44 million copies. The last volume had the same image of magazine cover except with a sunrise in the background.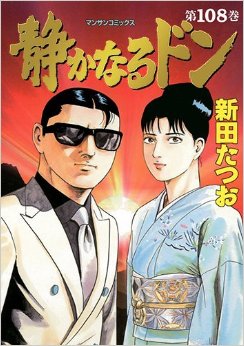 U
This is a gag manga about yakuza, not the most humorous subject. However laughter goes well with the contrast of the stereotypical scary tough yakuza of  Japanese entertainment and gags, often at their expense.
This is a tale of a mild-mannered salaryman who works in the design department of a lingerie company, and the tale of a tough young yakuza boss who is head of the largest yakuza organization in Kanto region of Japan. The salaryman is the bottom man in his office— short, sloppy, meek, picked on, yelled at. His habit of regularly producing bungled designs don't do him any favors either. On the other hand the sharply dressed young yakuza boss radiates authority, impressing everyone who happens to meet him.
The contrast between these two is especially interesting because, in reality, they are one and the same person. Born into a high-ranking yakuza family, Shizuya Kondo wanted to distance himself from the dark dubious trade of his parents and walk in the light of day as an ordinary person. He worked at creating such a life for himself and became a designer for the lingerie company Pretty. However fate had something different in store for him. One day, after scolding him for another failed design, Shizuya's boss turns on the office TV to watch the first broadcast of the company's new commercial. A news alert comes on: Isamiashi Kondo, the head of the Shinsengumi, has been shot by members of the Choshu-kai. Shizuya is unable come up with an excuse to leave early and after work rushes to the hospital, only to find his father has just passed away.
At the funeral for their kumicho, the tension is thick between the major oyabun in the group as they vie for the organization's most prestigious seat. Shizuya's mother takes him aside and explains that the only way to prevent a bloody internal struggle is for him to take command. He reluctantly does so on the condition that he keep his day job and carry out his role as a yakuza boss at other times. Comedy ensues as Shizuya works to balance the two sides of his life, and the two sides of his persona.
This is a story that will delight Japanophiles of all kinds. As seen from the names above, the story contains characters and groups named after many famous foes and persons from the Bakumatsu period of the mid 19th century. On a more contemporary front, The Quiet Don began near the end of the bubble economy of the 1980s, giving readers a glimpse of a booming Japanese economy, the glitter and glamor of hostess clubs included. We're also taken to see small neighborhood eateries, middle ranking yakuza operating modest enterprises, and salarymen trying to do their job in a very competitive environment. Another interesting touch is Shizuka's mother. She's drawn in a dramatically different style that manga fans will identify as the high realism of Ryoichi Ikegami, a manga artist who has also drawn yakuza manga such as the Sanctuary series.
For all of the drama contained in The Quiet Don this is a gag manga filled with slapstick, very earthy humor, humorous situations, and a great mix of references to 19th century history with late 20th century reality.
The yakuza are portrayed as competitive as the corporations, both between gangs and internally, trying to rise up the ranks. Often, this is a gag manga after all, they are buffoons whose grandstanding is obvious to the reader. The yakuza side of Shizuya Kondo at first comes off as eccentric and weak, but those around him soon start to realize just why his mother says he is most capable of leading the organization. There is in fact a beast lurking inside this mild office worker, one more than capable of strategies and action to handling the fiercest opponents, one-on-one or in a showdown against other bosses at a major event. But then, as a salaryman, he is also capable of  lowering himself to dancing in his underwear to amuse drunken coworkers at a hot spring resort. Romance also plays a role in the story with Kondo having to keep his darker persona secret from the woman he loves and who knows him as a bumbling co-worker.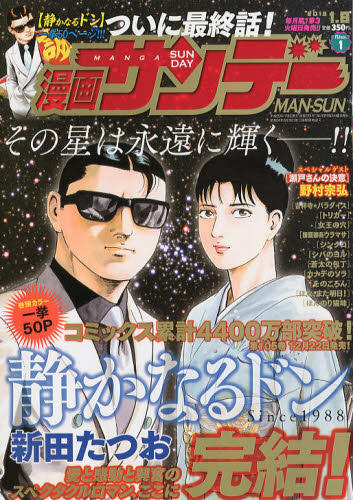 The first 15 volumes of the manga are available in English for the iPad via the ZQ Books app created by NTT Solmare, you can get the app from the iTunes store. Also, don't expect to pick up yakuza related vocabulary from this translation. The translation is rough with many terms in English that could have been left in Japanese. These days readers of English translated manga are used to Japanese terms left un-translated when there is no real English equivalent. One example of a word that could have been left untranslated is oyabun consistently translated as "father".
Also the English translation of the first two volumes is available in the US, and possibly other areas, as an app for the iPhone and iPod Touch. Each volume is broken up into four parts that are sold separately. It will also display on an iPad in a small window. There is a free app that gives a preview of the manga, so it's easy to try out some of the early story. The downside with the iPhone version is that reading manga on small screens leaves plenty to be desired as you are basically doing it one frame at a time, making it hard to maintain a reading rhythm as you have to tap to go to the next image (or in the case of large frames, wait for the system to scan across).
All in all, the story of The Quiet Don is compelling, the characters full of depth, and it's easy to understand how this series ran for over 20 years. There have even been adaptations of the story, including an OVA (straight to video anime), a TV drama series and two movies, both of the movies have been released in subtitled versions through iTunes in North America and perhaps elsewhere.
When the series ended the author stated that he had written enough of this series in the 24 years it ran. Less than 6 months later the "Grand Finale" issue of Shukan Manga Sunday was published with a group image of  characters from many series, including Shizuya Kondo, on the front cover.
 (Jake's note: In addition, there is a long out of production computer game/interactive manga based on the book that in some ways may have been the model for Sega's popular Yakuza series. I don't know any yakuza with sons that went into the apparel business but I do know one mid-level yakuza enforcer who's son became a hairdresser. He is not interested in taking over "the family business", and his father seems very happy with that decision.)
*About the author of this piece, see below. Check his blog out for more on Anime and Japanese pop culture.
Gilles Poitras
Profession: Librarian    Obsession: Anime
http://www.koyagi.com – cowpunk@koyagi.com