Updated: This article was originally posted on February 28th, 2015. In the end, Fuji Television backed down and there was no minstrel show. 
By Baye McNeil
Fuji Television has set off a controversy in Japan when it was announced on 2/11 that their popular music program Music Fair would feature the pop group Rats & Star singing alongside the uber-popular idols Momoiro Clover Z in blackface. (Blackface is the makeup used by a nonblack performer playing a black role. The role played is typically comedic or musical and is generally considered offensive to modern sensibilities.)
The announcement was made on February 11th along with a photo of the two groups taken behind the scenes. That photo, of the two groups posing together in blackface, white gloves and costumes, gained attention when tweeted by several journalists, going viral. While some supporters of these Japanese musicians have labeled this scheduled show innocuous or done in honor of black musicians, the internet for the most part, does not share this sentiment.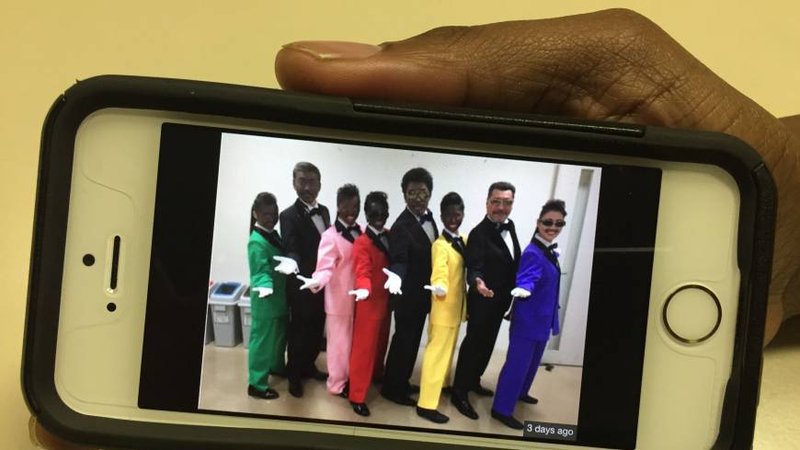 It's been called everything bad,  ranging from poor judgment and a questionable style choice, to flagrantly racist and a mockery of black history and culture. A petition has since been started to urge Fuji-TV not to air the program, scheduled to be broadcast on March 7th at 6pm on the program Music Fair. Though in the days since this controversy began, Momoiro Clover Z has canceled a film screening and press conference with the Foreign Correspondents' Club of Japan (FCCJ) scheduled for February 23rd — reportedly for fear of being questioned about this situation.  Fuji-TV has yet to release a statement or respond to the petition, which has thus far garnered over 2000 signatures and comments from Japanese and non-Japanese alike.
Fuji-TV is part of the Fuji Sankei group, which according to Wikipedia is a keiretsu in Japan. This media conglomerate was founded by Nobutaka Shikanai*(Please see editor's note at the bottom). In 1991, it was the fourth-largest media company in the world and the largest one in Japan. In the same year, the company's yearly revenue was $5 billion. It includes the ultra conservative newspaper, Sankei Shimbun, which has 1.6 million printed copies distributed each day. On February 11th, Sankei Shimbun published an article extolling the merits of apartheid, suggesting that blacks, asians and whites should not live together—and that when blacks "who favor big families" move into condominiums where white people live that they end up making the facilities uninhabitatable. The column was written by a former education Abe Shinzo adviser and conservative novelists, Sono Ayako. The Ambassador of South Africa formerly protested  the column and the poor judgement of the the newspaper, also admonishing the Japanese government as well:
It is important to place apartheid in its correct context in order to avoid any country… glorifying it as a policy consideration.
All South Africans were racially classified into one of three categories: white, black (African) or colored (of mixed descent), and Asian. Classification into these categories was based on color of a person's skin, appearance, social acceptance, and descent. Non-compliance…was dealt with harshly. These laws gave the apartheid regime the leeway to torture and detain blacks arbitrarily, it forced blacks to work under the most humiliating conditions earning meager wages…
Surely the respected columnist and writer is not suggesting such treacherous and archaic laws for nursing care immigration to Japan? Why would Japan, a respected member of the United Nations, and a bidder for the United Nations Security Council non-permanent seat for 2016 even consider such laws?
Obviously, the Sankei Shimbun column is clearly deplorable. It is worth mentioning because Sankei Shimbun is part of the Fuji-Sankei group. For more on the Fuji Television story, please watch the following video by the blogger known as Hiko Saemon. His explanation is below the video.
"I know that when the racism flag comes up from the local foreign community, a lot of Japanese people flip into defensive mode saying "don't bring YOUR racist history and hangups and impose them on Japan" and "you are unfairly and incorrectly assuming malicious intent when there is none, this is YOUR misunderstanding". My drive with the video was to say "people flagging this are not accusing anyone of being racist, or attacking Japan. Point here is that as people who love Japan and care about Japan's image, we don't want Fuji TV to go harming Japan's image by airing a show with this sort of content. And even accepting the idea that this band STILL doesn't know this kind of blackface act does hurt the feelings of many people – well, now they know, and it really isn't necessary in this day and age. I want people to know about why this is an issue, and help send a message that can reach Fuji TV by adding their voices to the petition."
The petition urging Fuji-TV not to air the blackface minstrel show  can be signed here↓
Urge Fuji-TV Not to Air Blackface Minstrel Show / フジテレビに「Blackface(ブラックフェイス)」のグループの出演停止を要求する
*Editor's note: It may be worth mentioning that Mr. Nobutaka Shikanai, the supposed founder of Fuji Sankei group, in his own memoirs gleefully discusses his role in procuring women to sexually service Japanese soldiers during WWII. Many of these women who were treated in ways that would classify them as human trafficking victims in modern times, were called "comfort women." The editorials and articles in Sankei Shimbun (Newspaper) have implied that the comfort women did not exist or if they did, they were all happy hookers. The Sankei Shimbun has yet to address the implications of the testimony of their own founder.
Jake Adelstein also contributed to this story.