LA CARMINA is a prominent alternative fashion and travel blogger, TV host, travel & subculture journalist, and author of three books, including one on Crazy, Wacky Theme Restaurants in Tokyo and a cookbook on cooking cute titled CUTE YUMMY TIME. 
This piece was originally posted on www.lacarmina.com.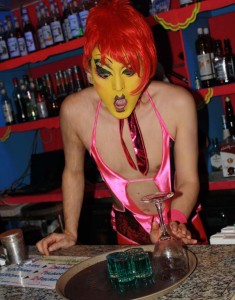 Welcome to Tokyo Decadance Bar — one of the favorite hangouts of Tokyo's alternative, Goth and Cyber club kids. If you're visiting the city, you can't miss the absinthe and alt performances. Here are photos from my last two trips to "Decabar." Note the infamous Preta Porco in his signature yellow face paint.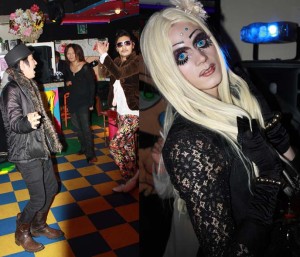 The club space is small but laid back, and decorated in neon paint. The fashion is consistently fabulous, as Yukiro Dravarious, in one of his many guises, shows. If you want to see more of him, he'll be performing his drag queen act, Die Schwarze Frau on April 27th at the Tokyo Pride Prade. Check out his Facebook page for more details. You'll be entertained and frightened for sure.
On "Porco Night," all attention goes to the yellow-faced bartender, Preta Porco. Mistress Maya also holds a regular "Snack Mayaya" event, where she holds a snack bar and does some… interesting rope-tying demonstrations.
On any given night, I'll run into friends here. On the left, you'll see Sophia, an impressive vocalist who recently debuted her solo project, "Season of Ghosts."
Owner Adrien Le Danois (on the left with the blue hair) welcomes guests to his lair. On the dance floor you can find girls in cosplay and colorful street style. Many of the people who come here speak English and French, so the language barrier is no problem if you don't know Japanese.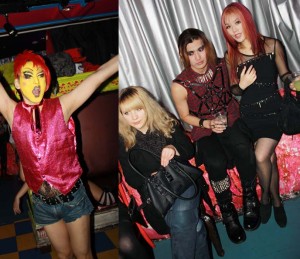 Porco's scintillating smile will immediately put you in the mood to party. (My hair is pink because these photos are from last spring.)
And when the drinks flow, the shenanigans begin. I always order the absinthe at Decadance Bar.
The space is decorated like a Day Glo carnival, and the staff dresses the part in wigs and glitter.
Between DJ sets, underground performers strut their stuff. Everyone smiled at this 1980s dance routine, peppered with pole-dancing.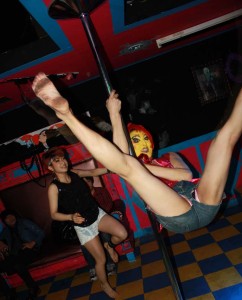 Porco squealed and twirled on a pole. I'm at a loss for words.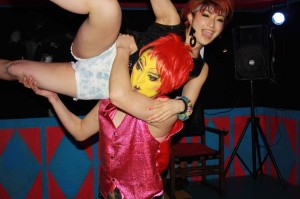 As you can see, there's a themed event or bizarre performance on any given night. (Photography by Naomi – check out her latest illustrations!)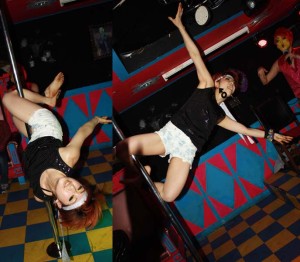 If it's your birthday, beware: the drag queens sit on you and chant the "nonde nonde" drinking song.
The special DJs played a bouncing, techno-electric mix. You can tell that everyone was having fun.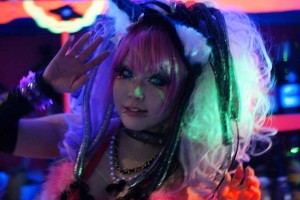 I also went to Tokyo Decadance Bar last December. It was "Sex Pot Night." There were events both in the upstairs bar and downstairs restaurant, Christon Cafe.
Similar to Alamode Market, there were handmade Gothic Lolita accessories for sale at tables.
A striking back tattoo with hearts and wings, on this barely clad Japanese lady.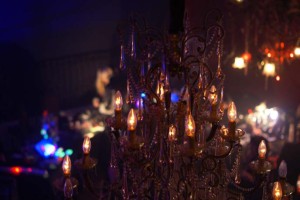 If you read my Theme Restaurants book, you know that Christon is decorated with church relics, like chandeliers and altars.
This makes it a haunting (and slightly kitschy) atmosphere for a Goth alternative party. The big Tokyo Decadance parties, which take place every 1-2 months, are usually held at Christon Shinjuku.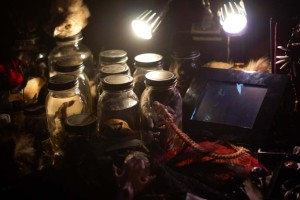 That night, the area near the lower staircase was filled with tables. Vendors sold oddities such as scorpions preserved in jars.
You can also pick up one-of-a-kind Gothic accessories such as these hand-studded chokers.
Or you can get a glitter tattoo, from a not-so-Barbie girl.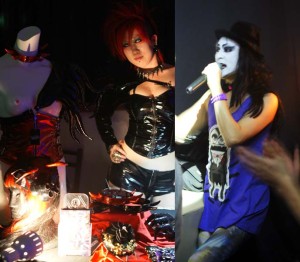 If you get tired of shopping, then there's plenty of singing, dancing, performances, and other entertainment in the venue.
I saw a slightly incongruous performance by a group of women dressed as mistresses, in tight leather corsets and riding sticks.
Yet they sang J-pop and anime songs, with giddy choreography. The men in the back seemed to be having a good time.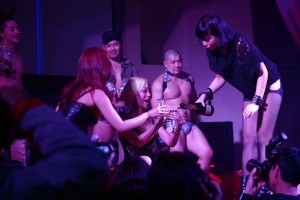 "Kampai," or cheers!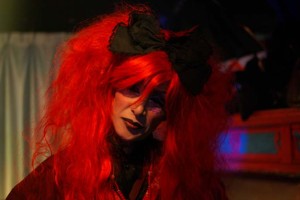 Much like the club night Department H, this is a place for you to be whoever or whatever you wish, without judgement.
The grotesque doll on the wall shows that anything goes.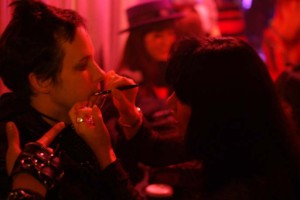 Real men wear makeup. Here, makeup on men is the norm rather than the exception.
Goth fashion looks especially bloody under red lights.
My current blue hair matches these girls on the wall.
For once, Yukiro isn't the tallest person in the room, thanks to little help with stilts.
Mistress Maya (who is also DJ Maya at her event Midnight Mess) tied up an innocent victim.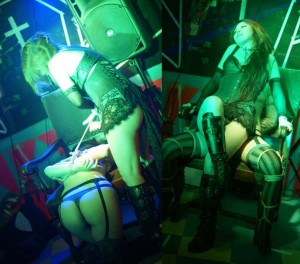 The girl got a spanking and hot candle wax on her back, among other naughty things that we can't post on this blog… Use your imagination, or come to Decabar to see for yourself–and perhaps get a spanking of your own.
For more photos from Tokyo Decadence and other Goth / Cyber / LGBT nightlife, you can take a look at my Japan clubbing guide.
Tokyo Decabar: 東京都新宿区新宿5-17-13 or 5-17-13 Shinjuku, Oriental Wave Building 8F/9F
Directions: From Shinjuku East Exit, walk towards Studio Alta and Don Quixote. Take a right on this main street (Yasakuni Dori) and keep walking. Christon Cafe is on the left side of the street, right above the Lawson and before the parking lot buildings. Ride the elevator up to the 8th floor (Christon Cafe theme restaurant) and walk up the stairs to Decadance Bar.