Since the tightening of regulations against fuuzoku sex industry businesses in Shinjuku's Kabuki-cho last year, there have been voices of concern about whether or not the neighborhood will lose its character along with its seedy image.
And it now may have a new competitor. Adult-themed businesses have been sprouting up in the Shibuya area over the past few years as the ever-changing cityscape has begun to take on a pink glow from these:
Once known as the teen-fashion capital of Asia, Shibuya is being slowly overrun by muryo annai-sho, or "information centers" that are the new gateways to adult entertainment.  While the Tokyo Police Metropolitan Police Department has focused its efforts on Shinjuku ward, the Shibuya flesh merchants have taken up residence in this relatively overlooked area–just as they have done in Akihabara and Uguisuidani.  Shibuya, because of its reputation as a teen mecca, also tends to attract a certain type of Japanese man with a fetish for young, and even underage women–so called loli-con or "lolita complex bearing men."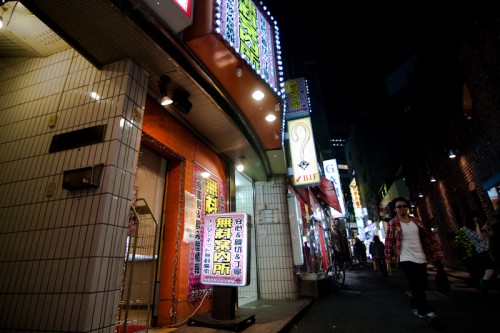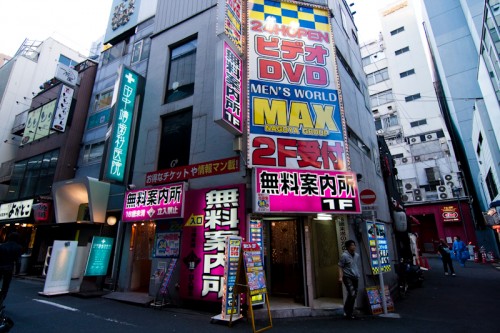 These information centers provide information on local sex services, from cabaret and strip clubs to massage parlors, soaplands and other "fashion health" businesses, as well as often serve as a reception center for "delivery health" call-girl services. They may also offer discount tickets for these businesses, earning the name "ticket centers" or chike-sen.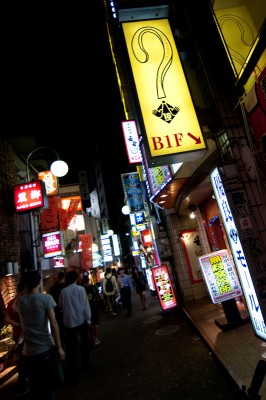 While some sources say the sex business has been on the rise here since the days of Koizumi, others insist the industry has gotten big more recently, making Shibuya the third-largest fuuzoku capital in Tokyo behind Shinjuku and Ikebukuro.
"They came into the neighborhood earlier this year," reported one university student working part-time at an izakaya near Shibuya station of the men whose job it is to lure male customers in to cabaret clubs. "I use the Inokashira Line, and on most nights there will be about 10 of them just standing around outside the ticket gates. At first I thought it was scary, but then they started coming to our izakaya and we got to know them."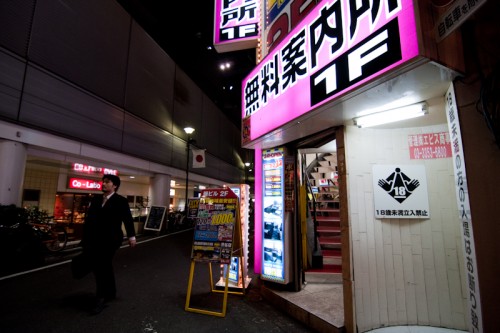 Police patrols of the area are also on the rise, with a visible police presence in the Dogenzaka area from the afternoon and on into the night. "There's more police around nowadays. They walk around asking people what they do for a living and why they're loitering around," the girl said.
There are some that are not convinced of the effectiveness of the authorities, however. Said a convenience store owner near Shibuya's infamous Love Hotel Hill, "You see more cops out there, but I think they're just keeping up appearances instead of trying to crack down on illegal businesses."
Since 2006, authorities have been cracking down on the presence of muryo annai-sho by limiting the areas in which they can be opened and restricting their use of signage and photos of "service providers." The enforcement of these regulations could be questioned when look down through the Dogenzaka area.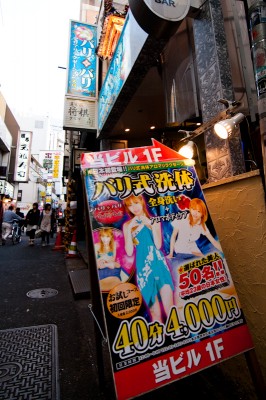 Although some have voiced their suspect, it is not clear if the ownership of these landmark-like guidance centers belongs to one organization. Nor is it known if the Vegas-like pink pet shop sharing one of the buildings is independently owned or another source of income for a company looking to branch out.