The Fukushima Daiichi nuclear reactor (福島第一原発)in Fukushima Prefecture has seriously malfunctioned. The Tokyo government announced on the 15th that levels of radiation in Shinjuku-ward were at their peak as high as 21 times the normal levels but that it is not at a level where imminent physical harm is even a possibility. Whether that's within a safe range or not, I don't know. It may simply be a very small increase in the risk of cancer, as one person asserts, like smoking a cigarette. The U.S. Seventh Fleet has moved its ships and aircraft away from the quake-stricken Japanese nuclear power plant after discovering low-level radioactive contamination.
Japanese television was reporting that at least three residents among 90 tested showed excess exposure to radiation. If you are in Japan, and the situation worsens, there are some things you can do protect yourself from nuclear radiation. The Centers For Disease Control and Prevention (CDC) has a a useful posting here, if the link won't open for you. http://www.bt.cdc.gov/radiation/emergencyfaq.asp
This is the CDC's guide to the use of iodine tablets, which are difficult to find in Japan but they are sold in some stores. Supposedly they are available around many military bases.  In Japanese it's ヨウ化カリウム (potassium iodide). The Japanese government is planning to distribute them close to the reactor area. Some multi-vitamins have potassium iodide (from kelp) in them and at a level that is just enough to be the daily requirement. They might be worth taking. Generally, it will list on the supplement as iodine (as potassium iodide). Some will credit the material as coming from kelp. The average adult should have 150 mcgs of iodine for a healthy thyroid gland as the percent daily values for a 2,000 calorie per day diet. There is one supplement available from amazon.co.jp which contains ample portions and seems relatively benign. The website says that it will be back in stock on the 24th of March. They also note that the maker is donating part of their sales to earthquake relief.  Here's a picture if you can find some locally. Once again, please talk a physician or someone with medical knowledge about the pros and cons of taking it in addition to your daily diet.
If you cannot speak or read Japanese, please show the following photo to the pharmacy close to you and try to find something containing potassium iodide. Use the pills with caution, and only if it appears that you are at risk to exposure. You should take them proactively. I don't think taking a multi-vitamin containing potassium iodide would hurt you and may be a reasonable preventive measure. I'm not an expert on nuclear radiation, so please read the CDC faq on radiation emergencies before ingesting pure potassium iodide.
It is one of the worst times in Japan and it is bringing out the best in people. Even the yakuza are chipping in, with the Sumiyoshi-kai and Inagawa-kai opening their offices as shelters and sending supplies to the reactor site.
Many stores in Japan also sell emergency supply kits (防災キット)which may or may not contain tablets to deal with radiation poisoning. Update: This was posted in the comments but from my limited knowledge of the problem, it's accurate. "It should also be noted that while flooding your system with iodine will minimize absorption of radioactive iodine – which will otherwise be absorbed into your system, emitting radiation that may kill you – this will not prevent you from absorbing radiation in other ways. The CDC page does mention this, but I think it is very important to emphasize it in case people who do not recall their science classes develop the mistaken belief that as long as they take the pill everything is OK." I've been told that a doctor's prescription is required to get the tablets and at this point in time, taking them may be more harmful than not taking them.
This is a link to an official geiger counter in Japanese and the same one translated into English for Northern Japan and affected areas . There is a link to an amateur geiger counter in Tokyo in Koto-ward available here. It was made by a science geek with a kit so its reliability is questionable but it's better than nothing. The normal levels for radiation in Tokyo should be between 10 to 20cpm according to the poster. Due to the rolling black-outs in Tokyo the counter may freeze or be inaccessible at some hours.Good luck and our best wishes to every one in Japan from all of us at the JSRC. For making donations please see previous post. I'm not a nuclear scientist so I can't tell you what the readings mean. If someone can offer a good explanation of how to read them, it would be appreciated.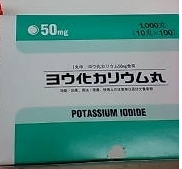 iodine tablets for prevention of radiation poisoning. stocked in some pharmacies in Kanagawa Prefecture.