Editor's Note: This review contains several four letter words that our genteel readers may find offensive. If swear words and euphemisms for sexual intercourse make you uncomfortable, please do not read further. Thank you. 
How to Use Fuck Correctly: 99 Phrases Using Fuck, Shit, Damn, and Hell that Schools Won't Teach You that Should be Used with Care (正しいFUCK 使い方学校では教えてくれない、取扱注意のFuck, Shit, Damn, Hellを使った99フレーズ) is a detailed guide for anyone who shit about learning the many nuances (and yes, there are many) between the four 4-letter curse words that any English speaker should know: fuck, shit, damn, and hell. Many students in Japanese schools give don't give a shit about learning how to speak English (and the Japanese government is doing a shitty job at promoting English education), but learning to cuss out your taxi driver if you ever go to New York City is all you'll ever need to know if you're that lazy.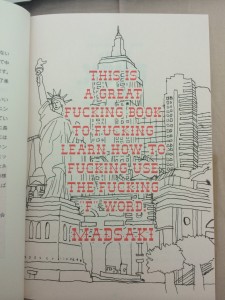 But if you're serious about becoming fluent in English, this guide is great for learning what your teacher failed to teach you in high school. The book is supervised by MADSAKI, who, according to the bio on the book jacket, is a "bad motherfucker with 25-years of experience in the United States (25年在米経験のあるバッドマザファッカー)" No kidding. It's written like that.
The starts off with a section on how the book covers words that can't be aired on television or radio in English-speaking countries. It advises beginners to stick straight to the model sentences provided in the guide and recommends using these words with very close friends, or better yet, by yourself. The section also comes with a chart ranking the various curse words from dirty to sort of acceptable to use with the f-bomb at the very top and "hell" at the bottom. Of course, the book fails to mention that if you're a native English speaker from the United States, which is home to many conservatives, you'll likely offend someone.
The introduction ends up with a serious warning, which is unintentionally hilarious: "Incorrect handling of these words will cause hazardous conditions, and we assume that you will likely suffer from moderate failure or light injures, or serious injuries or death."
But if you don't give a fuck at all, then read on.
Each usage of one of the four bad words comes with an illustration of a celebrity, a movie scene, or something from Western pop culture. Some of them refer to incidents as recent as March when Ellen DeGeneres took a group selfie at the Academy Awards. Each chapter ends with a list of famous quotes or proverbs said by famous people which uses one of the four bad words taught by the book.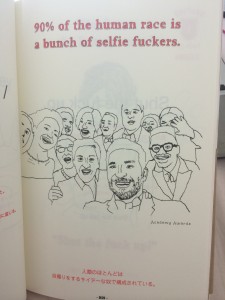 The only issue with the book is that some of the translations of the phrases are not exactly accurate. Indeed, it is difficult to find a Japanese equivalent of the word "fuck." However, there are pages that could use better translations. For example, the phrase "DAAAMMNN, She's hot!" which comes with an illustration of Woody Allen, is translated as "信じられない、ちょーいい女じゃん(I can't believe it! She's a great woman!") The book notes that the phrase should be used to when you want to say that something is amazing. However, I doubt that Woody Allen was thinking that his ex-girlfriend's step-daughter, which he later began a relationship with, was a "great woman." Sexy (セクシー) would be a more appropriate translation.
The book comes with a CD that allows users to hear the correct pronunciation of each usage of f*uck. The announcer has a perky female voice commonly heard on children's English language TV programs. I was disappointed that they didn't have someone who could convey the feeling a native speaker would use in one's voice to say a cuss word, especially in cases in anger.
In short, the book is pretty fucking awesome. Though, if you're like me, you'd see this book as less instructional and more like something for cheap fucking laughs. I shit you not.