Sure, Apple can claim they have the most popular and trendy smartphone, but do they sponsor festivals offering free food, ramune and games? (Editor's note: Not yet). From June 16-20, the Android Company is holding a festival they're calling "Matsuri with Android" at O-Yane Plaza in Roppongi Hills to endorse their various phones. Here are some of the main attractions at the festival:
Taico (太鼓) phone/drumming game
For anyone who's played the taico arcade game that's so hard to miss in Tokyo, you'll enjoy this Android-ified version in which you take two Galaxy phones and bang on virtual drums as little symbols appear on a screen. What's cool is every time you hit a beat correctly, a big wall of LED lights in front of you will glow in a rainbow-like explosion. Whoever hits the most correct notes and gets the high score will win a Nexus phone.
Virtual Android masks
Similar to those hip new Japanese photo booths that enlarge your eyes, the festival features a room that will have cameras scan your face and put a random android robot head on you. It's pretty fun, but a little weird when you see random guys you don't know trying to cram into the picture.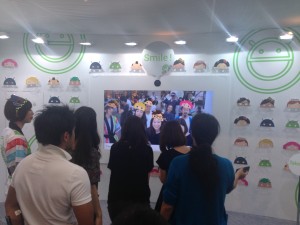 Food and drinks
If you download a specific Android app for your phone, you can go to several booths and get free cotton candy, yakitori and ramune (soda with a marble inside the top of the bottle that tastes like carbonated PEZ). Along with that is a café that sells custom green Android-themed lattes, fruit juice and cocktails (although the cocktail was pretty weak). It's free and it's fun. Imagine you're at a matsuri (祭り)festival of future Japan and it's quite fun. Even if you belong to the Cult of Mac.