Japan is getting serious about gender equality—and there were absolutely no bribes paid by Japan to win the right to host the 2020 Olympics—and the nuclear disaster at Fukushima is under control. Decide for yourself which of these three statements is the most untrue.
Womenomics was touted by Japan's Prime Minister Shinzo Abe as his progressive policy to elevate the status of women in what is still a very sexist and unequal society, where women are far from being empowered. The Global Gender Gap report published last year noted that Mr. Abe and the LDP's pledge to bridge the gender divide resulted in actually widening the gulf, with Nippon sliding down a few notches to 111th in terms of world gender equality. 
It's hard to see women in Japan being "empowered" when they can be sexually assaulted with near impunity. The odds that their assailant will be arrested, or prosecuted are low–less than a coin toss. And if he is actually prosecuted–he can sometimes walk free, with no jail time and no criminal record,  by paying damages and saying, "I'm sorry." It's a situation that the Abe administration could have changed but neglected to do so, tabling newly revised criminal codes to instead focus on passing a conspiracy bill that the United Nations warns could erode civil liberties.
Of course, some would argue that "womenomics" have never been about elevating the status of women in Japan—it's always been about keeping Japanese business thriving and hopefully encouraging woman to work—and breed. Of course, pregnancy in the workplace often is greeted with bullying from all sides. Abe's vision of Womenomics has certainly never been about improving the lives of Japan's single mothers, 50% of whom live in poverty. In fact, other than talking about "shining women–it's not clear exactly what he wants for Japan's future potential birthing machines.*
The current Minister of Gender Equality and Women's Empowerment, is of course, also a man, and also in charge of improving Japan's birthrate. Do we need to say more?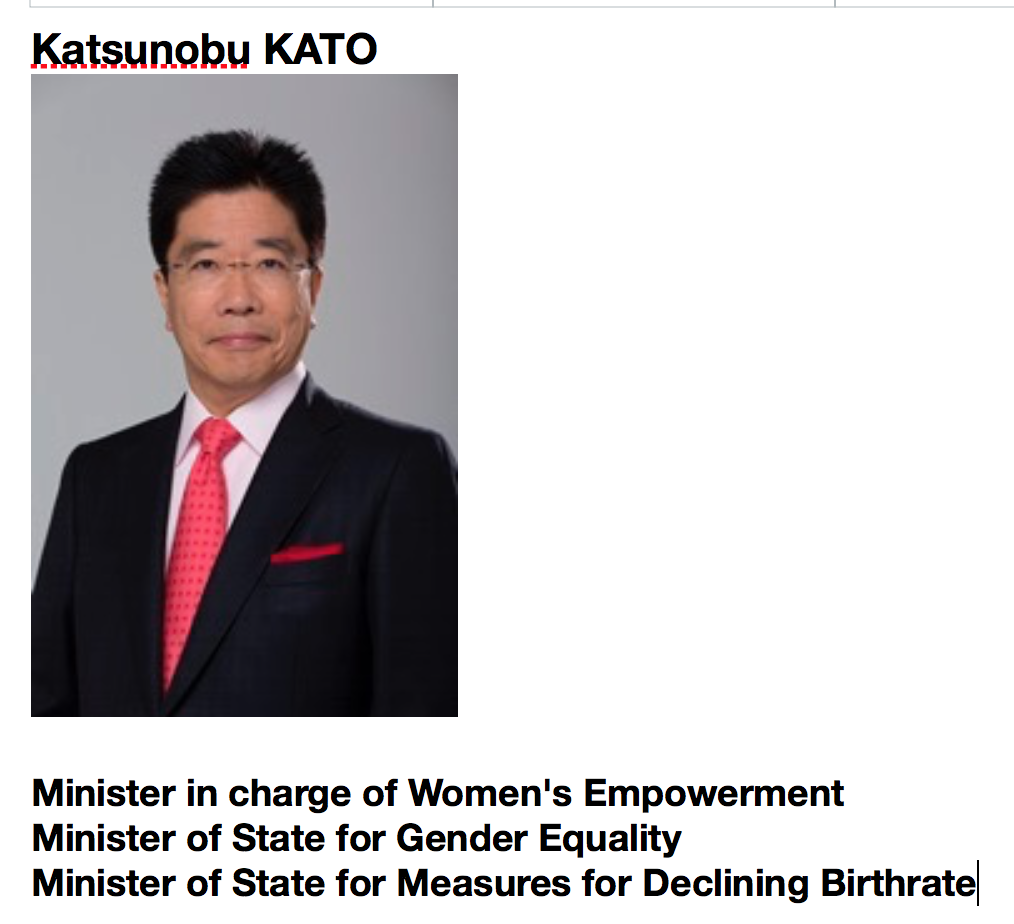 Recently, Bloomberg published an interview with Democratic Party leader Renho, in which she pointed out the obvious, Womenomics is all talk and no walk.
"They should be ashamed to use the word 'Womenomics'," Democratic Party leader Renho, the 49-year-old mother of twins, said in an interview in Tokyo late Thursday when asked about the term Abe often uses to describe his efforts. "It's an embarrassment."

Abe had vowed to eliminate waiting lists for childcare in a bid to draw more women into the workforce to make up for Japan's shrinking population. He also sought to have women take 30 percent of management positions in all fields by 2020.

On both goals he's falling well short: Japan was 111th in the World Economic Forum's Gender Gap ranking for 2016, down 10 places on the previous year.

"About 80 percent of those who take childcare leave are women, and if they're forced to wait for daycare, that means unemployment," Renho said. "You either get demoted or you give up on work. What's womenomics about if women are being forced to make such sad choices?"

For the rest of the article, go to

*Reference to women as "birthing machines" is sarcasm. We know that the LDP also thinks of women as much more than that–as potential nurses for the elderly, expert green tea brewers for the office, and caretakers of the children that they should be giving birth to right now for the greater prosperity of Japan.