January 30th 3:45 am Tokyo, Japan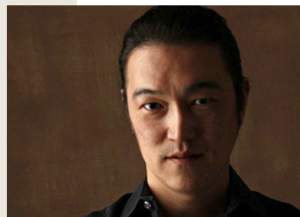 As the deadline for the exchange of prisoners has now passed, the fate of Japanese reporter Kenji Goto, 47, believed to be held by ISIS, might be reaching a crucial stage. Thursday morning, a new audio message was posted online by the Islamist group, with what appears to be Kenji Goto addressing the Jordanian authorities. The audio message warned that the Jordanian fighter jet pilot captured by ISIS in December last year will be killed if Jordan doesn't release the Iraqi woman arrested in the Jordanian capital in 2005 for involvement in a suicide attack against a hotel that killed 60 people. "If Sajida al-Rishawi is not ready for exchange for my life at the Turkish border by Thursday sunset 29th of January Mosul time, the Jordanian pilot Muath al-Kasaesbeh will be killed immediately," said the recorded message.
Jordan offered to exchange the Iraqi suicide bomber for the Jordanian pilot on Wednesday. But nothing was mentioned about the Japanese hostage. As Jordan has been leading the negotiations for the release of the Japanese and Jordanian hostages, Japan has only been observing and analyzing the authenticity of the audio files. "It is his voice, without a doubt," Junko Ishido, the mother of the Japanese hostage said. Japan seemingly lost in translation, keeps denying having any confirmation about the safety of Goto. "The only thing I can say is that the Japan and Jordan have trustful relations", Japan's top government spokesman said after refraining from discussing any details.
The Jordanian Foreign Minister, Mr. Nasser S, Judeh, tweeted on Wednesday that the information about Jordan releasing the Iraqi woman is not true, "We have said from the beginning that her release will depend on the release of our Jordanian son." He also tweeted that the Jordanian request for proof that al-Kasaebeh is safe and well—proof of life–was unanswered. The life and death of Goto seemed to be tied to the exchange of the Jordanian pilot against the Iraqi woman, but it is unclear at this point where Goto stands. In a press conference in Amman on Thursday, before the deadline for the exchange of prisoners, Jordan's media affairs minister said the government has not released death-row inmate Sajida al-Rishawi. He said Jordan continues to coordinate with Japan for the release of the Japanese journalist.
The minister of state for media affairs and communications, Mohammad al-Momani, spoke to reporters on Thursday after meeting with Jordanian leaders.
Meanwhile, on January 29th at 1:30 pm London time, Rinko Goto, the wife of Kenji Goto, released an impassioned plea for the life of her husband and the life of the captured Jordanian pilot, via the Rory Peck Trust, which supports freelance journalists all over the world and their families in times of crisis. Kenji Goto has worked with the group since 2010.
The full statement of Mrs. Rinko Goto is here: An urgent plea from the wife of Kenji Goto