If you speak out, sometimes you are heard. That's the first step.
On Wednesday, Prime Minister Yoshihiko Noda finally met with a dozen anti-nuclear activists. It was a victory for the protestors, who have railed against the restarting of Japan's nuclear reactors, for months, with increasing public support and growing numbers of sympathisizers. However, while Prime Minister Noda did meet with them, he seemed more concerned about his talking points than what they had to say. He and the government of Japan now hear the rising anti-nuclear sentiment but its doubtful that they are really listening. The wealth and influence of Japan's nuclear power industrial complex has a much louder voice, one that seems capable of drowning out the roar of dissent. However, one of the protestors summed up the meeting very optimistically, "Half of Japan is opposed to the restarting of the nuclear reactors. They were started anyway. But now the government is began to listening to the voices of opposition. Democracy has also been restarted."
Whether the Government of Japan or Prime Minister Noda is really paying attention to the message of the anti-nuclear movement is hard to say.
(Note: The rest of this article first appeared in the Daily Beast/Newsweek on August 19th and has been slightly revised. Please follow the link at the bottom for the full article.)
Still….it's hard to ignore more than 20,000 anti-nuclear protesters at your front door. It's even harder in a country like Japan, where more often than not repressive tradition and political apathy combine to stifle social protest. So after Yoshihiko Noda, Japan's unpopular prime minister, found his home surrounded by thousands of protesters for weeks on end, he seems to have  finally got the message.
Last week the prime minister agreed, albeit reluctantly, to meet with representatives of Japan's increasingly vocal and influential citizens network "Metropolitan Coalition Against Nukes" (MCAN).
According to an opinion poll conducted by the Mainichi Shimbun, a major Japanese daily newspaper, almost half of Japan now sympathizes with the protesters. That statistic is all the more remarkable in a country which hasn't seen mass social protest since the early 1960s. But the anti-nuke coalition besieging the prime minister's home and other government sites is nothing if not broadbased, a characteristic summed up by the characters of its two leaders: a tattooed female artist and fashion designer and an ultra-conventional looking, soft-spoken white-collar worker. How did this dynamic duo come together and "politely" make themselves a force to be reckoned with? And will they really make a difference? No one knows, of course, but in the past few months Japan's leaders have learned conclusively that these two cannot be easily ignored.
On March 11, 2011, an 8.9 magnitude earthquake and a subsequent tsunami left thousands dead in Japan and caused a triple meltdown at the Fukushima Dai-ichi Nuclear Power Plant, managed by Tokyo Electric Power Company (TEPCO). The Japanese government and TEPCO for months afterward denied a meltdown had taken place and then later blamed the accident on "an unprecedented and unforeseeable tsunami," which knocked out the power to the plant.
he report officially confirmed the Japanese people's worst fears and added impetus to a growing anti-nuclear movement.The loosely structured network of groups opposed to nuclear energy in Japan known as "Metropolitan Coalition Against Nukes" (MCAN),was founded in September last year.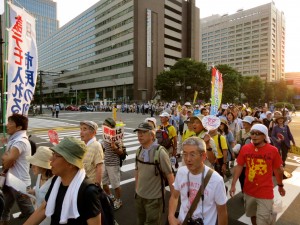 The leader of the group is an outspoken tattooed female artist and fashion designer who choses to be referred to by her adapted name, Misao Redwolf. (Don't dare ask her age, because she will just glare at you fiercely.) Redwolf says, "I organized anti-nuclear protests for more than five years now, but nobody knew about our movement simply because we never received media coverage before."
Redwolf, noting that many small groups of protesters were scattered around Tokyo, decided to bring together all the organizations to fight for the same cause. "And so we founded the MCAN."The protest organizers always make sure to thank the police officers for their hard work—with a polite bow and traditional greetings—when the event is done.
The first anti-nuclear demonstration in front of the National Diet building and the prime minister's residence took place on March 29, 2012. Almost every Friday evening, between 6 and 8 p.m., protesters meet in front of the prime minister's residence to protest the government's decision to restart two reactors at the nuclear power station Oi, which belongs to Kansai Electric Power Company (KEPCO), in the Fukui prefecture.
"The protests cannot change the decisions of the politicians," Redwolf says, "but if our voices can reach the ears of the lawmakers at the Parliament (the Japanese Diet) and influence their decisions, then we will win a unique battle."
Her major ally in winning that battle is the mild-mannered, clean-cut, and soft-spoken Norimichi Hattori, the group's spokesman, who has captured the hearts of the Japanese public and the media.A consultant for a small company that manufactures carrying bags for children, Hattori, 36, was not an environmental activist before the meltdown contaminated his home with radioactivity. In April 2011, he first got involved in small anti-nuclear protests. In September, after meeting with Redwolf several times, he became MCAN's spokesman.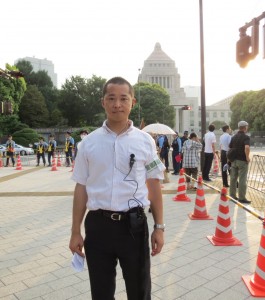 His black hair is cut straight and short, and even in summer he wears a white shirt and a dark suit. He looked like any Japanese "salary man" (white-collar worker).
Hattori lives in Matsudo City, in the Chiba prefecture. In mid-March 2011, heavy rains carried the radioactive particles emitted by the explosion at the Fukushima Dai-ichi Nuclear Power Plant to his home. As a result, his home has become a so-called "hot spot"—a place where sediments containing radioactive fallout tend to accumulate via rainwater and other factors. click here for the rest of the story…
*most of this article was originally published in The Daily Beast/Newsweek on August 19th)