You can't make blood from a stone but you can make ink with a stone, and beautiful artistic ink. That is, if you're using as 硯石(suzuri-ishi), a traditional Japanese ink-stone, which in and of itself can be an art object. I went to Daigo-machi in Ibaraki Prefecture to see one be made by a traditional craftsman and try one out for myself. If you're an amateur calligrapher (書道家)but aspire to greatness, you need one of these in your life. 
Daigo-machi located in Ibaraki Prefecture is one of the few places where traditional suzuri are still made. There is a particular kind of stone that is perfect for making suzuri and the town still has a limited supply. The stones are able to grind down the solid materials used for making ink to do calligraphy, but are also resistant to being ground down as well.  As far back as the Tokugawa era, the stones from Daigo and the suzuri produced there were considered natural treasures. 
The stones were treasured by Japanese artists like Hoan Kosugi, noteable authors such as Saneatsu Mushanokōji (武者小路 実篤) and even Japanese Prime Minister Tsuyoshi (話せばわか) Inukai*.
Taizan Sato became fascinated with the process of making ink stones after attending a workshop conducted by the man who would later become his master, Taiseki Hoshino.
He opened his own workshop in the town in the year 2002. He has learned over time to touch a stone and know immediately whether or not it is suitable to be an ink-stone. It can't be too hard and it is helpful if it has some claylike qualities, but not to the point of being absorbent.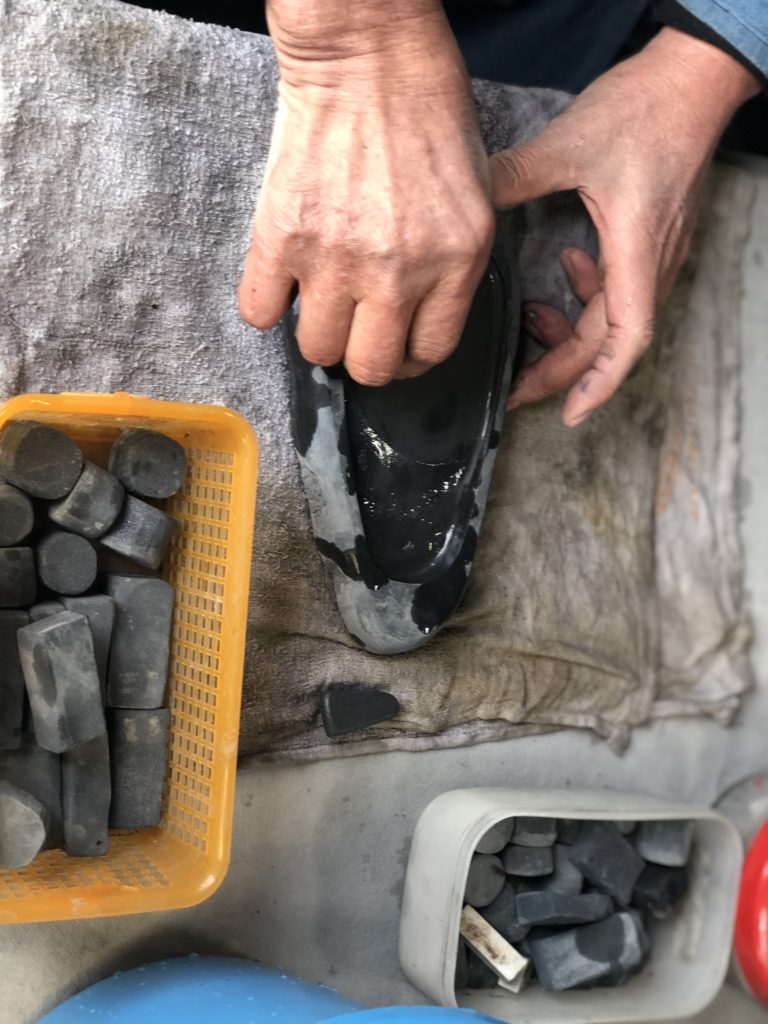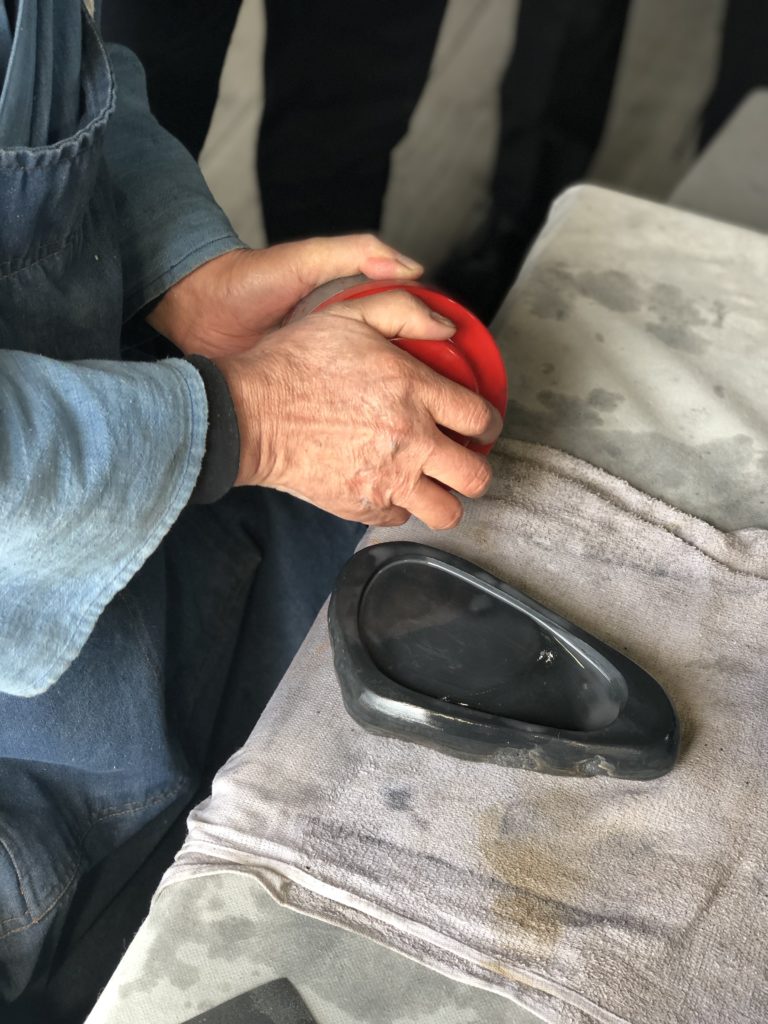 In an effort to combine the town's traditional lacquerware with the ink stones, he uses only lacquer painstakingly handscraped from the urushi trees to paint the outside edges of the stone, and ads design, to turn them into works of art on their own. Many of Japan's living national treasures use his stones in their artwork and calligraphy. 
Sato-san has one disciple (弟子) to follow in his footsteps.
As an amateur calligrapher, I can tell you that the feel of the one of his hand-made stones compared to the cheap ones sold in stationary stores is a world apart. The smoothnesss of his hand-made suzuri are extraordinary and yet the part of the stone used to grind down the ink is so subtly raised that you can barely feel it with your finger. The ink has to be ground very slowly, almost as if you were gently rubbing the ink stick against a bare nipple—-a bare nipple with razor stubble. The right amount of water and delicate friction produces a finite level of ink which pools in the "ocean" of the ink-stone (suzuri). 
The detailed structure of the ink-stone makes it possible to vary the lightness and thickness of the ink; the results are brush strokes that are not uniform and subtle on the paper. For Sumi-e paintings, it is also a wonderful tool to have. Admittedly, such a majestic tool is slightly wasted on a person like myself who as my calligraphy teacher points out, "Lacks all delicacy and does not follow the proper stroke order" but maybe someday…..

I purchased one of the stones for someone much more qualified than me to make use of it (list price 30,000 yen but I only had 23,000 yen in cash so he generously cut me a deal). I gave it to a curator at the Met who is an expert on calligraphy. In another decade, I may be worthy of owning one myself. Which means another trip to Daigo…..a town with many charms.
As long as you're in town…..

Japan is a famous for lacquerware known as urushi, and to make it the authentic way, you need organic sap from the urushi tree. Daigo provides much of the quality organic urushi needed for Japan's traditional crafts.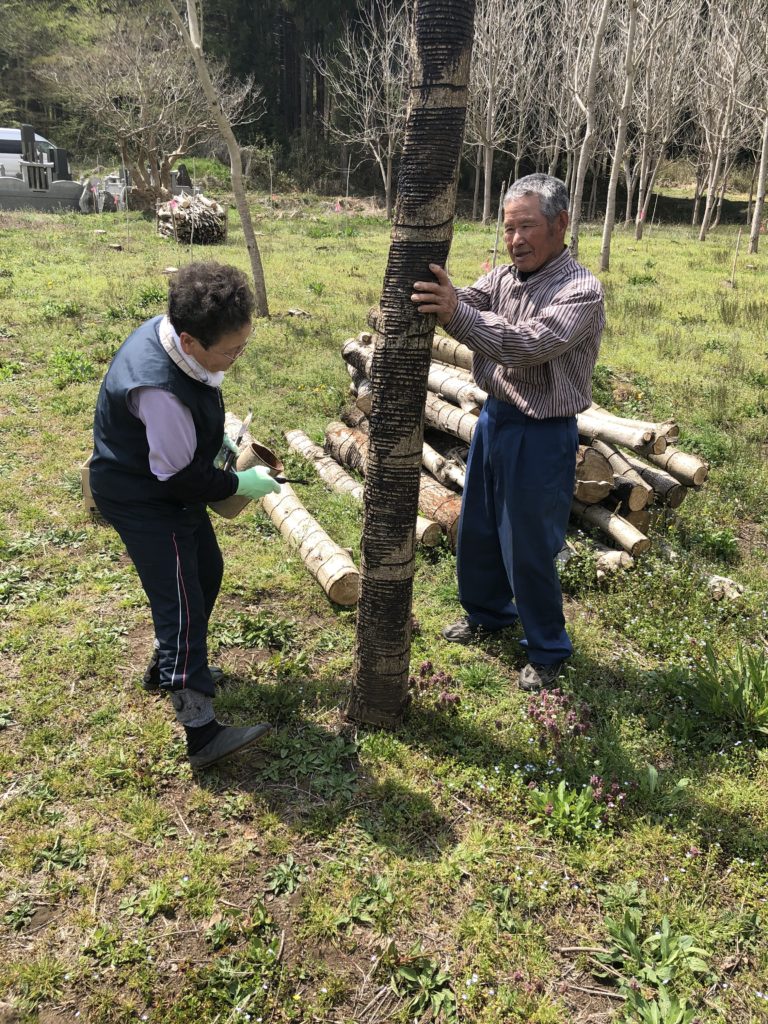 Due to the cold climate and soil composition Daigo produces what some say is the finest raw urushi in Japan. It is clear, dries quickly, and has a fragrance reminiscent of Japanese cypress. If you make arrangements in advance, you can go to the serene Urushi tree forest and see how the sap is extracted. The master urushikaki (person who scrapes urushi) is Yuzo Tobita, who is 84. There used to be a hundred people doing the work. Now there are, including Tobita, five or six people continuing the tradition. It's hard work. It takes up to ten years to grow an urushi tree and from one tree, at best you can extract 200 milliliters, basically a small bottle of Shiso Pepsi Cola.
Fortunately for the tradition, there are young apprentices like Yuma Watanabe who is 26 and now learning the art. If he sticks with it, traditional urushi may last another few generations.
After you've seen the urushi drawn from the sap, and maybe tried your hand at the work yourself—take a visit to Kijian, where you can see lacquerware being made and buy some souvenirs. The master , Toru Tsuji, has his own style of creating lacquerware, Yamizonuri, which results in elegant and zen-like austere utensils.
*Prime Minister Inukai was assassinated on May 15, 1932 starting the dark age of Japanese Imperialism