What causes a 5-year old girl to write in her notebook, "Please forgive me," just a few days prior to her death from abuse? "Please forgive me" is 'onegai, yurushite,' in Japanese, and the phrase made headlines after 5-year old Yua Funato was found dead in her apartment home in March. According to news reports, Yua had been beaten by her father and starved by her mother. The direct cause of her death was sepsis, brought on my poor nutrition and untreated pneumonia. Asahi Shimbun reported that Yua was ordered (by her mother) to practice writing Japanese at 4 in the morning everyday and was punished when she made mistakes, usually by being forced to sit for hours on the concrete veranda of their apartment, in the dead of winter.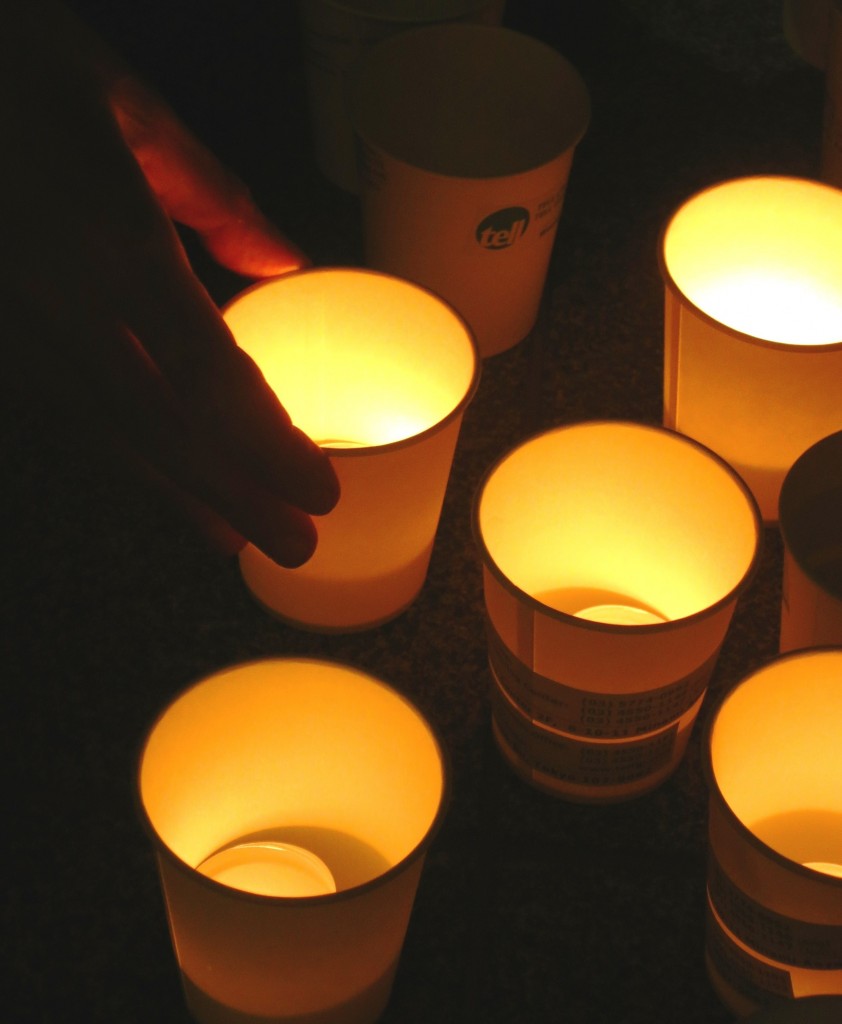 According to Nippon.com, Yua's treatment is pretty much standard among the growing number of child abuse cases in Japan. The father beats the child in places were bruises can't be seen (in her case, injuries were confirmed on her upper thighs and back) and the mother stops feeding them. Verbal abuse, beating s and starvation form the unholy trinity of Japanese abuse cases and Yua, apart from everything else, was told by her mother Yuri that she shouldn't have been born into the world, and that she was hated by everyone. Yua had to sleep in a tiny room with no heating, away from her parents and younger brother who occupied a bigger room with an air conditioner. At the time of her death, she was 8 kilos lighter than the average 5-year old and her digestive tract was clotted with vomit.
Now three months later, neighbors and sympathizers continue to place incense, candy and flowers outside the Funato family's apartment in Tokyo's Meguro ward. Social commentators have sighed and shook their heads with pity. Even Prime Minister Abe has been moved to comment that child abuse "cannot be overlooked." But all that sympathy came too late for the 5-year old. The whistle had been blown on Yua's parents several times over two years before the tragedy but the authorities had done nothing to help. Japan's infamous child consultation centers (notice it's consultation and not welfare) are hindered by an antiquated rule that favors parents' rights over children's, parents' testimonials over children who, like Yua, had cried to a social worker that she didn't want to live at home because her father beat her. Japan's social workers mainly consult with the adults, and the first thing they ask the parents of a child perceived to have been beaten, is: "Are you abusing your child?" Yeah, right, like the parents are going to come clean and admit it. In the case of Yua, the parents had been "cautioned" and invited to attend a parents seminar, designed to help adults become better carers of offspring. The Funatos never showed up.
The damning, daunting fact is this: As of 2016, there were well over 100,000 cases of child abuse reported in Japan, up 100 times since 1990. In the US, that number  is something like 67,000. And before Yua, there was Riku and Takumu and many other children of pre-school age who had been beaten, abused, starved or outrightly murdered by their parents. In spite of the government's pledge to build more day care facilities and put families first, Japan is a place that's not very nice to kids. Daycare is one thing, but public schools – once the bastion of a legendary educational system, is rife with problems from bullying to underpaid, overworked teachers who are mostly too tired to notice that a kid is showing up to school with bruises, or haven't had a square meal in days. As the media keeps reminding us, one out of six Japanese children live in poverty, and go to school (if they are able) on empty stomachs.
As for children blessed with a stable home life, they often feel crushed by a tremendous pressure to succeed, i.e., get into a good university that will ensure a well-paying job 15 years down the line. Many kids start going to cram school as early as second grade, studying for entrance exams that will ensure at least a partial foot in the door of a prestigious university.
The experience of being born a Japanese national used to be described as following the 'Bathtub Curve,' meaning the best years of a Japanese life came at the beginning, between 0 and 12 years old, and in the end, between 65 and 75. My high school politics teacher taught us that, and I still remember the shock of seeing the long, flat line that supposedly represented the years between adolescence and retirement. Equally shocking was that upward curve representing babyhood and primary school. Were those years really so glorious? In primary school, summer vacation lasts just over a measly month and even that was tempered with shitloads  of homework that had to be completed and submitted on September 1st. School lunches were for the most part, awful rations laid on prison-like tin trays. At home, dads returned on the last train, stressed to the very core of their beings and moms were equally tired from chores and childcare.
Dismal as it often is, there's no comparing a normal Japanese childhood to what Yua, and tens of thousands of children like her, are going through on a daily basis. Some commentators have lamented that there are simply not enough social workers to go around. True, every time a child dies from abuse, the Ministry of Health, Welfare and Labor (Koseirodousho) issues a statement about labor shortage being the definitive problem in the service industry. There are just not enough Japanese to do the work of caring for children, the elderly or the sick and diseased. When a staff member of a senior home was arrested last year after killing one of his charges, the reason given was fatigue. He was fed up with having to care for helpless people, and his work chart showed he had been pulling 12-hour shifts with almost no days off.
With Yua, the social workers who had been in charge of her case had also been understaffed, which led to carelessness and cutting corners. Yua's parents moved the family from Kagawa prefecture to Tokyo, after a neighbor blew the whistle on Yua's father. The child consultation workers in Kagawa then neglected to pass the full bulk of the paperwork from Kagawa to Tokyo, and Yua's case was never reviewed in her new locale. Add to that the fact that child abuse facilities are notoriously crowded. Barring extreme circumstances, abuse victims are often returned to their parents, and the cycle of violence begins all over again. This was certainly true of Yua, who spent 3 months in a child care center in Kagawa but was not allowed to stay.
Sometimes, family is the most horrendous aspect of a child's life. If Yua had been separated from her parents, chances are she would have lived. But Japanese tradition dictates that families must stick together, and what goes on within that circle is sacrosanct. More than the labor shortage, or parents seminars, we need to rethink the Japanese family, and take a long, hard look at its dysfunctions.
****
Editor's Note: The Japan Times in a recent editorial , What is lacking the fight against child abuse, had some suggestions on how to prevent further tragedies. 
"A 2016 revision to the child abuse prevention law simplified the procedure for officials of such centers to carry out on-site inspection of homes where child abuse is suspected without the parents' consent. The Health, Labor and Welfare Ministry says that protection of children should be prioritized and that officials should not hesitate in the face of parents' objections to take abused children under protective custody. However, it is believed that many welfare officials balk at resorting to such action out of concern that support for the family may not proceed smoothly if the action is taken over the parents' opposition.
Japan's efforts to stop child abuse are weak when compared with the systems in many Western countries. For example, in the United States, where efforts to prevent abuse of children started much earlier than in Japan, far greater numbers of child abuse cases are reported to and handled by child protection service agencies. Such agencies are staffed by far larger numbers of experts per capita than in Japan, and the police and the judiciary are more deeply involved in the effort against child abuse. What's lacking in our system to stop child abuse should be explored so that similar tragedies will not be repeated."