first published on November 3rd, 2014, 23:16 
"When you go to Tokyo….if you're a white male, you can do what you want. Just grab her, pull her in. She'll giggle. Just say PIKACHU or POKEMON or something to take the pressure off. I'm romping through the streets (of Tokyo) just grabbing girls and it's like (motions) head on dick (pfft) head on dick, yelling 'PIKACHU' with a Pikachu shirt on….Every foreigner who is white does this. When you see that one foreigner in the crowd in Tokyo and your eyes will lock and you know that he knows and he knows that and it's this guilty look like you both fucked a hooker or something."
#そのナンパ術は性暴力。世界中で怒りを呼んでいる男の名はジュリエン・ブランク。「女性をひきつける手法を教える」と世界中で講座を開いている米国の会社「リアル・ソーシャル・ダイナミクス」に所属しています。
Julien Blanc, "Dating expert" , pick-up artist, lecturing on picking up women in Japan
Transcribed from his video ▶ White Male Fucks Asian Women In Tokyo (And The Beautiful Methods To It) – YouTube
Who is Julien Blanc? He is according to his Facebook page "an executive coach for Real Social Dynamics, the international leader in dating advice". According to the highly unreliable news source, The Daily Mail, "Pick-up artist Julien Blanc charges men $3000 to learn his secret tricks"— and they work! (Maybe). The reporter who wrote the article even tries some of the tricks out for himself! That's the kind of quality journalism we expect from The Daily Mail. 
You can see Julien's amazingly misogynist and offensive lectures on how to convince women to have sex with you (if you're a white male with sociopathic tendencies) at two web sites:: www.pimpingmygame.com & www.rsdnation.com.
He is coming to Japan sometime this month–probably November 15th-17th. In anticipation of this, I wrote a summary of all we know for the Japan Times on November 6th—  We are hoping to ensure he has no happy return .  He is not going to be very welcome. In September 2014, a Youtube blogger named msdoom99, posted a Japanese subtitled video of his instructional film White Male Fucks Asian Women In Tokyo (And The Beautiful Methods To It) with some caustic comments.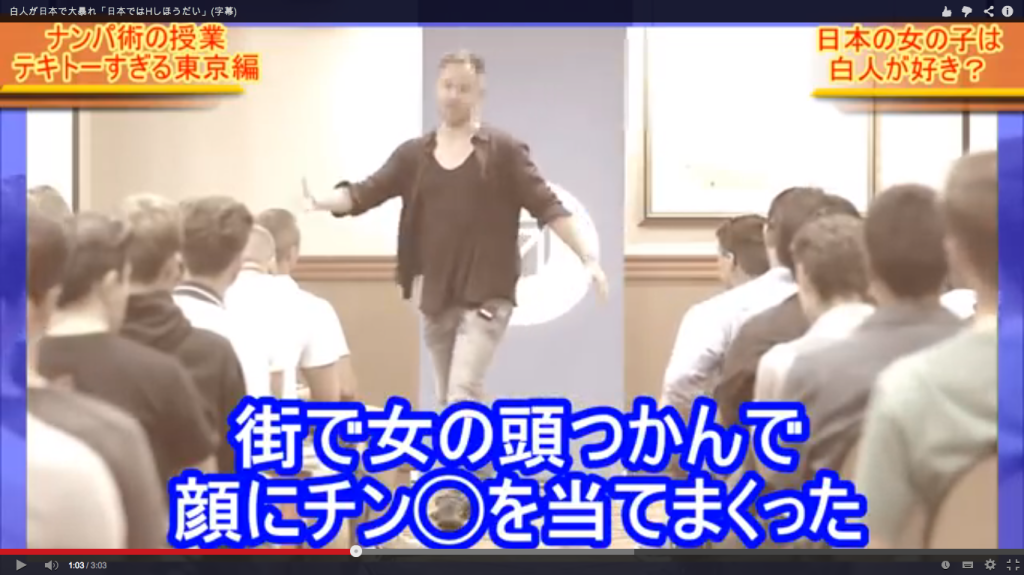 The title of her video editorial is 白人が日本で大暴れ「日本ではHしほうだい」(字幕). Translated: White man on rampage in Japan "You can have all the sex you want"
Msdoom99 is studying shared culture in Asia and also studies comparative culture. For example, her video essay on Japanese rip-offs of American films & television is hilarious. If you saw Top Gun and the Japanese rip-off of it, Best Guy (ベストガイ), you'd appreciate her quirky talents and sense of humor. However, she doesn't find much funny about Julien Blanc's instructional lecture.
She writes, "It makes me sad. This white guy overflowing with confidence. It makes feel icky. Somehow it depresses me."
The video ends with footage taken in Japan of "our hero" grabbing Japanese women at clubs, trying to be cute, and literally forcing their heads into his crotch.
The only thing more foul than this guy is a Russian researcher in Hokkaido who appears to have brutally raped a number of women, brags about it, and has avoided punishment by the Japanese police..
Msdoom99's video has gotten over a 1000 comments most of them extremely negative. Julien, in his overconfident idiocy, seems to believe that because Japanese women nervously giggle and don't say "No!" or punch him, that they're okay with his manhandling of them.
The man is so revolting that he has an entire twitter feed dedicated to stopping him @jennli123 and a hashtag as well: #takedownjulienblanc
Jennifer Li's explanation of why she felt compelled to go after Mr. "crusty mayonnaise" is brilliant.
Since we first posted this article on November 3rd, 23:16 Japan time, there have been some new developments.  In Melbourne, his planned seminar at Hotel Como Melbourne was cancelled due to public pressure and an on-line campaign. (We called the hotel too and and sent them a copy of this article, but I think the writing was already on the wall.) The backlash down under is immense—the man invokes serious chunder.
There is no end to what I could write about his loathsome behavior but watch the video a few times and I'm sure you can decide for yourself, gentle reader.
I will say that what he does in the video would most likely be considered a crime in Japan, most likely 強制わいせつ (kyoseiwaisetsu/sexual assault) or 準強制わいせつ (Forcible Indecency,  Quasi Forcible Indecency). For his edification and that of anyone else who might want to emulate him, this is what the law says:  A person who through assault or intimidation forcibly commits an indecent act upon male or female shall be sentenced to hard labor for not less than six months but not more than ten years.
Unfortunately, "forcible indecency" (強制わいせつ罪)requires the victim to file a criminal complaint (親告罪). No complaint, no crime. Hopefully, on this trip to Japan, which he announced by posting the video that shows him committing crimes, will get him placed in a very special love hotel–one with armed guards and no women.
I kind of hope he looks me up. I know the perfect Japanese woman for him—she's a dominatrix with a great roundhouse kick. She would love to "play" with him. And he'd learn that being a player can earn you a special reward. He might even apologize for his past actions, if his jaw is still intact. At the very least, he might learn to be a little more polite to Japanese women—or any woman for that matter. One can hope.
UPDATE: On Monday, November 10th, a petition signed by over 37,000 people opposing his entry into Japan was submitted to the Tokyo Regional Immigration Bureau, claiming that he is a criminal and shouldn't be allowed into the country. Blanc was recently kicked out of Australia after the immigration minister canceled his visa.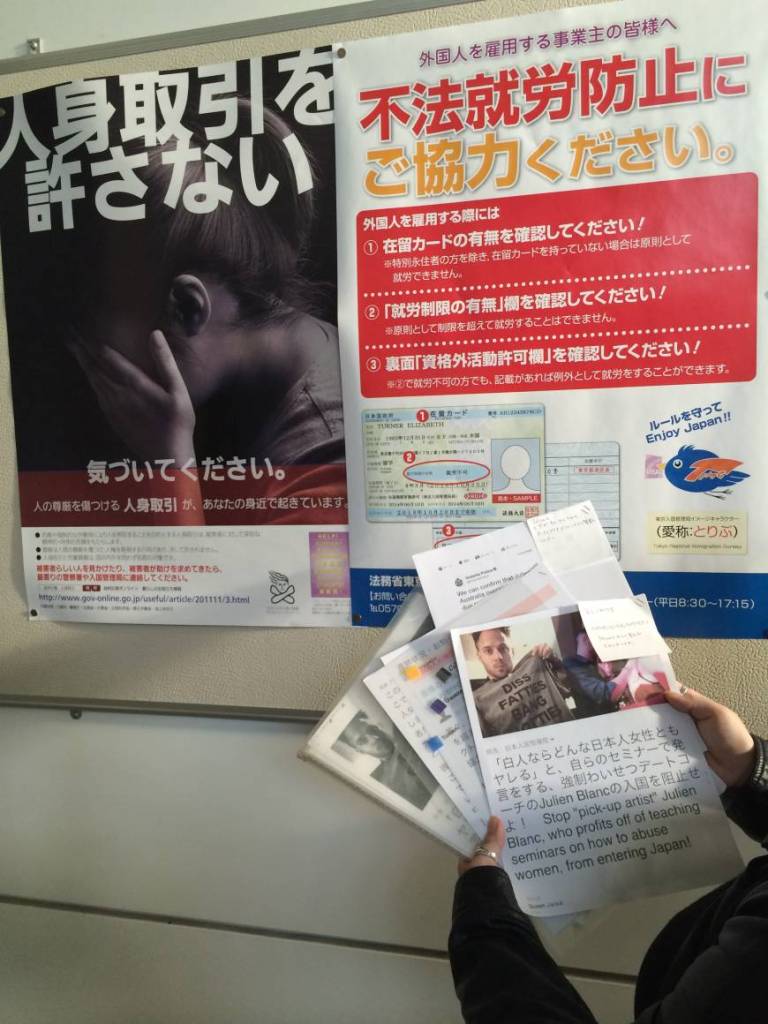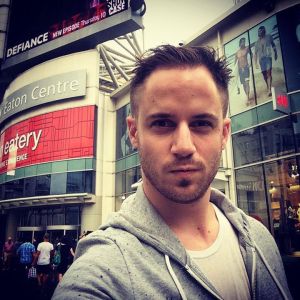 *Julianne Chiaet contributed to this article. Also thanks to @jennli123 for collecting such a wealth of information on this charmer. Updated on November 5th, 2014