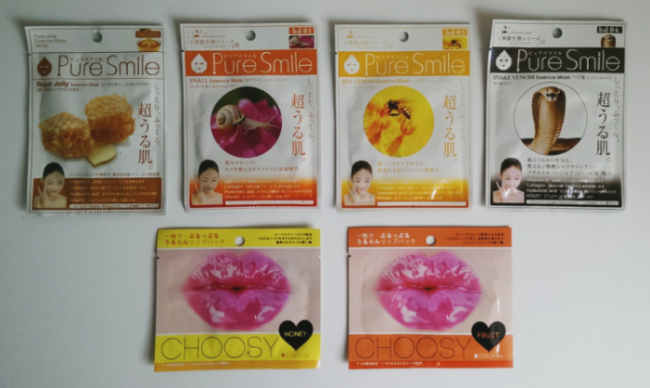 Japan is a country where saving face is paramount—even if that means covering it with snake venom, bee toxin, horse oil, or snail slime. One company in Japan has been tremendously successful by catering to the Japanese love for looking good, thus saving face, and exotic ingredients. Their array of face masks, which are applied to the skin as shown in the photos, are almost all reasonably priced at 100 yen and are always exciting to find in the local pharmacy. Who wouldn't want to enjoy the tingly sensation and fresh skin feeling you get from spreading cobra venom on your face?

Headquartered in central Tokyo's glitzy Roppongi district, Sun Smile was founded in 1997. The company, which sells everything from cosmetics to bags, has seen their sales rise in the last 6 years. In 2009 they made 3 billion 997 million yen and in 2014 they posted sales of 8 billion 673 million yen. They produced over 100,000,000 masks since they went into business. Their biggest seller is the essence of pearl mask but it's the other "natural" items that raise eyebrows (and lift lines).
They're known best for their cosmetics line, Pure Smile. Pure Smile makes facial masks in every flavor imaginable—and some that are unimaginable. Their Essence Mask series features types as tame as lemon, rose, and pomegranate, but if you want something a bit more "wild" you can try their biodiversity series, which includes snake venom, snail slime, and sea cucumber. If you have no qualms, you can even lather your face with a horse oil mask, which, although smells slightly leathery, leaves your skin feeling as silky as a horse's mane. (The horse is not as popular as the snail, according to the firm's representatives). The popularity of these exotic ingredients started in South Korea and soon moved across the sea to Japan, where women have the image that Korean cosmetics are of good quality, in addition to being cheap, which has allowed Japanese women, who would tend to be grossed out by the idea of putting snake venom on their faces, to more easily accept these weird ingredients.
There are, however, some who even question the effectiveness of slathering exotic ingredients on your faces and whether it would have a noticeable, if any effect on your skin.
Wacky discount chain store, Don Quixote, even sold a special line of their facial masks that come in types such as blueberry cheesecake, cacao, and crème brûlée that smell good enough to eat.
There's even an Amazonian series of facial masks made with the extracts of fruits only found in the rainforest such as guarana and camucamu.
The best are the Oedo Art Masks printed with the rosebud mouths, slanted eyes and pinched faces of ukioe paintings. The mask will most definitely make people think Halloween came early but the age-defying collagen, hyaluronic acid, and Vitamin-E in the mask will leave your face feeling smooth and supple.
The company also makes masks to hydrate your dry elbows, knees, and lips. The lip masks, make you look like a clown when you put them on, but leave your lips feeling moist.  According to the packaging, a suggested application (and definitely one of the strangest) is to put the lip masks on your nipples to remove any blackheads that may appear. It seems Pure Smile has literally thought of everything.
Most of the masks are made in South Korea, with the exception of the high-end whitening masks that bleach your skin. In Japan, where Snow White-like skin is favored over a glowing tan, there's a huge market for creams and serums that bleach your skin white. Kanebo, one of Japan's most well-known cosmetics companies, was forced to recall its skin whitening products in 2013 after several women were left with permanently unsightly white blotches on their skin. (http://www.japantimes.co.jp/opinion/2013/09/16/editorials/kanebos-costly-scandal/#.VNcguN7ufww)
I tried a few of the face packs myself and this is what I noticed.
I decided to go down the line in descending order of scariness.  I wanted to get the snake venom one out of the way, deciding that nothing is as intimidating as cobra venom.
SNAKE VENOM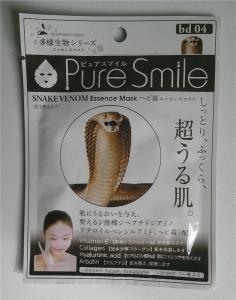 First Impression:  As soon as I put the mask on I felt a strong cooling sensation.  The essence of the mask is fairly thick, but not sticky.  It definitely made me feel confident that the mask was doing something positive. This combined with the extreme moisture of the essence was pretty soothing.
What does snake venom essence smell like?  I can't quite pinpoint the smell but it's light, like cucumbers and water.
In 3 minutes, I started to feel a bit of stinging above my lips and more intense cooling sensation on my forehead and chin. I felt one with the snake who sacrificed their venom essence. Ssss. (Technically it's just the amino acids found in the venom but you get the idea!). Towards the last five minutes I felt more of a slight stinging around the bottom half of my face.  The stinging was somewhat pleasant actually. I have high hopes for this venom.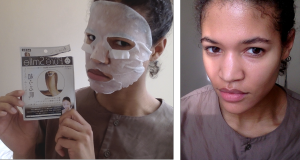 The majority of the cooling sensation was on my chin, T zone, maybe it's doing its venomous magic?  After 15 min I peeled off the mask.  My skin felt very refreshed, moisturized, and dare I say plump!  I can see why this would be good to apply before makeup as my face felt pore-less and clean.
Verdict:  If the stinging wasn't there I would buy again for daily use.  Overall it was relaxing so maybe those with less sensitive skin might have more luck. Still, this would be a great mask to wear before makeup on a shoot!
CHOOSY FRUIT
Next, I decided to pair my facial with a lip pack.  I was feeling adventurous and decided to go with the fruit type since it was daytime and NYC needs some happy color, to encourage spring weather to come.
I've never heard of a lip spa and as someone who diligently moisturizes her lips, I never even thought that this existed or was necessary.  Well here we go.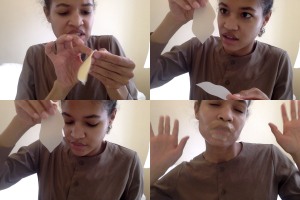 First Impression: The mask has a very strange texture, like that of silly putty.  2 min in I started getting a burning sensation.
Also, the smell was a lot more subtle than I expected, like a fruity lipgloss.
It works as advertised since I definitely felt the needles on my lips.  Although very fun to touch, the pricking was too uncomfortable and I took off the mask the 8 min mark.
I guess they felt softer than before so it's a nice addition if you have nothing on however, I will still probably reach for a chapstick over a Choosy pack. which I won't need to leave on my face for so long.
Verdict:  Skip. I wouldn't purchase this.  I am still not sure of its effectiveness.  Looking forward to trying the honey and seeing if it has a more dramatic effect.
BEE VENOM
What I love about these face masks in general is that the scents are always fairly subtle which in our world of extremes is very pleasant and relaxing.
I waited 2 hours to apply another mask just to give my skin a break.
My skin still felt refreshed after almost 2 hours. The snake venom is definitely great for  photoshoot prep!
I washed my face and was confronted with a lovely mix of honey flowers upon opening the Bee Toxin mask.  This had to be the most pleasant bee poison in the world.
First Impression: I immediately noticed that the essence consistency was more thin, watery, and sticky than the snake mask.
It wasn't as prickly as the snake venom but had a much more greater cooling sensation, especially on my forehead.  It felt a lot like a gentle, lovely smelling version of Icy Hot.
It's very moisturizing but my skin didn't feel as tight as it did with the previous mask.
Verdict:  It was very refreshing. Would definitely try again!
CHOOSY HONEY
The smell is similar to the bee toxin mask but stronger, a bit too strong.  My lips became very tingly 2 min in, like pins and needles.  Again, I'm not a huge fan of these.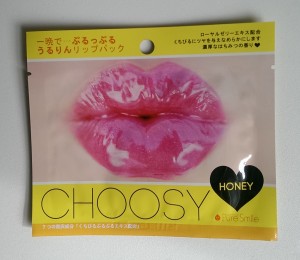 After removing the mask, my lips felt sticky. The huge size of the mask is a little unsettling as the stickiness covered below my nose to my chin.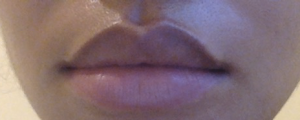 Verdict: Skip.  Yes, your lips are soft but there's nothing drastic.
SNAIL
I took  a break from my all-day pampering to attend a friend's birthday party.  I chose to end my late night with a nice snail essence mask since I figured it would be the most soothing of the exotic choices.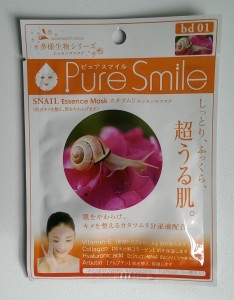 First Impression: When I opened the pack the comforting smell of dew entered the air.  In my exhausted state the cooling effects of the mask were incredibly relaxing.  The serum in this pack has a fairly thick consistency and I felt the majority of the cold on my chin.  I felt no stinging whatsoever which was a nice surprise.

The mask left my face feeling moisturized but slightly tight.  I expected to feel a larger difference in my skin and the effect was less noticeable than the others.
Verdict: It's a gentle soothing mask that is nice to wear after a long day. In terms of effectiveness for skin I'd say my favorite is still the Bee Venom.
ROYAL JELLY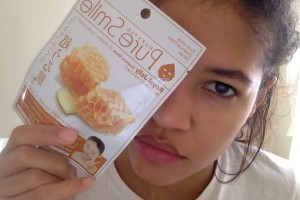 I decided to treat myself with Royal Jelly the following morning.   Royal jelly is a bee secretion used to nourish larvae and the Queen Bee in a hive.  This was a great name choice on Sun Smile's part.  Here's to hoping it will start the day off right!
It gave off a soft flowery smell. Upon application it felt warmer than the other masks,  and gave a nice calm sensation This was definitely a good choice for a chilly morning as it gently wakes you up.
Verdict: Would use again!  My face feels so nice!!
So there you have it.  The masks are definitely worth trying, they aren't magical but they will give you a mini-spa experience in your home.  They are super affordable so really why wouldn't you want to lather your face in the essences of snake and bee toxins? And even if you would rather not, they are great cheap gifts to bring back from Japan. Because if you know anything about Japan, going on a trip and not bringing back a souvenir might bring some shame. But spend a few hundred yen on these and everyone saves face—including you. (If you pack some for yourself, double face savings!)