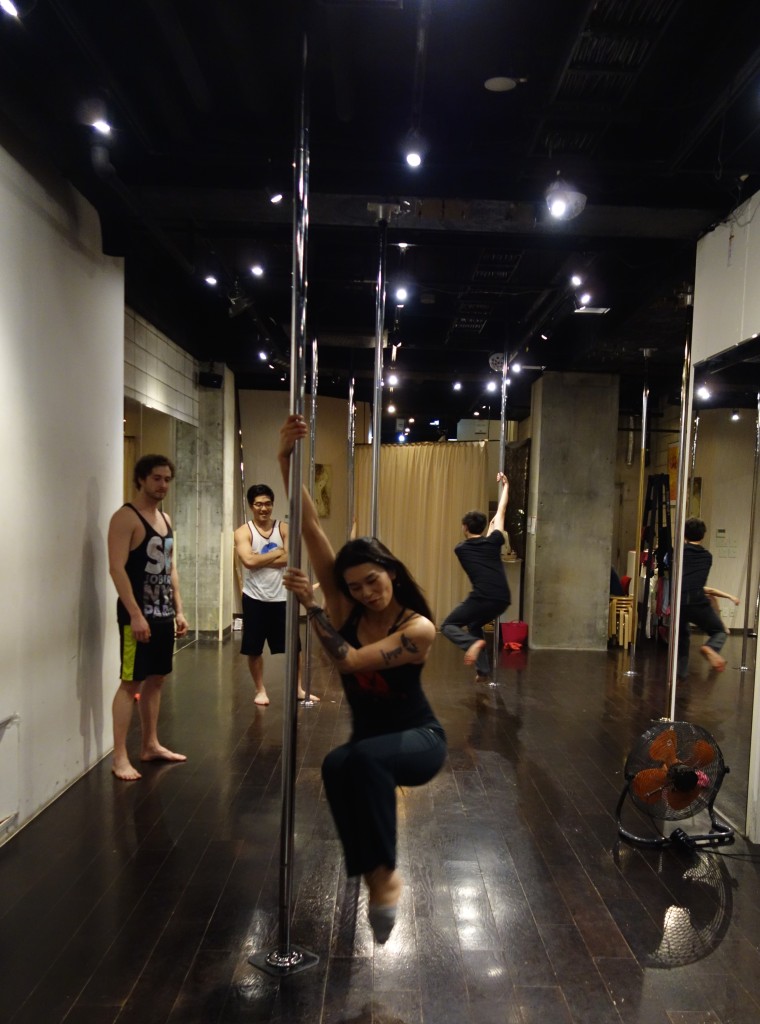 Pole Dancing in Tokyo sounds like another terrible sex-laden non-fiction narrative by a foreigner about living in Japan, but since 2007, it has gradually become one socially accepted and amazing way to stay in shape in this city.
Whenever that lewd friend of yours sees a freestanding pole in a restaurant or bar, they will most likely associate it with the shadier variety of pole dancing that's more recognized by the public. However, in a similar way that e-sports are becoming more recognized as a legitimate athletic activity, pole dancing is quickly developing a more professional and respected aura around it as an art form.
Pole dancing originated not from the American burlesque bars where it got its sexual connotation, but from the Indian sport of mallakhamb, in which gymnasts stack on top of one another against a tall wooden pole while posing. In the 1920s, this sport was altered to be used in magic shows and soon became popular on cruises and in circus shows. After moving to bars and combining it with burlesque dance, a downward spiral began that essentially removed any artistic respect pole dancing once had.
But beginning in 2006, this all began to change as pole dancing started gaining popularity in dance studios. In 2008, Ania Przeplasko founded the International Pole Dance Championships which were held in Manila, but already two of these competitions have been held in Tokyo, now seen as the pole dancing mecca. Part of the reason why its become so popular here recently is due to dancer and teacher Lu Nagata, who founded the Pole Dance Tokyo studio in 2007. She and Anna Przeplasko are long-time friends who helped popularise pole-dancing as a sport, an art, and a fitness regime in Tokyo, Hong Kong, and Asia. Lu also choreographed and wrote a dance retelling of the Japanese literary classic The Tale Of Genji (源氏物語). When the JSRC made a group visit for an introductory class taught by Nagata–sensei, there were several foreign champions there. Even male pole dancing competitions have become more common lately.
Still, it will likely be challenging to convince the public that pole dancing is cleaning up its act, so I'll give a rundown of what my experience visiting Pole Dance Tokyo was like.
The first thing that might surprise you is that the studio located in Akasaka is a well-lit dance studio with about a dozen poles scattered throughout the room. There's nothing sleazy or super sexy about it. It is stylish and clean. When we visited, Nagata was teaching a class of much more experienced pole dancers who were understandably surprised that a group of unfit reporters and their friends felt the desire to try pole dancing. Thanks to JSRC editor/founder Jake Adelstein who knows Nagata, we were able to set up a group lesson.
After stretching and some basic exercises in sensuality, Nagata took us through several moves such as spinning with legs around the pole, away from it, and holding ourselves up sideways with our arms (she claims you don't need arm muscle strength but this one will most likely leave you sore). If you imagine having to swing your head toward the ground as your arms hold up your suspended body, that's a bit what it was like. If you can execute the inverted pole stance (upside down), you're in amazing shape. (Kids, don't try this at home or on the local park swing set).
Once we had these spin variations down (barely), and managing the challenges that come from the pole being too slippery, she had us put it all together for a choreographed routine. After putting on some quality Nicky Minaj music and switching on the multi-colored strobe lights, Nagata had the group go through several of the moves while also making sure to "maintain the sexiness" that is associated with pole dancing. Obviously, the more experienced dancers did much better than the others and especially one friend of a JSRC contributor who was reluctant to come. As pole dancing changes with the times, some twerking was also expected. Anaconda is the song most suited for doing it.
Was I embarrassed? A little bit, of course, but as an intern at Japan Subculture Research Center (JSRC), I didn't have much of a choice.  I would definitely recommend anyone visiting Tokyo to try a visit for a lesson. Lu is often in London but all the teachers have a great reputation. In these lessons, it feels less like a dance class than it is an introduction to any quirky hobby like rock climbing or snowboarding (at least until the pop music and stage lights go on).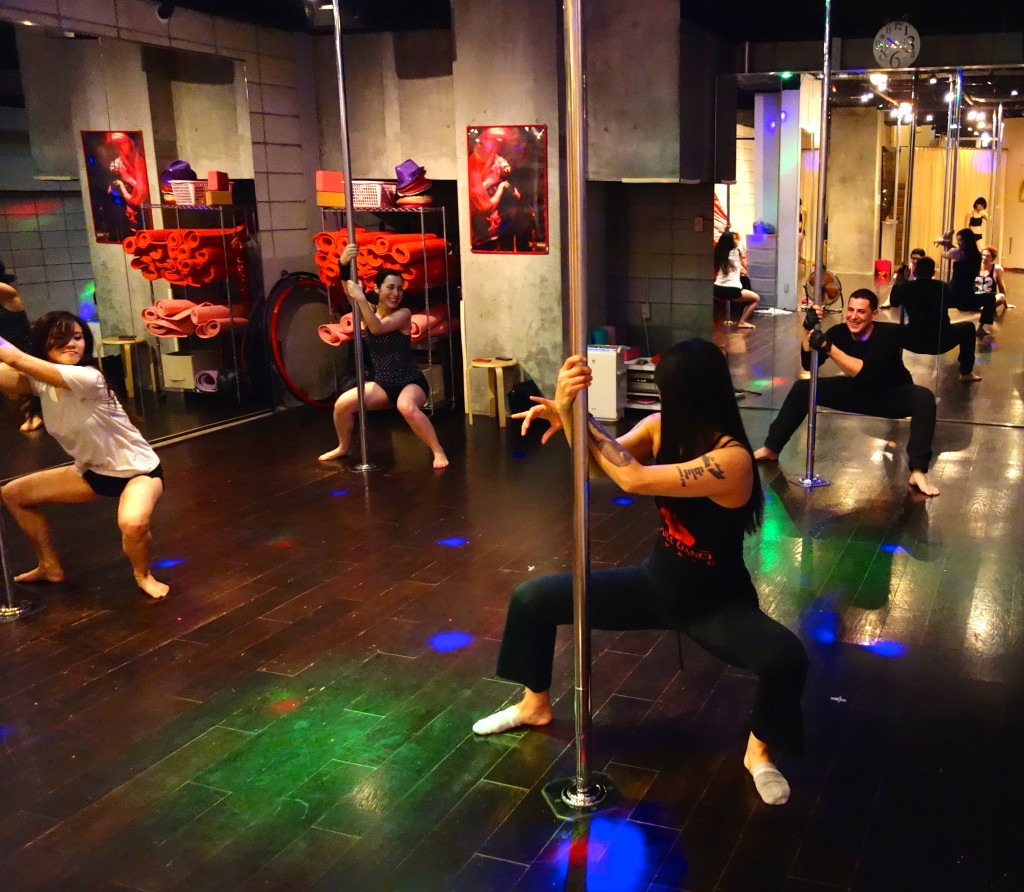 Jake Adelstein and Angela Kubo contributed to this article. Mostly by being really silly.