by Orlando Camargo
Those of us living far away from our parents dread the thought. A call in the middle of the night asking you to book a flight – ASAP.
"Dad is not well." March 2nd.
The next day I got the first possible flight out of Narita to Florida but did not make it in time to say good-bye to my 84-year old Papi. RIP.
Within 9 days I would get another middle-of-the-night call, this time from Tokyo asking me to get the first flight back to Japan.
"Japan is not well". March 11th.
So starts my March to remember.
After quickly returning to Japan on the 13th of March, and making sure family, clients and work were fine, the decision to volunteer in Ibaraki was a simple one.  27 years ago I first came to Japan to work as a Monbusho  (Ministry of Education) English Fellow, the precursor program to today's JET program. I was assigned to Ibaraki and lived in what was then a beautiful scenic capital – Mito. After two years helping in Ibaraki schools, I then accepted a government scholarship to attend graduate school at Tsukuba University – also in Ibaraki. So those first five years in Japan rooted me deeply to the Prefecture.
When I was watching the news of the devastation from outside of Japan, the focus was on Miyagi and Fukushima – but I knew that Ibaraki had also been hard hit, especially along the coast, and especially on the northern tip near the Fukushima border.  No one was telling the Ibaraki story. I felt I owed so much to the people of Ibaraki who had given me so much. It wasn't enough to just send money or make calls. I had to do something.
I was also seeing news of foreigners "fleeing" Japan – the now infamous flyjin. I was amazed upon my return to see Narita airport full of foreigners leaving the country. The only large group of incoming foreigners to catch my attention was the Mongolian emergency rescue team!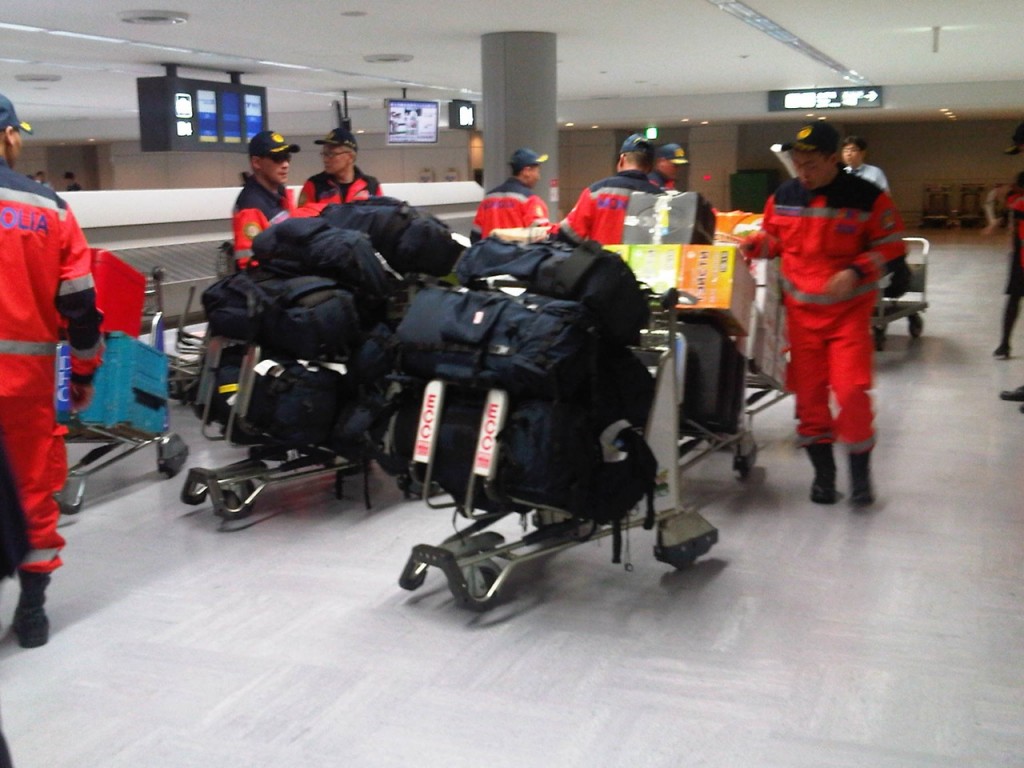 I could not fathom leaving Japan at this time. I had to go up to Ibaraki to help.
I started making calls and seeing how I could help. All the public volunteer announcements were asking for only locals. Apparently the civil servants did not want to worry about housing or feeding volunteers.  "Don't come unless you can fend for yourself – there are no trains, few buses and long lines for gas," I was warned. I had prepared for this and had bought plenty of camping gear and goods from the US to both hold me for at least 10 days and to bring on my trip to Northern Ibaraki.
When I arrived to the Kita Ibaraki City Offices looking like a back packer, the head coordinator smiled like he knew me, "So you are Mr. Camargo. We were told you would likely arrive. Welcome". I had been tweeting and talking to many people in the Prefecture before my departure so apparently news of my possible arrival had already reached them.
As you can guess I was the only foreigner in our group of volunteers. No one would have cared if I had come from Mars. There was work to do. For the next week I would carry boxes of water, bags of rice and bundles of futon with about 40 other volunteers. We would also travel to either the coast or inland to help clear out debris from damaged homes. We would also visit the community centers and deliver goods.
There is where my March moment would come.
It was when I saw so many elderly alone and unattended.
The shelters have and will get plenty of relief aid. They can always use more money but that too will come. But what I saw in athletic gyms turned community centers were elderly folks sleeping on cardboard boxes near kerosene stoves. Many were alone and disoriented. Yes, they still had their lives, but many had lost their homes and some, even their loved ones.

As I watch my the 27th season of cherry blossoms twitter in the spring outside my Tokyo window, I ask myself, "what do the people in the Ibaraki shelters need most?"
Maybe what they need most is what I could not give my Dad enough of –
…..a warm hand and more time to share the blossoms.
BIO
Orlando Camargo has worked for the Japanese government, for a Wall Street Investment bank and has headed a global public relations company in Tokyo. When he is not volunteering in Ibaraki (http://orlandojpn.posterous.com/) , he can also be spotted around Tokyo's rustic neighborhoods taking photos (http://www.flickr.com/photos/kurokoshiroko/) in search of the perfect yakitori.
.