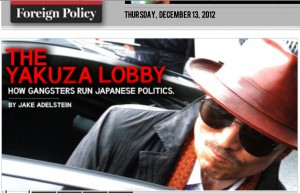 (From Foreign Policy 12/14/2012) TOKYO — Japan's leaders are going on trial this month — in the court of public opinion, though some of them may be concerned about facing the more traditional kind.
Prime Minister Yoshihiko Noda of the Democratic Party of Japan (DPJ), who has been in power for a bit over a year, dissolved Japan's parliament, the Diet on Nov. 16 after a series of scandals drove his poll numbers to an all-time low. The final straw was his appointment of mob-linked Justice Minister Keishu Tanaka, who resigned on Oct. 23 — ostensibly for health reasons. A weekly magazine had reported on Oct. 11 that Tanaka had strong ties to the yakuza, Japan's organized crime groups — which presumably isn't great for one's health.
For the rest of article please go to the FP website.
Because of Japan's personal privacy protection laws, created by ethically challenged politicians to discourage magazine reporters from writing about their scandals and organized crime ties, I'm limited in what I can post here for readers who would like to know more about the Japanese ruling coalition and its ties to the underworld–but here are some useful items.
This links to a PDF showing  Political contributions from a Yamaguchi-gumi boss to a DPJ member. Of the donors, only Jun Shinohara (篠原寿) was officially recognized by the Tokyo Metropolitan Police Department as being a member of the Yamaguchi-gumi Mio-gumi, aka Goryo-kai, now known as the Yamaguchi-gumi Shimizu-ikka. His company, Media 21, was also recognized as a Yamaguchi-gumi front company in police materials circa 2007.  (The Yamaguchi-gumi is Japan's largest organized crime group.) Mr. Shinohara was also an advisor for Tadamasa Goto, one of the most notorious and ruthless Yamaguchi-gumi bosses who was exiled from the group on October 14th, 2008–showing that the Yamaguchi-gumi has some ethical standards.
Many of Shinohara's front companies share the same address as Media 21. I was only able to post 3 pages out of 34 pages of supporting documents due to privacy concerns. Note: Political donation records are public domain materials.  There is no evidence that anyone working for Mr. Shinohara or at his companies is also connected to organized crime or was connected to organized crime and no such implication is meant. Only Media 21 was listed as a Yamaguchi-gumi front company although it shares the same address as several other companies. 
You may notice in the records that Media 21 was listed in earlier submitted donation records as a company in Chiba and then corrected in pen. The Tokyo Prosecutors Office received a complaint that the mix-up was a deliberate attempt to disguise connections between former DPJ head, Seiji Maehara and the Yamaguchi-gumi, but this has not been proven. Attempts to contact Shinohara as to his current relationship with organized crime were unsuccessful.
The book  The Taboos About Japan That No One Can Write (誰も書けなかった日本のタブー)also has interesting chapter on the donations made by yakuza members to other DPJ member including Prime Minister Noda (as of 12/14/2012).  Senator Shoji Nishida (LDP) also wrote a well-researched piece about the problematic donations from yakuza members to the DPJ in the December 2011 edition of WILL Magazine. The article is entitled, "The DPJ Rule and Money" (民主党とカネ). Other sources, such as the Yukan Fuji article on the Yamaguchi-gumi support of the DPJ or Shincho 45 (October 2010) which had an interesting article called "The DPJ and The Yamaguchi-gumi (民主党と山口組)" are not publicly available but can found in the library or be purchased. Copyright restrictions don't allow me to post the materials here.