Professor Tsuneo Akaha, of Monterey Institute of International Studies, sent me photos of Michiel "Mimi" Brandt's posthumous graduation ceremony on December 8th (US time). Michiel was one of the founders of this blog and my BFF. The tremendous amount of joy and warmth she brought into the world during her short life inspired me and apparently many others as well.
Below is the address Professor Akaha gave in her honor.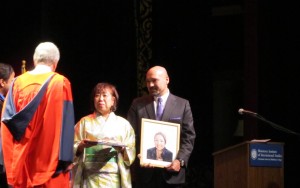 Today we are delighted to award Michiel Brandt an MA in International Policy Studies  posthumously and to have Michiel's mother Hiroko from Tokyo and her brother Daniel from San Francisco to receive her diploma. 
Michiel was nearing completion of all the requirements for her degree with a specialization in Human Rights, International Norms, and Justice, when she lost her battle against cancer  on July 9 this year. She was 30 years old. She attended MIIS four semesters, from September to December 2008, and again from August 2009 to December 2010. She took a leave of absence between the two periods to undergo treatment for leukemia. Her medical battle did not deter her from pursuing her dream of a professional career to help the disadvantaged, the weak, and the vulnerable in the world. She was particularly dedicated to the cause of fighting human trafficking, the reason that brought her to MIIS in the first place.
In order to honor her and to carry on her dream, MIIS has established a Michiel Brandt Memorial Prize Fund to support Monterey Institute students pursuing an internship in the human trafficking field. If you are interested in donating to the Fund, please go to the MIIS website and click on "Giving" on the front page or contact the Institutional Advancement Office. "
Michiel was one of the warmest, sweetest, and most diligent persons I have ever known. She was always willing to assist others who needed help with academic and nonacademic matters. Behind her fellowship and friendship was her bilingual and bicultural background. She had lived, studied, and worked in both Japan and the United States. I also believe that her battle with cancer gave her the strength and courage with which she conducted herself. "
Over the three years that I knew her, not once did I hear her complain about her own issues. Instead, she helped others with compassion and love. The numerous posts by her friends on her Facebook page, which continues today, testify to the fact that she touched the lives of so many people while she was with us and continues to do so even after she left us.  
In short, Michiel was a model MIIS student, committed to pursuing a professional career to make a difference in the world, in the lives of the disadvantaged and the vulnerable. Even though she is not with us physically, in her seat we have a Japanese flag in her honor.  
Now I ask you to join me in welcoming Hiroko-­‐san and Daniel-­‐san onto the stage.  
December 8, 2012
Michiel Brandt Memorial Prize Fund (Monterey Institute of International Studies) – Please help us keep Michiel's dream alive:
Here is how to give to this Fund:
1) Go to:http://www.miis.edu/giving<http://lists.middlebury.edu/t/684068/711859/1372/0/>;
2) Click on "Giving Now"; and,
3) Complete the giving form: under "2. Gift Information" "Direct Your Gift", please select "Michiel Brandt Memorial Prize Fund."