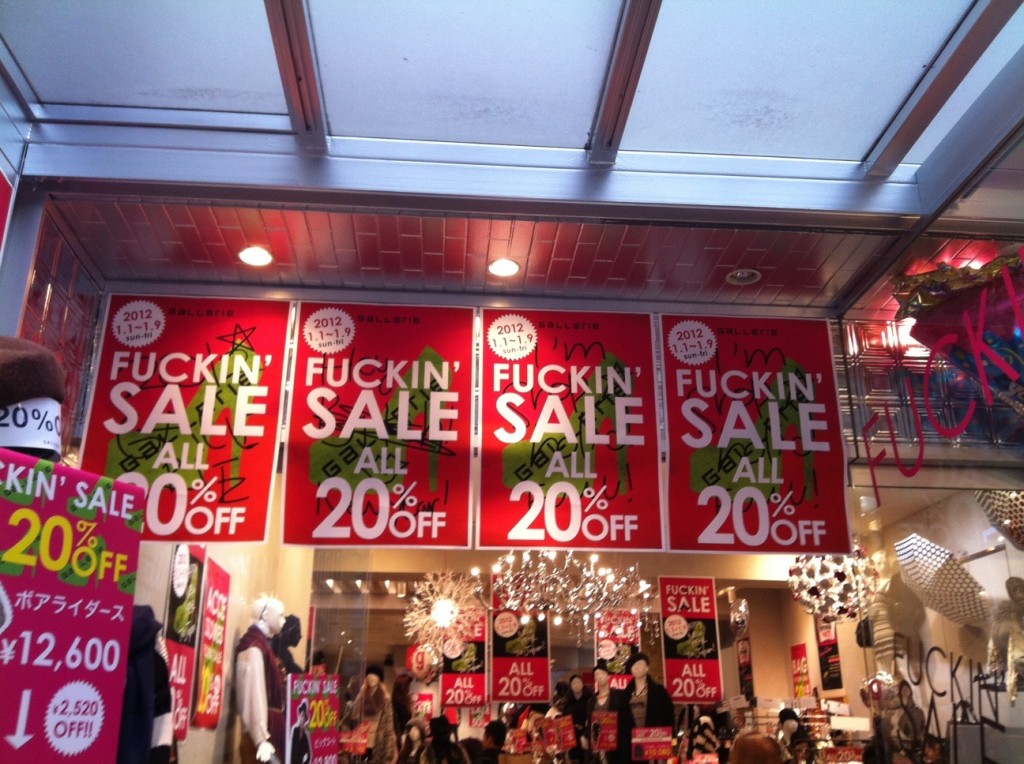 There are some stories that explain themselves pretty f*ckin' eloquently.
God knows what the people in this Department Store in Osaka were thinking when they came up with this advertising slogan but Zarina Yamaguchi, a friend of a friend, was thinking "pretty damn funny" when she snapped this picture on January 4th. Zarina explains:
Well, a childhood friend of mine and I were strolling along the local street in Shinsaibashi, Osaka. Being around the extra-genki Osaka-jins and salesladies screaming 'Irashaimasse' from every direction for the ongoing New Year Sales has never made us feel more at home. On our way to catch up over coffee, I walked into this store to check some things. Truth is, I didn't even notice the posters. When I looked around, each corner had posters that printed 'fucking sale'. I didn't know how to react but what caught me by surprise was that none of the people around me seem to understand the profanity. My friend Sarah and I, both of mixed Japanese descent, both bilingual in Japanese and English, were struck with the comical twist. Pretty sure I would have never seen this elsewhere, I had to snap a shot. 
The store is located in Shinsaibashi right next to Hearton Hotel Shinsaibashi and Planet 3rd cafe, she adds.
I should note that Zarina's childhood friend is Sarah Kashani, my friend and one of the most knowledgable scholars on Koreans in Japan. Sarah verified the authenticity of the signage and the sale, although neither side has disclosed whether they actually bought anything at the sale.
2012 is going to be a fuckin' awesome year in Japan. You can't help but feel that way. Our thanks to Ms. Yamaguchi-sama for her contribution. We're f*ckin' grateful. 超感謝ですよ。