March 10th, 17:35 (Tokyo) 
According to the Meteorological Agency, Tokyo temperatures today reached 25.3 degrees Celsius making it the earliest "summer day" since readings began in 1876. At the same time, a strong wind from the North filled the air with dust, making visibility less than 10 kilometers, due to "The Smog Of Unknown Origins."
Some are blaming it on a sandstorm (黄砂/kosa) contaminated with pollution emanating from China.
The Meteorological Agency speculates that the smog in Tokyo was caused by the cold weather front moving south, along with strong winds pulling up dust from the ground. (I actually have no idea how that makes any sense but I'm not a meteorologist.)
In West Japan, Tokaido and the Hokuriku areas, a sandstorm has been detected, which believed to have originated from China, containing PM2.5 (polluted particulate matter). The levels detected exceed Japan's acceptable pollution standards. The Ministry of Environment has not yet raised those acceptable pollution levels, probably because they are not caused by a huge Japanese corporation like Tokyo Electric Power Company (TEPCO).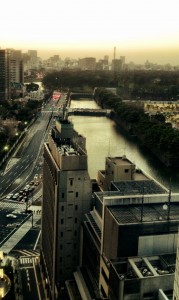 The forecast for damage control is this: as long as the smog can be blamed on China and not Japanese pollution, than people will be very upset. In addition, the Japanese government will not loosen pollution standards as they did with acceptable levels of radiation after Fukushima.
The question of whether the smog is a natural phenomenon or a gift from our friends in China, is also expected to be hotly debated, with a probably huge influence in twitter traffic and possible far-reaching influences on anti-China sentiment.
In the meantime, it is suggested to wear glasses and a mask when going outside; it is suggested that you use a yellow or sepia filter when taking photos of the smog, to make it look even worse that it is, for dramatic effect. Whenever possible, cough loudly, rub your watery eyes, and complain about China for added emphasis.
The situation is improving but still dire as of 8pm Tokyo Time. This isn't the first time Tokyo has been swallowed up in a sandstorm of unknown origin. In fact (not really), it was the subject of a little known Jimi Hendrix song written after his visit here in 1998 (in an alternative universe.)
Yellow Haze (sing to the tune of Purple Haze) 
Yellow haze in Toe-kee-oh
Sandstorm from China? Hey, maybe so
Eyes are bleeding and I know why
'Scuse me while I chew the sky
Yellow haze all around
It's dark but the sun ain't down 
Chinese pollution PM Twenty-Five
Beijing air gives me hives
Yeah
Yellow haze all in my eyes
GOJ just tells us lies
You've got me blowin, blowin my nose
Clear air? Where did you go?
Help me! I need a mask
Yellow haze done kick my ass
Oh yeah help me…(repeats, hacking cough sounds)