The underworld has its own language, and its own idioms.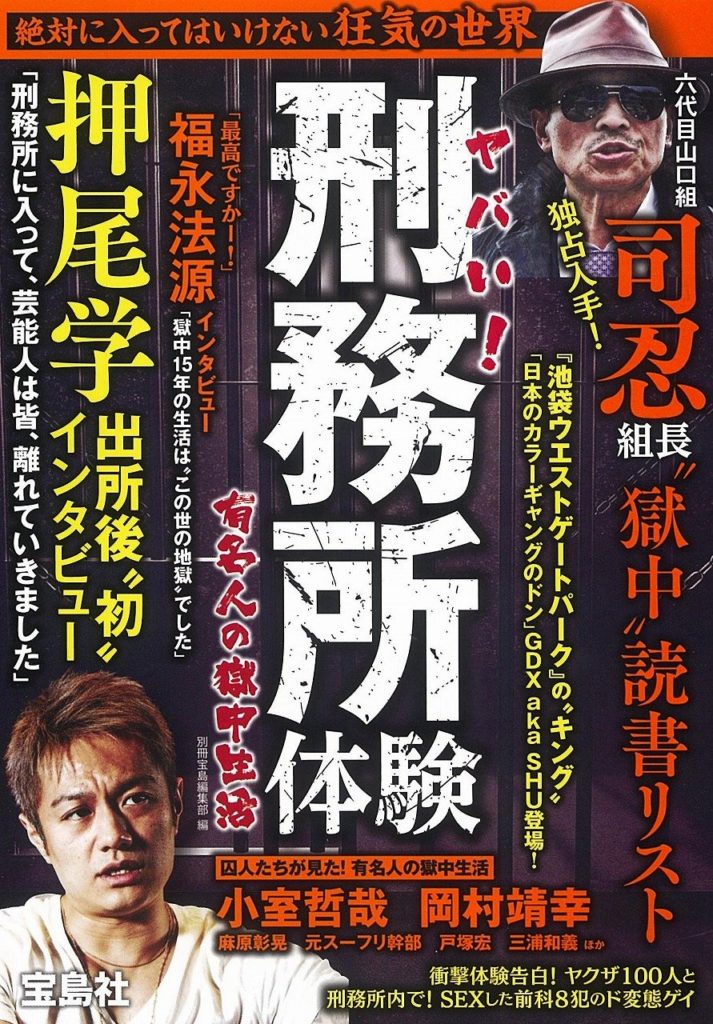 Yakuza are not the exception to the rule. For example, instead of saying "going to jail" (刑務所に行く: keimusho ni iku), they say "going to university" (大学に行く : daigaku ni iku). This phrase has a special meaning and is not used randomly. First, yakuza consider that jail is informative, a required kind of rite of passage to become a true gangster. Then, because prison is actually, for the yakuza, an educational place, in a scholastic sense. If they are rich enough (and it is often the case, or their oyabun's position, given that one of his duties is to provide assistance to his subordinates), they can learn calligraphy, painting, but also the art of haiku, among other things. They get books from other clan members, but others are provided by the Government within the prison. One can find in these prison libraries masterpiece of literature, but more surprisingly, economic or even law books. In fact, the yakuza often get out jail with a better academic level than they had at the time of their incarceration. This "Prison University" is even more important to them than the majority of yakuza has never graduate, and many of them have even stopped attending school before the end of high school.
To talk about jail, yakuza also use terms such as "slammer" (豚箱 : butabako)–literally "pigbox" or "hard labor" (懲役に行く : chōeki ni iku); despite its few advantages (when you have the money to afford them), prison remains a detention center, not a holiday club.
Some of the less bright yakuza spend so much time in jail that they are mostly yakuza in name only. Amongst themselves, they are referred to a "prison yakuza" (懲役ヤクザ: choeki yakuza).
Le monde criminel possède souvent son propre langage et ses propres expressions. Les yakuza ne font pas exception à la règle. Par exemple, plutôt que de dire « aller en prison » (刑務所に行く : keimusho ni iku),  ils diront « aller à l'université » (大学に行く : daigaku ni iku). Cette expression a un sens bien particulier et n'est pas utilisée au hasard. D'abord parce que les yakuza considèrent que la prison est formatrice, une sorte de rite de passage obligatoire pour devenir un vrai gangster. Ensuite, parce que la prison est effectivement, pour les yakuza, un lieu de formation et d'éducation, au sens scolaire du terme. S'ils sont assez riches (et c'est souvent le cas, ou bien le cas de leur oyabun, dont l'un des devoirs est de prodiguer à ses subordonnés une assistance), ils peuvent apprendre la calligraphie, la peinture, mais aussi l'art des haiku, entre autre choses. Ils reçoivent des livres de la part d'autres membres du clan, mais d'autres sont mis à disposition par le gouvernement au sein même de la prison. On peut trouver dans ces bibliothèques carcérales des grands classiques de littératures, mais, plus surprenant, des livres d'économie ou même de droit. De fait, les yakuza ressortent souvent de prison avec un bien meilleur niveau scolaire que celui qu'ils avaient au moment de leur incarcération. Cette « université de la prison » est d'autant plus importante pour eux que la grande majorité des yakuza n'a jamais fait d'études supérieures, et que beaucoup d'entre eux ont même cessé de fréquenter l'école avant la fin du lycée.
Pour parler de la prison, les yakuza emploient également d'autres expressions, comme « la taule » (豚箱 : butabako), ou encore « aller au bagne » (懲役に行く : chōeki ni iku); malgré ses quelques avantages (quand on a l'argent pour se les offrir), la prison n'en reste pas moins un centre de détention, et pas un club de vacances.