One of the first things you'll notice about the Japanese – men AND women – is the apparent lack of awareness regarding issues like gender and racial discrimination, worker exploitation, social injustice and other stuff that have western observers of our culture taking one look and scratching their heads. That stuff about a member of the Tokyo Metropolitan Assembly yelling out harassment remarks to a female politician while the Assembly was actually in session? I regret to have to tell you that such incidents are way too familiar to the average Japanese to sink in below sea level. It's only when someone else (i.e., a westerner) is looking at us that we come to our senses and profess to be shocked. Otherwise, well, we're too busy working and being exploited and having our Constitution rewritten to suit the hawkish inclinations of the current Prime Minister. But I digress.
Meet The New Zegen 女衒 (Sex merchants)  Same As The Old Zegen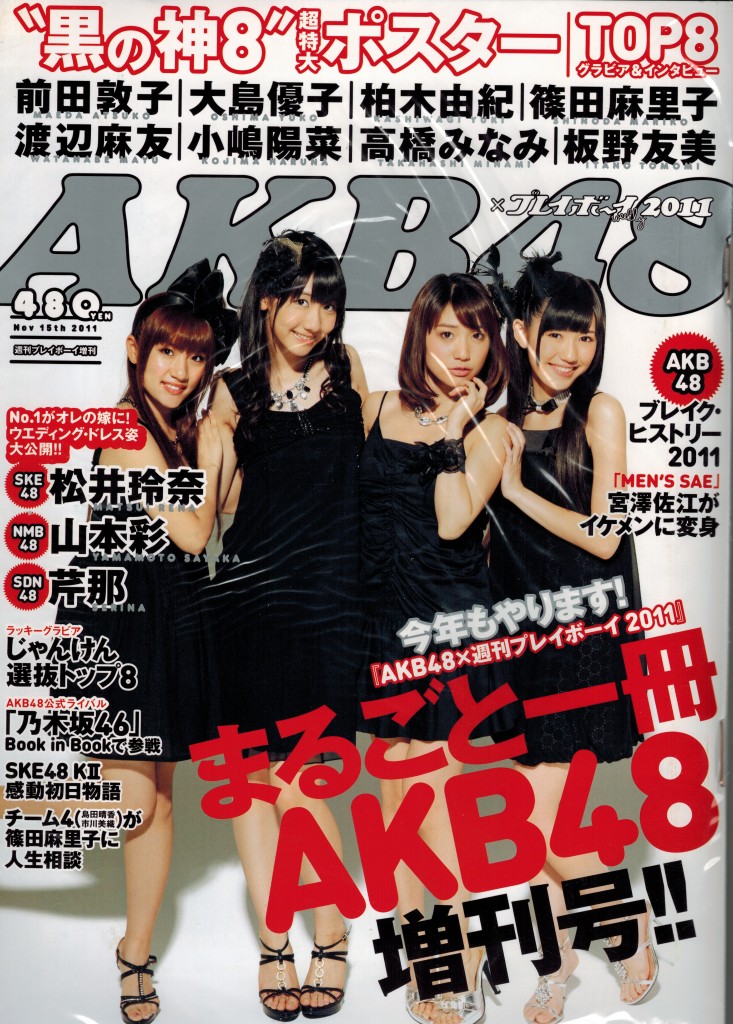 Shohei Sakakura, author of "AKB 48 and the Black Companies (AKB48と日本のブラック企業)" – is one of those rare Japanese with the mindset of a western intellectual. As editor-in-chief of Posse magazine, Sakakura first alerted the public to the presensce and prevalance, of black companies.  Until then, most of us thought it was kind of normal in a Japanese way, to put in "service overtime (サービス残業)" hours, meaning we accepted the fact of working in the office until dawn without getting paid it. We also accepted getting laid off without notice, no maternity or paternity leaves, discrimination against women, sexual and moral harassment in the workplace, poor wages and did I mention no overtime pay? 

To the Japanese, work proffers its own reward and justification and with news of the unraveling global economy we were grateful to be able to work at all. Of course the majority of the Japanese KNOW exploitation exists, and that this was one of things that was wrong with the country and the rest of the world. This is why we have so many "izakaya (pubs)" around – where else to drown our sorrows  but in beer stains? 

And now AKB 48, in case you didn't know, is the brain child of Yasushi Akimoto, aka the King Midas of the Japanese entertainment industry. Everything he touches has turned to gold – unfortunately, the gold stays firmly tucked in his pocket without benefitting the girls he ruthlessly expolits. But there it is – the man certainly knows how to make a yen from peddling idoru fantasies to love-starved males with glasses and bad skin.  

Who IS Akimoto anyway? Sakakura's book doesn't do much digging about the man – he just assumes that the Japanese know who Akimoto is (we do) and leaves it at that. Suffice to say, Yasushi Akimoto is what 50 years ago many older Japanese would describe as a "Zegen 女衒"or merchant who dealt exclusively in young women. A Zegen was the middleman who bought and sold girls (often with the express consent of the parents) to the sex trade and entertainment industry and too bad for the Japanese that no one bothered to distinguish between the two until the GHQ came along to tell us Nooooo, they were different. (Okay, we got that now.) The GHQ also did much to stomp out the Zegen operating in and around Tokyo but the middlemen simply went on doing what they did, and took on another name: "entertainment producer." From sex shows and strip houses to brothels and the euphemistically called "bars," the Zegen had their fingers in all the right pies (yuck), and kept the best for entertainment industry, which had direct pipeline to the yakuza.

Girls from the country, whose parents couldn't afford to send them to school or arrange good marriages, came to Tokyo in droves and were snapped up by a Zegen producer or another. The lucky ones made it to the TV screen and when that no longer worked, were taken down a few notches to serve as bar hostesses or cabaret dancers, and eventually wound up in a brothel. It was the oldest story in the book, repeated ad nauseum. 

Yasushi Akimoto was a Zegen with a vision – having never been popular in high school himself, he recognized the deep sexual frustration and vast need for sexual fantasies festering in the educated and dateless Japanese male. When he came out with "Onyanko Club" in the mid-1980s, people were blinded by the sheer genius of this man. Here he was, peddling quite ordinary high school girls on TV, who all got up on the studio stage to teasingly sing "oh please don't take my school uniform off, no-no-no!" to an audience who could never hear such titillating pleas when they were 18 so was totally stoked to hear it now, from a gaggle of winking girls all beckoning SIMULTANEOUSLY. 

Needless to say, the Onyanko went "viral" long before the Internet came along and deep down, we suspected that if Akimoto wasn't around to appease the Otaku populace with these girls and their pleated skirts, the nation's sex crime rate would soar drastically. 

Akimoto subsequently married an Onyanko (and he was too smart to pick the prettiest of the lot, but went for a quiet, mediocre type) and settled down in his idol manufacturing kingdom. Then he unleashed AKB 48 to the Japanese public – which basically means 48 Girls in Akihabara. These girls were grass roots level – they had no connections, no prestige, and was willing to work till they dropped. Most telling of all, they were excessively and agressively, ordinary. 

In his book Sakakura lays bare disturbing but familiar facts: Akimoto treats the girls like fast food workers – hiring and firing in bulk, with hourly wages to match. The ones in the coveted "center position" are the prettiest, and supposedly the best dancers with the best paychecks but the vast crowd of girls behind the stars — they're mired in obscurity. And once the girls "graduate" (i.e., fired) from the group, they're left with no skills or abilities and their detour into the sex trade is a lot swifter than the days of Onyanko. 

Yasushi Akimoto is a Zegen through and through – he's found a way to cash in on the criticisms and problems within the AKB, by having the girls sing songs (written by him of course) about revolution, sacrifice and worker exploitation. For Akimoto, even capitalist irony works in his favor. Karl Marx is puking in his grave. 

Sakakura writes that though he's not an AKB fan per se, he does sympathize with the plight of the girls and sees them as a micro reflection of the huge labor problems that continue to erode Japan's supposedly peaceful and egalitarian society. And let's not forget that the PM is a HUGE fan – but then Japan's highest political leader seems to love it when young people are put in situations where they have to fight and bleed and claw their way to survival. To him, "that's the true Japanese spirit." Yeah, right. 
Note: Asahi.com did a good interview with the author about and article about his book.  His comments are elucidating.
「ブラック企業」問題に火を付けた雑誌「POSSE」編集長。「労働問題を従来の枠組みにとらわれず考えたい」とこれまでもJポップに歌われた「労働」を取り上げてきた。「AKB48は現代日本の労働問題の縮図。これまで興味がなかった人にも労働問題の見取り図を提供できるのではないか」と考えた。
AKBとブラック企業問題には通底するものがあるという。一つはAKB自体の労働問題。恋愛が発覚したメンバーの丸刈り事件は記憶に新しい。大量採用で大量脱退、卒業後も芸能界でやっていけるスキルはなかなか身につかず、使い捨てにしているだけでは、という批判もある。
*Jake Adelstein contributed to this article. He seriously dislikes Akimoto. Almost as much as he dislikes one former yakuza gang boss, who has a liver he really shouldn't have.