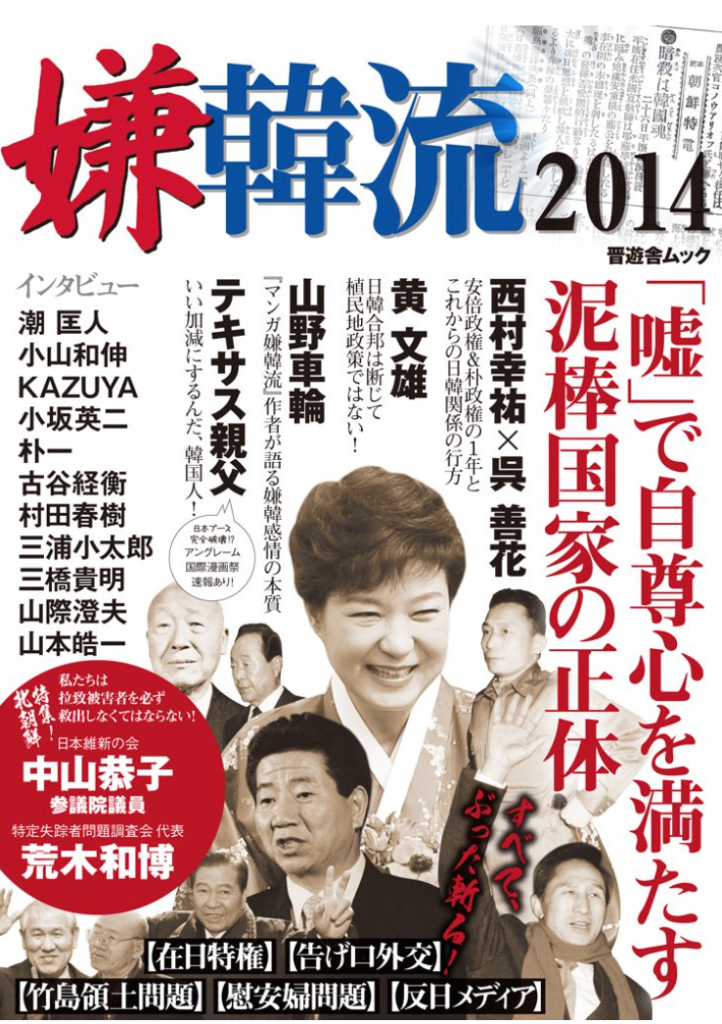 September 1st
The United Nations' The Committee on the Elimination of Racial Discrimination last week issued a report urging to Japan to crack down on the growing  cases of "hate speech" targeting foreigners in Japan, especially hate speech against ethnic Koreans and other minorities. Japan currently has no law forbidding speech that promotes racism, sexism or violent attacks on minorities. Violent acts committed on the basis of racist and/or religious prejudice aka "hate crimes" are also not forbidden in Japan.
The panel suggested that Japan introduce legislation to outlaw hate-speech, investigate groups and/or individuals that take part, and prosecute them. Since the Abe administration took power in 2012, incidents of anti-korean protests and hostility towards ethnic koreans in Japan, as well as other foreigners, have become more noticeable and strident. The far-right, at their rallies, often  demands "an end to special treatment of Korean Japanese" and for their expulsion. The far right and the internet centred new right wing (ネット右翼、ネットウヨ)also campaign for revisionist histories of Japan and the banishment of all foreigners, not just ethnic Koreans.
The panel also suggested that Japan should reprimand and sanction public officials and politicians who engage in hate speech or promote intolerance.  The previous governor of Tokyo, Shintaro Ishihara, made several racist statements that did not advance the image of Japan.
Japan joined the International Convention on the Elimination of All Forms of Racial Discrimination in 1995. Since then the committee has given Japan two improvement orders and this time was the third. The panel asserted that the Japanese government should work on accepting its past history of aggression and exploitation of non-Japanese during Japan's imperial era, and that it should also work on eliminating discrimination against foreign workers.  It did not directly address Japan's shoddy treatment of foreign nationals, who must pay taxes, but are legally denied the welfare benefits from doing so.
The UN committee does not give ratings to countries on well they are doing in "eliminating racial discrimination" but the essence of third improvement order to Japan was: "you're failing miserably. Do something."  And sure enough, according to some reports, the ruling coalition is moving forwards to draft some kind of  legislation banning: "hate crimes".
However, many in the legal community feel that the current government will use the new anti "hate crime" legislation to stifle anti-nuclear protests or criticism of the government. The Liberal Democratic Party hates criticism. It's win-win situation for the Japanese government of Japan. They can save face with the UN while shutting up those annoying anti-nuclear protestors or perhaps even critics of the government. Actually combatting racism doesn't need to be done at all.
Banzai.